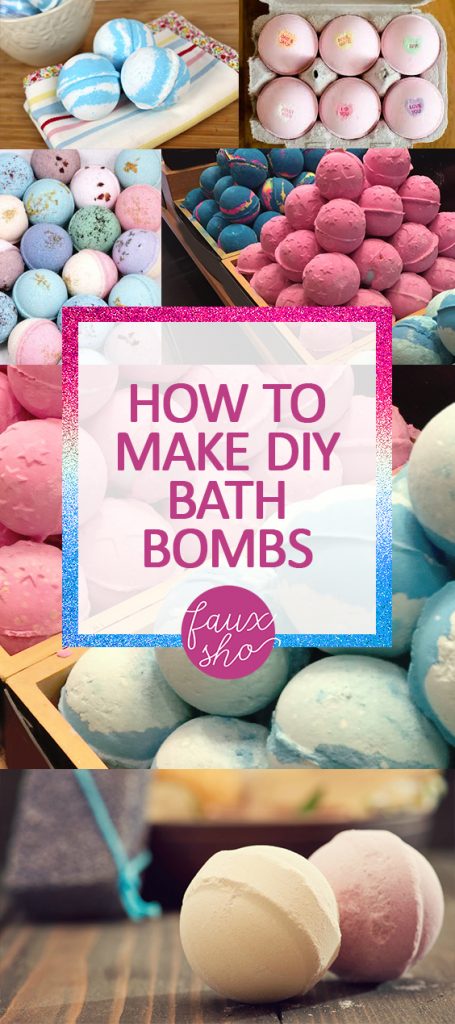 Even if you're more of a shower person than a bath person, I think we can all admit that soaking in the tub with a bath bomb is kind of fun.  There's something pretty satisfying in watching the little thing fizz and dissolve.  And with all the easy DIY tutorials I'm sharing here,  we can all just keep on dissolving those little bombs to our heart's content.
1. When Life Gives You Lemons…
Make a bomb.  Of the bathtub sort, that is.  Aside from the baking soda, citric acid, corn starch, and epsom salts you need for most bath bombs, this refreshing bomb calls for coconut oil, lemon essential oil, lemon zest, and vanilla.  Among other benefits, lemon oils help to calm upset tummies, soothe soar throats, and improve digestion.  No need for being a sour puss after this bath bomb treatment!
2. Egg Bomb Shell
Hop these fun bath bombs right into the Easter basket this year for an "egg-cellent" gift idea!  You can also make the eggs with your kids for a fun twist on Easter egg decorating.  Spring over to Blommi.com for the tutorial.
3. From Beast to Belle
Here's a perfect remedy for you if you're feeling a little beastly.  Just add a rose icing cake decoration to your favorite bath bomb recipe and you'll be "tres belle" in no time!  How fun would these be for a Beauty and the Beast movie night with your Little Princess?
3. VapoBombs
If I ever had a sore throat and congestion as a child, my mom would massage VapoRub on my chest and pin a warm wash cloth around my neck.  Now I can bring Mom's magic touch to a warm, relaxing bath with a VapoBomb!  Little Blog in the Country shares the DIY instructions here.
4. I Ain't No Flu!
Here's just what the doctor ordered!  If your cold includes achy muscles and a fever, this bath bomb is for you.  Read more at Girl Loves Glam.
5. Bah Hum-Bombs!
Fizz away the "bah humbugs" with a holiday-inspired bath bomb!  Peppermint is refreshing, but the ginger can be especially fun for those snowy days when you want to stay tucked inside all cozy. Get the tutorial from Fleece Fun.
6. Achy Breaky Bath Bomb
Here's a bath bomb for anyone who comes home with sore and achy muscles… so, ALL of us at some point in our lives!  Let the rosemary and peppermint soothe those pains right away.  I feel better just thinking about it!  Blog.paleohacks.com shares the recipe.
7. An Apple A Day
Keep the doctor away with this apple-infused bath bomb.  How perfect would these be for a crisp teacher gift idea?!  Visit Sugar and Charm for more details.
8.  Espresso Yourself!
Beat those sluggish mornings with a coffee bath bomb!  It gets my brain going just thinking about it.  Get a latte information here.
9. U Da BOMB!
This Valentine's Day, be the bomb by giving the bomb.  Use a silicon mold cookie cutter to make these fun conversation heart bath bombs.  Learn how to spread the love over at Eat Knit and DIY.