Bath Fitter is a company that enables you to remodel your bathroom with an acrylic liner for the bathtubs and surrounding walls. So, it can be a great way to make your bathroom look and feel new without completely changing everything. Also, the acrylic liner helps maintain your bathtub so that it lasts longer. If you're considering this, you should be clear about the Bath Fitter cost. This way, you can determine if it's worth the investment or not.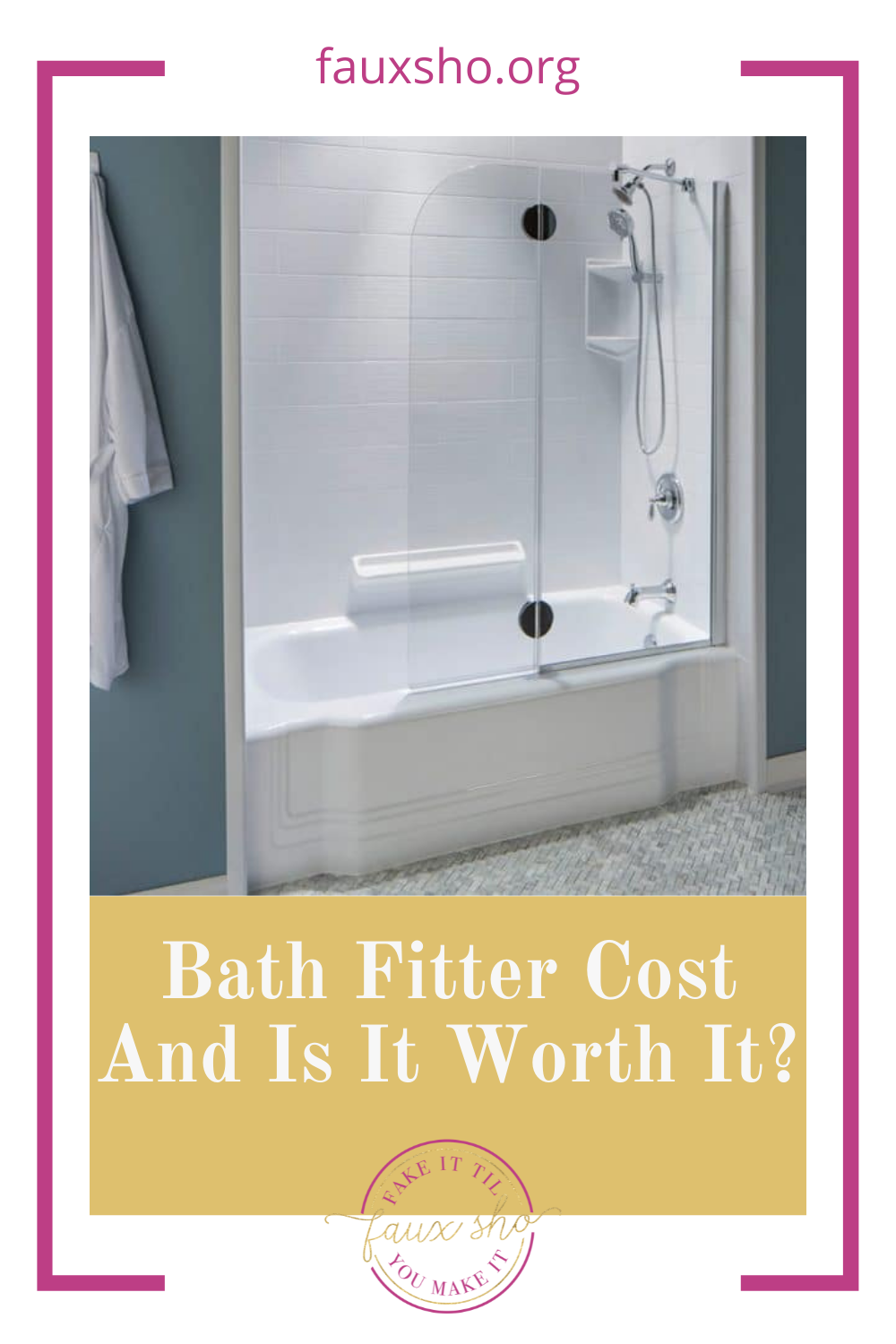 So, this article will provide you with an estimate and other options you can explore for similar results.
How Much Does Bath Fitter Cost?
You can expect to spend anywhere between $700 and $1400 on the bathtub liner by Bath Fitter. This price range is also similar to other acrylic liners. So, you won't be spending more or saving much with this option.
You should note that the Bath Fitter cost above is only for the bathtub acrylic liner. If you plan to line the tub's surrounding walls, too, you can expect the cost to be a lot higher. In that case, the entire project could cost anywhere between $4000 and $7000.
Managing those costs can be challenging, so you should evaluate the value it can provide.
Understanding Bath Fitter
You will need to understand the company properly to understand the value of its services. Bath Fitter is a Canadian company operating since 1984. So, it has experience with improving bathrooms. Thus, you can expect a certain standard of reliability with its services.
Bath Fitter Installs Acrylic Liners; Not New Bathtubs
The company is responsible for installing bathtub liners for residential bathrooms. The professional team removes all faucets connected to your bathtub and begins lining it. If you choose to get your walls also lined, the team will install the wall panels before the tub.
This protective layer makes the walls look new while also improving their durability in the process.
After the wall, the team will install the overlay. At this point, you must understand that Bath Fitter will not install a completely new bathtub in your bathroom. Instead, it will apply a protective overlay on your existing bathtub that remodels it without replacement.
You Can Have Bath Fitter Install New Accessories
You can also have the Bath Fitter professional team install new accessories after it applies the acrylic liner. Doing so can help make your bathroom look new. In addition to that, the team will take care of all clean after completing your project.
Therefore, the company offers full service, which is included in the Bath Fitter cost.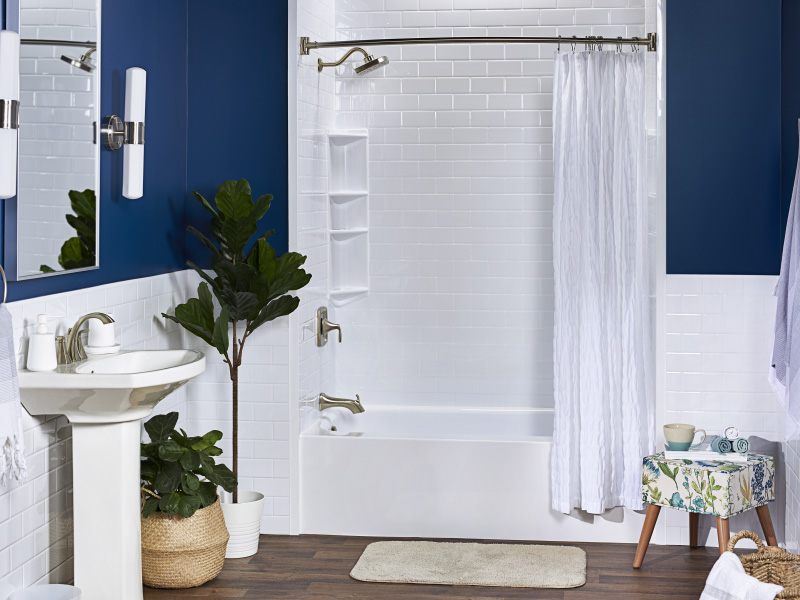 Factors that Affect the Bath Fitter Cost
When you want to apply acrylic liner to your bathtub, some factors will affect the cost. The company doesn't provide any exact costs of the different aspects of a project. So, you can only get an estimate. In fact, Bath Fitter claims that all projects are unique.
Therefore, it can only accurately quote the costs of the project by examining its unique situation and work on it accordingly.
That said, you don't have to be in the dark about this because there are some factors that you can know about. You can also save money by limiting the amount of work you want to be done for your bathroom. So, in general, the price can depend on the following factors:
The size of your bathroom
The scale of the project, i.e., how much of your bathroom you want to be lined with an acrylic coating.
Your bathroom's condition, in which an older and more worn bathtub or walls will increase the cost of the project
Whether you want to purchase the liner only or have Bath Fitter's team install it for you as well
A Breakdown of the Costs of Choosing Bath Fitter
Knowing the factors above is why you should keep an expectation of your bathtub project to be anywhere between $700 and $1400. An important note that you must make is that this cost is only for the acrylic liner.
So, the costs of getting a professional Bath Fitter team to install the liner are separate. If you want to purchase a liner for the walls and get it installed, the price will go up. So, you can expect the entire renovation project to be anywhere between $4000 and $7000. Also, getting new accessories, like faucets, will increase the price.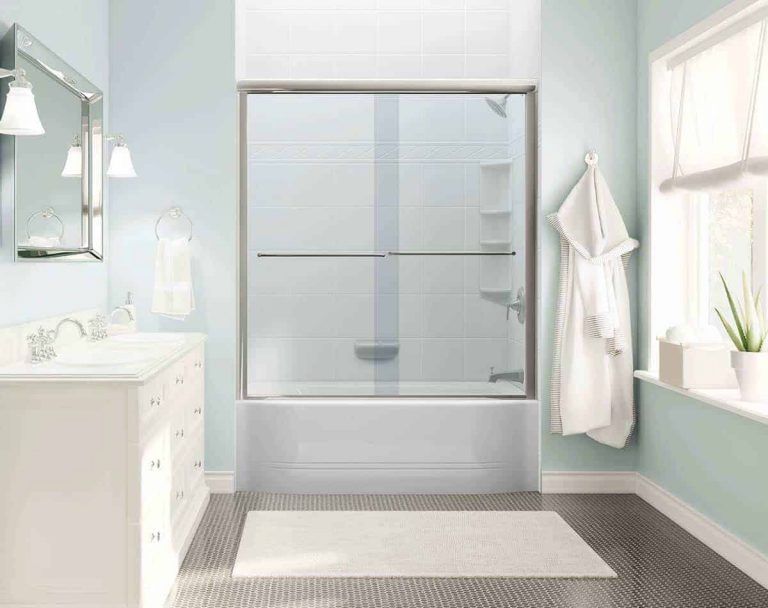 Managing the Costs and Potentially Reducing It
Of course, you could potentially reduce the overall Bath Fitter cost by outsourcing the installation. So, you can find another team of professionals to do it for you. However, if you have plumbing experience, you could do it yourself. In that case, make sure you know what you're doing because the final appearance may not look as good as you expect if you don't.
Why You Should Reconsider Installing the Acrylic Liner Yourself
Installing the liner yourself may not be a good idea for the following reason.
If you don't have experience with installing an acrylic liner, you won't know any possible problems that you can encounter. So, a single mistake could result in cracks and leaks in some areas. Therefore, bacteria can easily begin to form in that area. As a result, you'll potentially have an unhygienic bathtub in the long term. In addition to that, you could cause a water leak, which, in turn, could be catastrophic to your bathroom.
You should also note that there's no indication by Bath Fitter whether you can install the liner on your own. So, you can only know that for sure by getting in touch with the company. If the installation and liner costs are treated as a single package, you cannot do much to reduce the price.
$7000 is undoubtedly a large amount of money to pay for acrylic liner only. You must remember that your bathtub will be unchanged at the end of the project. So, if that is already starting to show signs of wear, there's no guarantee that it will last long.
In that case, you can waste your money on this remodeling project. In that case, it could help to buy a new bathtub instead.
Consult Bath Fitter to Get an Exact Estimate of the Costs
While it's good to have an estimate of the Bath Fitter cost, you should get a quote from the company directly. This way, there won't be any doubt about how much money you'll need to spend for your bathroom remodeling project. Get in touch with Bath Fitter for a free consultation. You can find the company's contact details here.
Alternatives to Bath Fitter
Bath Fitter is one of the most popular options for lining and remodeling your bathtub and bathroom walls. However, considering the overall Bath Fitter cost, it won't hurt to explore other options. Here are some to consider.
Use a Different Material for Lining Your Bathtub and Surrounding Walls
Bath Fitter only uses acrylic liners. While this material looks great and is durable, it's relatively more expensive than other options like PVC vinyl. So, PVC vinyl can help you reduce the cost of the project by about $200 to $300.
However, the disadvantage of that decision is that you're compromising on quality. PVC vinyl liners are not as long-lasting as acrylic ones. In addition to that, their appearance is not as good as acrylic liners.
Opt for a Company Called Miracle Method
Another company that provides similar services to Bath Fitter is Miracle Method. This company offers ceramic tile refinishing, bathtub refinishing, and countertop refinishing. You can purchase either PVC vinyl or acrylic liners, which are applied with glue.
Miracle Method provides pricing estimates. Therefore, you can get bathtub refinishing for about $475 to $600. On the other hand, including the surrounding walls in the package can raise the price to something between $800 and $1200.
So, this is significantly lower than the Bath Fitter cost. Look at the company's previous work to determine if it will be a good fit for your bathroom.
Opt for a Company Called Liners Direct
Liners Direct is another refinishing company that offers a product called BathWraps. This product is a remodeling solution for bathtubs and shower walls. Moreover, the company promises that the BathWraps are barrier-free.
Therefore, the produce resists cracking and fading. This liner solution also has Silver Shield Anti-Microbial Protection developed by Liners Direct.
Opt for a Company Called Custom Bath Liners
Say you're looking for more transparency with your bathroom remodeling costs than what Bath Fitter offers. In that case, you could consider opting for services by a company called Custom Bath Liners.
Other than transparency, this company's services are relatively affordable. Here is a relevant cost you should know about.
$2,999 for its bathtub liner and surrounding wall system installation (the team will complete the entire done in one day)
The only disadvantage, in this case, is that the price is fixed. So, a relatively new and small bathroom may not affect the price. That said, contact the company for more information on this aspect.
How Long Will Bath Fitter Last
Now that you know the Bath Fitter cost and other alternatives, you should know whether its durability is worth it. Bath Fitter claims that the liner lasts as long as your home's lifetime. In addition to that, it has a lifetime warranty, which indicates the level of quality of its craftsmanship.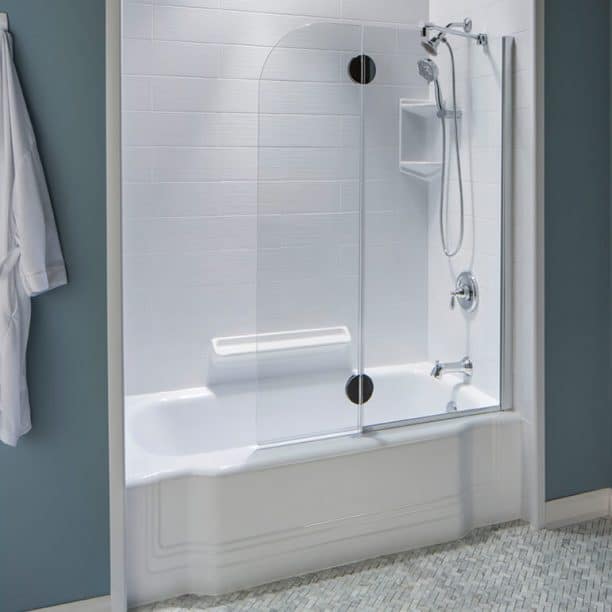 Bath Fitter also produces the acrylic and adhesive itself instead of outsourcing it. Therefore, it has more control over the quality of its products. That, in turn, can be beneficial for consumers.
That said, the only real disadvantage of acrylic liners is that this material becomes brittle over time. So, you'll have to be careful not to damage it by dropping something hard on the bathtub.