How can you renovate a living room without making the coffee table the center of attraction? Coffee tables are an absolute necessity in your home. You can use them to showcase art pieces and books. Your guests can also use these tables to keep their plates. Choosing a coffee table might seem complicated. There are loads of materials and designs available in the market. However, you want to choose one that goes with the vibe and look of your space. Of course, some questions may spring up in your head when shopping for coffee tables. These include the style, the coffee table dimensions, and what design rules you should follow when choosing a coffee table.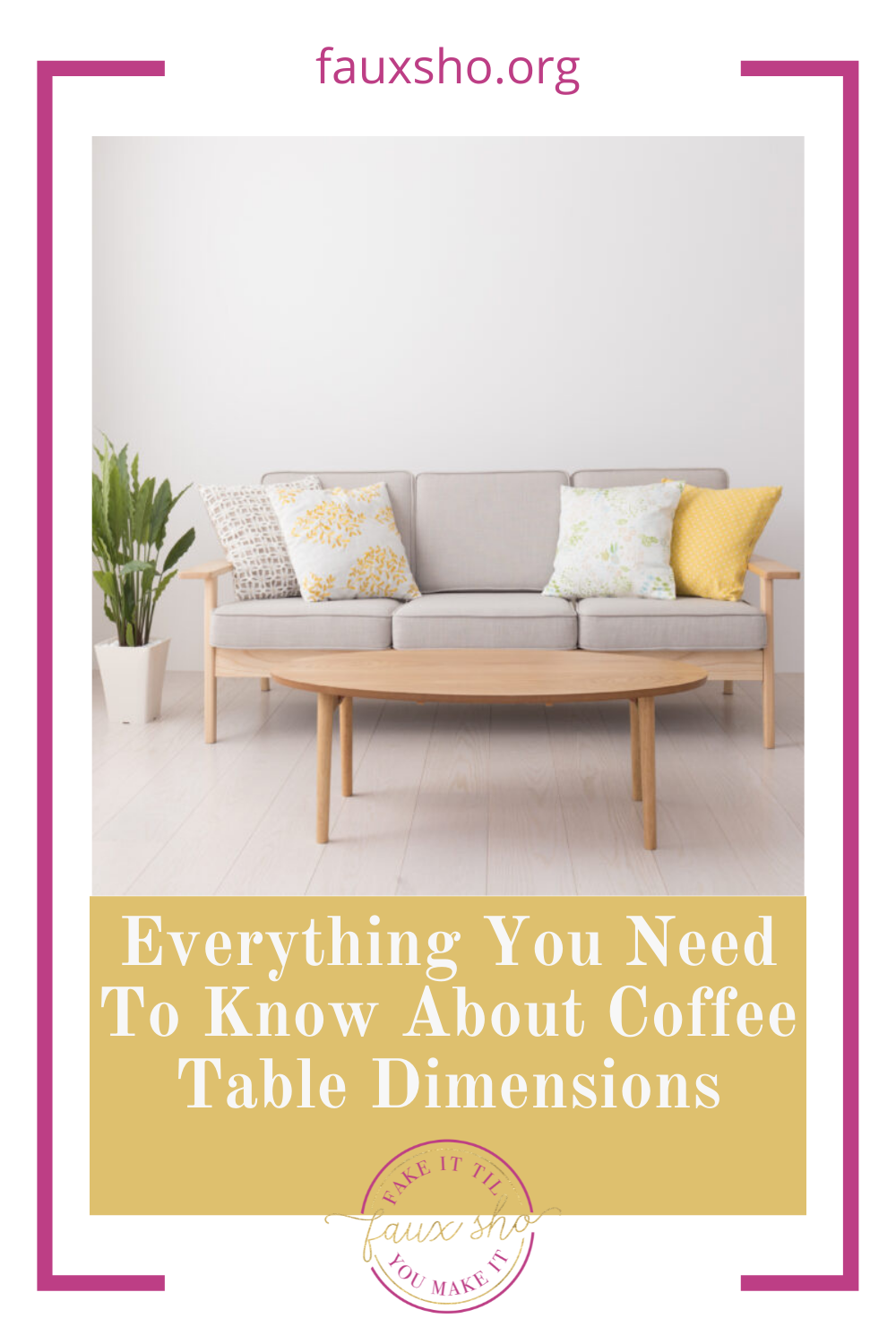 What You Need to Know
Keep in mind that the average coffee table must have 16 inches of surrounding space. Average-sized coffee tables are usually 18 to 24 inches wide and 36 to 48 inches long. Most people want to place their coffee table in front of a couch or sofa. In that case, make sure that your table does not take more than 2/3 of the width of your sofa.
Ideally, a coffee table should match your space. It should have enough room to accommodate things. It should also act as an eye-catching piece of furniture that brightens up the room. When talking about coffee table dimensions, we should also tell you that your coffee table should not be higher than a stack of cushions.
In fact, it can be a bit less but not more. A coffee table should fit your room effortlessly and make you feel instantly at ease. If you feel like it is overbearing or cramping up the room, you might have to get a new one.
How to Set Your Coffee Table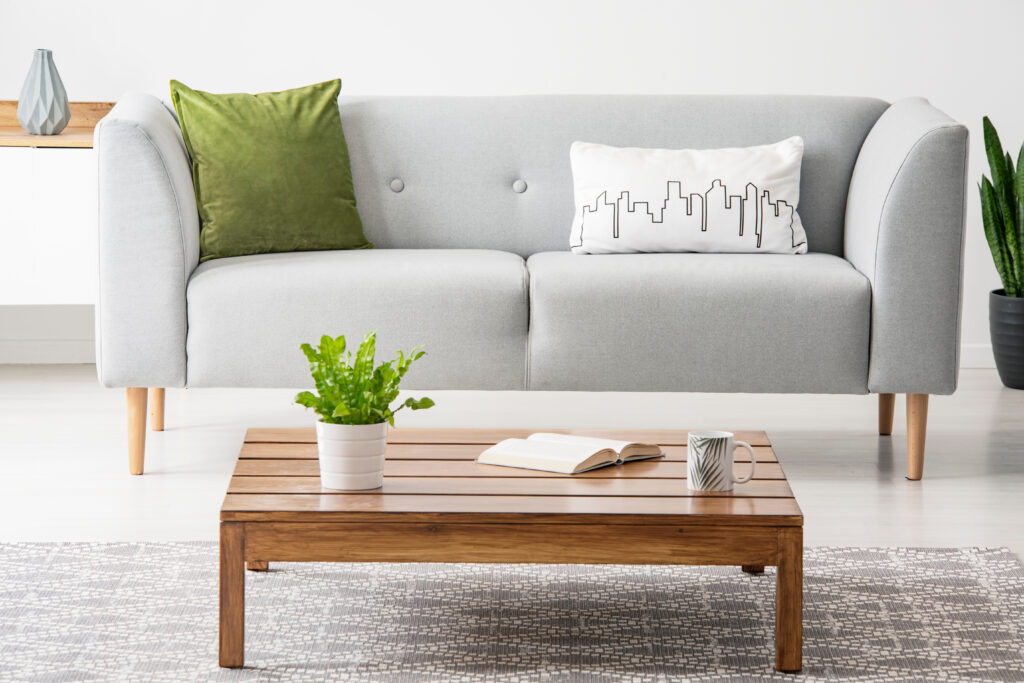 Getting a coffee table gives you a spot for your personal belongings. It also makes enjoying a hot cup of cocoa easier. When renovating your living room, you can get some new plants along with a new rug.
But if you really want to elevate the look and vibe of the room, introduce a beautiful coffee table. This is a great way to show your taste and sophistication. The key to renovating your home is to give it a personal touch. This way, people can see your artistic side and personality when they walk into a room.
The great thing about coffee tables is how flexible they are. You can use a coffee table as a bookcase, an impromptu dining table, or as a place to store extra items. In fact, if your coffee table comes with drawers, you can even tuck things neatly away in them when you run out of space.
Coffee Table Styles: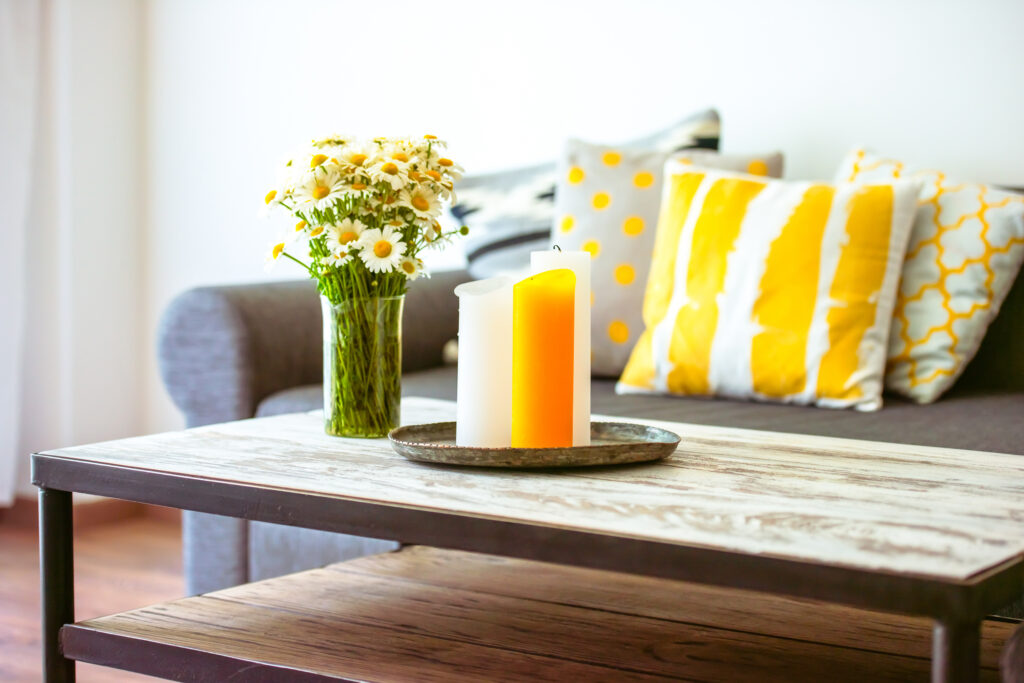 Here are some coffee tables and styles you can find in the market:
You can find classic mid-century coffee tables with a beautiful wood polish that looks chic and sophisticated.
There are many industrial-style coffee tables that can lift up your living room.
Many modern coffee tables have secret compartments, architectural details, and spinning parts. These come in different materials, like wood, glass, stone, and even combinations.
You can choose a round, organic, square, ottoman-style, or rectangular coffee table. Then, you can style the furniture in your house accordingly. We would advise you to pick a coffee table that can blend in with aesthetic sculptural objects, flowers, live animals, lighting, and art books properly.
Don't forget to keep functionality in mind because, after all, a coffee table is used to enjoy coffee alone or with friends over.
As soon as you have found the perfect coffee table, there are some things you need to consider before making the final purchase. You can choose a vintage-style coffee table or one made out of glass and steel with modern details. You can even choose one with upholstered components. However, the one thing in common is that you need to decide on your coffee table specifications before buying one.
Hence, bring out a pad of paper, pen, and a measuring table. Measure your existing couch or seating area first so that you can compare it to the coffee table you fall in love with.
Coffee Table Dimensions: How Big Should a Coffee Table Be?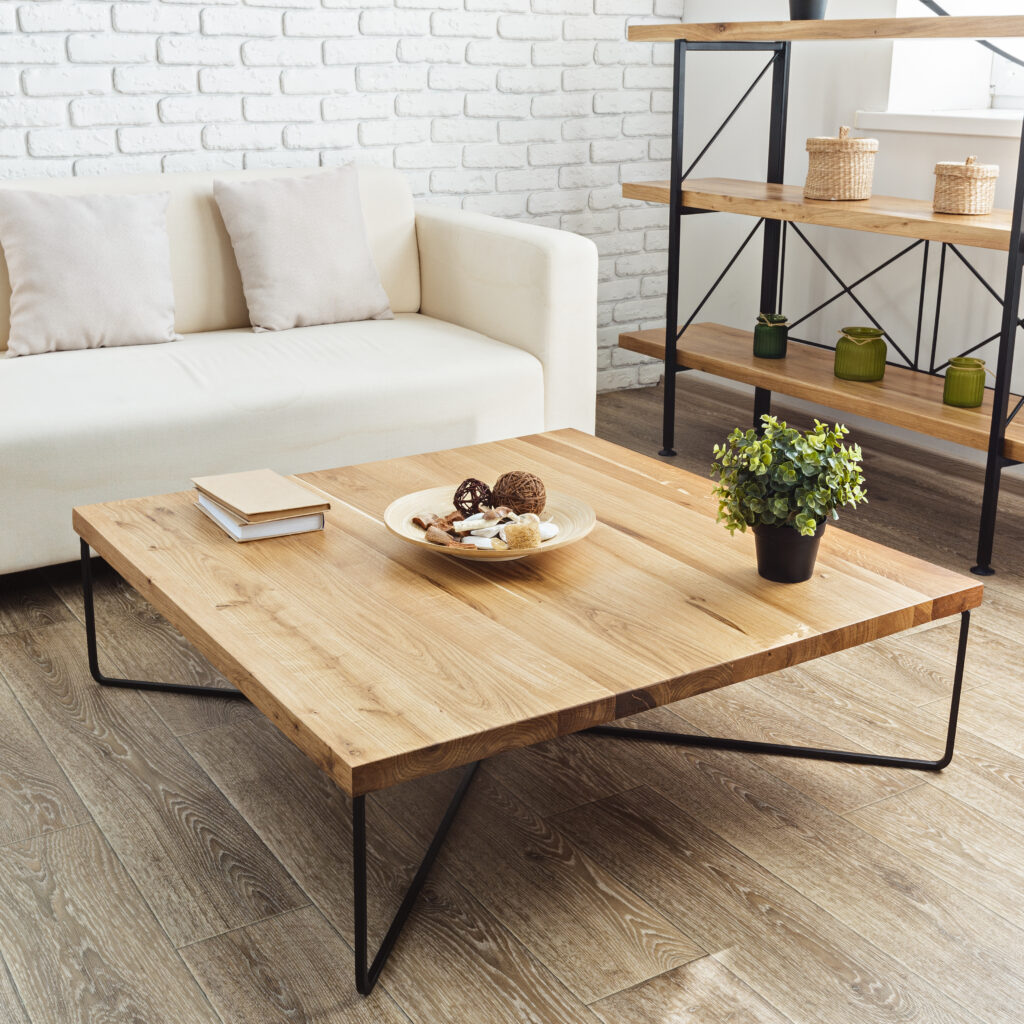 Figuring out the dimensions for your coffee table could feel overwhelming if you have no idea what to look for. However, we have got you covered.
If you have a small living room, get a coffee table that is round or adjustable. This will help you save space without making the room look cramped. Moreover, it will also make the room look bigger than it really is, and you will be able to move around easily.
Rectangle or square tables look good in medium or large-sized rooms. Also, these coffee tables may also have hidden shelves or drawers that can be used to store items.
When figuring out the coffee table dimensions, you need to compare them to the existing sofas or couches in your room. According to interior designers, a coffee table should not be more than 4 inches higher than the seat of your couch.
The trick is to ensure that the coffee table is not empowering the couch and is not higher than the essential furniture in your room. Of course, end tables can be higher than the couch.
A coffee table can be 21 inches in height and may even appear to be bigger because of its shape. Usually, coffee tables are 18 inches high but can even be 16 inches. The table's length, height, and width all depend on the kind of material used, the style, and aesthetics.
The Average Height and Width of a Coffee Table
When selecting a coffee table, remember that a coffee table does not need to take up too much room. The average length of a coffee table should be anywhere between 36 to 48 inches. However, it could be a bit higher.
All you have to do is ensure that the coffee table dimensions are not more than 2/3 of the length of your couch. If you have an extended sofa, the coffee table could be 56 inches in length. Make sure to keep 12 to 18 inches of wiggle room between the sofa and coffee table for easy movement.
Adjusting the Height of Your Coffee Table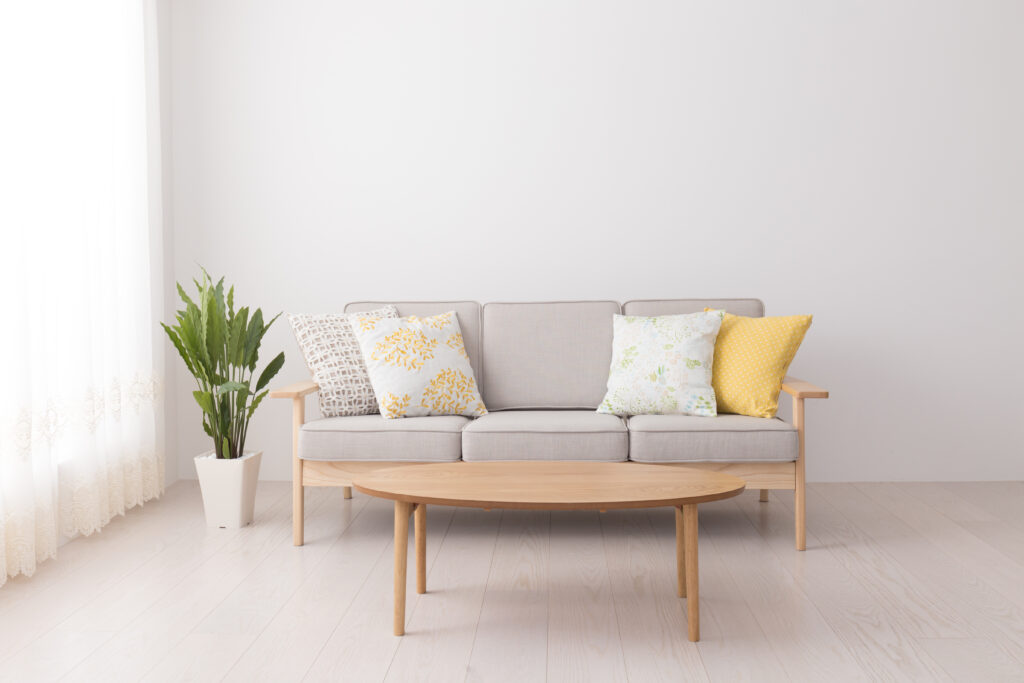 Based on how you want to use your living room, you might want to adjust the width or height of your new coffee table. Usually, you can change the height of your coffee table with the help of spacers or risers used at the feet of the table.
Some coffee tables also have adjustable legs, so you can use the pegs to change their height. Other tables use leaves in their construction that can be retracted or extended so that the width of the table can be changed. Another simple way to change your coffee table dimensions is to use a thick piece of glass on top.
Conclusion
Renovating a home takes a significant amount of effort. You have to find the perfect couches, décor accents, and lighting so that everything fits together and complements the color of your room. Don't let a coffee table destroy all your previous hard work.
Remember to choose one according to our guidelines, and you will have the perfect table that will catch everyone's eye and win you loads of compliments.
A coffee table is extremely flexible. Having a home without one does not make much sense since you can use it in so many different ways. Not only will you feel more comfortable entertaining guests and putting drinks in front of them, but you can also store little valuables in the hidden compartments of your coffee table.
Regardless of the kind of coffee table you choose to get for your home, remember that coffee table dimensions are crucial to help your home fit together.