You must be wondering – behind couch table? What is that? It is a very stylish yet very handy table that is kept behind a couch. This table adds value to your room and binds it all together. In addition to that, it can be used for various purposes – to put on decorative pieces, food items, a bundle of your favorite books, a small pot of green plants, and so much more. These tables are suitable for a family catch-up, a get-together with a group of friends, evening tea, or even a workplace setting. All in all, behind couch tables can be a marvelous addition to your home décor.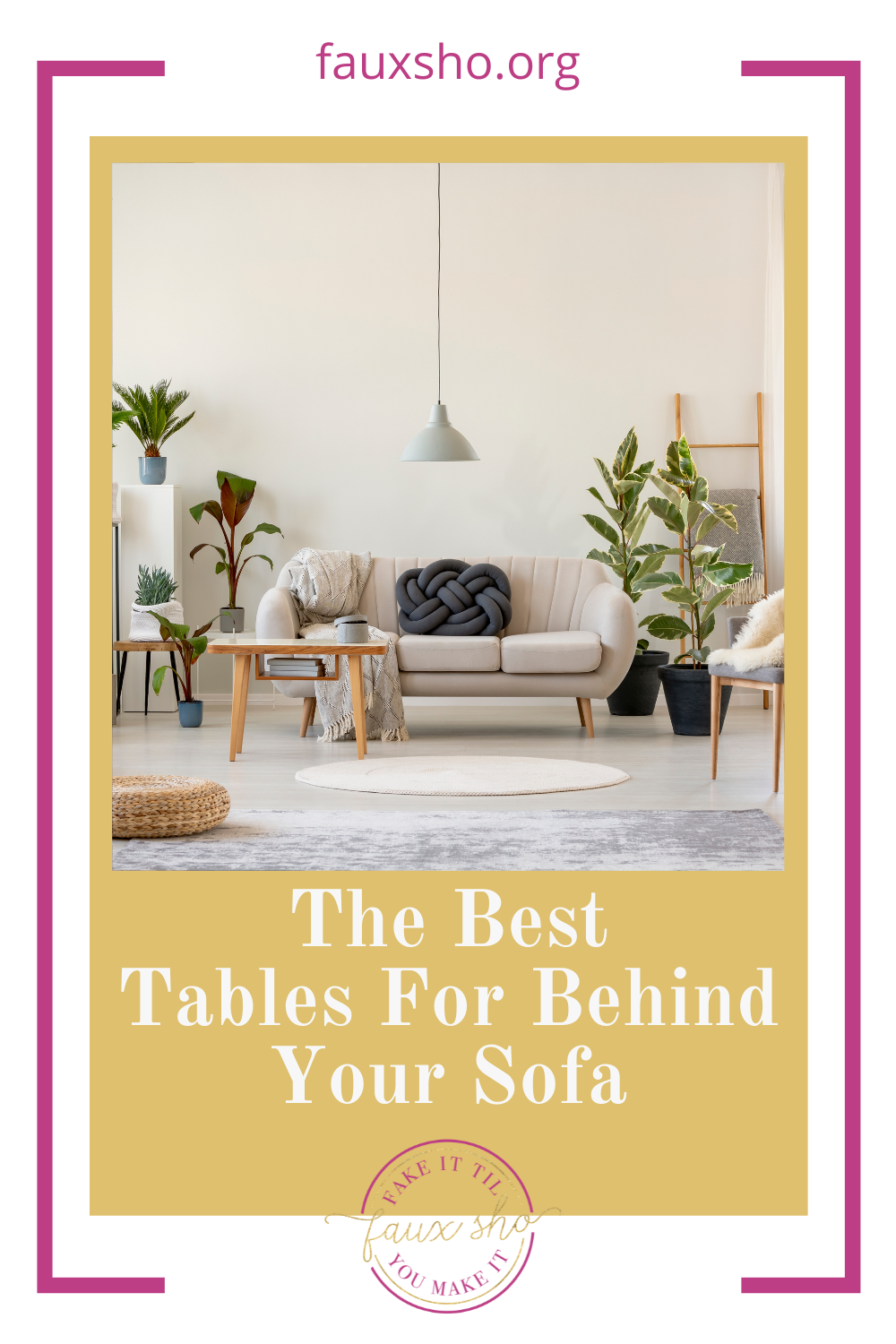 To cap it all off, you can decorate these tables in whichever way you want. There is a wide variety of behind couch tables for you to choose from. You can get the one you feel compliments your home décor the best. Here are some options: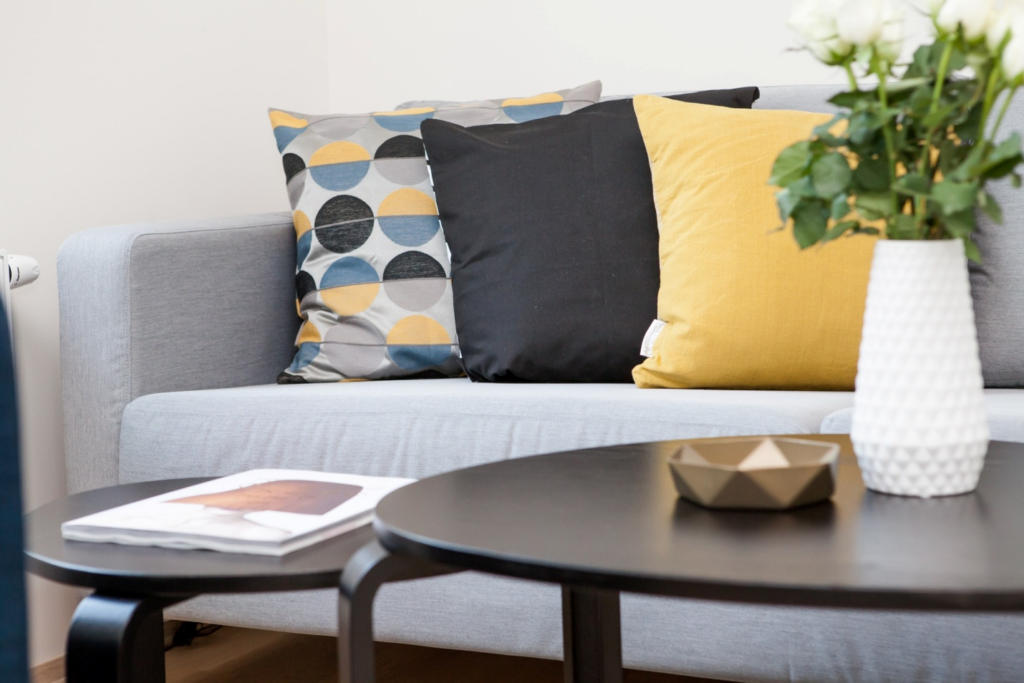 Different Approaches for Behind Couch Tables
Rustic Approach
As mentioned above, behind couch tables are available in various shapes and designs. You can choose a table with a rustic approach that can hold your living room together.
The countryside feels, the authenticity, and the wooden royalty these tables exhibit make them a class apart. You can never go wrong with a wooden table.
You can find a fine rustic table from Amazon at a very reasonable price. They have an impressive collection in which you can find a table best suited for your needs. Check them out.
Beachside Feels
Behind couch tables are versatile and can carry any look. One of its most popular looks is lush wood appearance, but with a twist. These tables have wooden crosshatch ends that add to their attraction, making them different from other rustic wooden tables.
The wooden look with a crosshatch is a cherry on the top. You can paint these tables in any color you want. Get your hands on one of these tables and give it a personal touch.
To keep it light and breezy, give a beachside look that is bound to stand out.
Industrial Look
An industrial look has a classy touch that is unmatched by anything else. This look has a certain charm to it that makes it stand out. In regards to the behind couch table, this look is no different.
Many people prefer to have a table with an industrial look that can add beauty and class to their living room.
So, the question is, what is so special about an industrial look? Why is it such a rage these days?
The industrial look is an amalgamation of wood and metal. It has both aspects of these two stellar furniture materials that have always been so in fashion.
The two forces have joined their forces, making this table a perfect match for a modern and posh interior.
If you want to get your hands on this efficient yet trendy table, head on to Amazon and see for yourself. They have a wide variety of different kinds of behind couch tables, making it visually easier to choose.
Glam Style
If you have a lush, fancy décor and want to spruce up your living room, you can go with a cool, glam look that has it all. From glass surfaces to metallic corners, these behind couch tables have a lively, posh vibe that is sure to complement the fancy décor of your house.
To take the glam look up a notch, you can add luxuriant decorative pieces on the top of these behind couch tables. Not only will it enhance the look of the table, but it will also add value to the room.
Funky Designs
A little funk never hurts anything. If you are someone who wants to leaps and bounds when it comes to decorating your living space, you will love this idea of adding a 'little extra' funk.
You can get a customized table with a design of your choice – something that fits well and has a spark that is different than any other piece of furniture you own.
However cool the funky design looks, go for a functional table with all the respective elements that are useful to you.
One of the many ideas of a funky design is a modern behind couch table with a unique set of table legs that are conjoined with one another. Add a couple of drawers to its design and decorate with plants and cute little showpieces. Your funky table is ready to reign in your living room.
Elegant Exterior
Elegance can never go out of style. Behind couch tables have a certain elegant exterior that other tables fail to exhibit. They are cool, funky, and functional simultaneously. However, these shining attributes are not the end of it.
You can add some pizzazz to your furniture. Add carved lines and engraved design and jazz it up a little. You can get it customized by choosing a design of your choice.
Mid-Century Modern Design
Not a fan of minimalism? Want to add just zest and flavor to your room? Choose a piece of furniture that is unique and does the job well.
Mid-century modern design is the perfect choice for you! It has hairpin table legs that are different to look at and compliments your taste.
The mid-century modern design behind couch table is aesthetically pleasing to the eye and is an absolute head-turner!
Classic Look
There are many behind couch tables that have a rather classy look. Their minimalistic approach and classic look make them stand apart. They add flavor to the otherwise bland furniture that is just sitting there in the middle of the room.
The color 'white' speaks class. It has a certain standard that is unmatched by any other color. Paint any piece of your furniture in white, and it oozes elegance. White-colored furniture blends well with the rest of the décor without looking like it doesn't belong there.
Basic Look
We do not have to go out to lengths to achieve a look. Sometimes, basic furniture does it well without compromising on the style statement. You can never go wrong with a basic wooden table.
Behind couch tables are beautiful and functional. If you don't want to jazz it up or invest a ton of effort into your home décor, you can keep it minimal yet stylish with a basic small table placed behind your couch.
Large yet Proportional
Sometimes, the couches we own are too large. While they are spacious and accommodate many people at once, it gets rather challenging to get a sofa table that goes with them. Some tables are too small, others are too big.
Behind couch tables are the way to go if you have a couch larger than life. You can get a large yet proportional table that fits perfectly well and doesn't look out of place. Since there is more room, you can decorate the table with a ton of cute items. You can place green plants as well to your place a refreshing look.
Roomy Drawers
Behind couch tables can be as spacious as you want them to be. You can get the one with a rustic appeal that has several drawers simultaneously. These drawers can come in handy if you have a lot of clutter lying around.
There are numerous options where you can choose the perfect table that blends in with other items placed inside the room, doesn't occupy much space, yet is spacious enough to cater to everything.
Edgy Illusion
If you are not a fan of the minimalist approach and want your behind couch table to stand out and have a dramatic effect, you should go for an edgy table with a glass mirror on its surface. Or you can get a table that is made entirely out of glass.
Not only does it give a royal vibe, but it is also pleasant to look at.
However, you need to be very careful around glass tables. They require constant care. One blow to the glass, and it shatters under your nose. If you have a couch in an area with less traffic in your home, this is the perfect choice for you!
Metallic Framing
If you have decorated your living room with shelves, photographs, and various paintings that you dearly love, you have set a course for yourself. Now you have to get the right furniture that looks great and blends well with these beautiful items you have put on the wall.
This is where metallic framing behind couch tables come in. This piece of furniture stands out because of its shiny, metallic features.
Moreover, the frames placed on the tables add a rustic, authentic touch to the furniture, which matches with the other items of the room perfectly.  
Final Word
There are behind couch tables that extremely comfortable, spacious, and stylish available in the market. If you want to spruce up your place with an addition of a table, go for behind couch tables. Finally, they are trendy, functional, and extremely popular for lush house settings.