Between kids, bills, insurance, and the cost of day-to-day living, your money is busy keeping life happy. But even without a large spending budget, it doesn't mean you have to live with outdated style and personality. With a little effort, creativity, and the right resources, you can add character to a builder grade home worthy of the home show parades.
How To Add Character To A Builder Grade Home
1. Cover Your Bases
Give flat, boring walls some personality by installing base boards. Learn how from DIY Network.
2. Back To Life
Bring your kitchen and bathroom walls back to life with a backsplash. There are so many options for any style and budget!
3. You Light Me Up
I've long believed that lighting is the jewelry in a home… not necessary but makes a statement. Update old lighting with something brighter and more welcoming.
4. Good Wood
Give your '90s oak cabinets a much needed update with new paint job and hardware. Learn how to paint cabinets from Cherished Bliss. That is good wood!
5. A Final Finial Statement!
Install finials to kitchen and bathroom cabinets for a more complete and refined appeal. The Idea Room shares great details and ideas here.
6. Show Them the Door
You'll literally want to show someone the door with this upgrade idea. Add molding to plain doors to make a powerful statement. Pretty Handy Girl tells how to get the job done here. This is one of my favorite ways to add character to a builder grade home!
7. Panel Discussion
No panel discussion will be necessary with this upgrade idea! Install wall paneling to any room to disrupt monotony and add some much needed character. For DIY instructions and a video tutorial, head over to Lowes.com.
8. Royal Treatment
Give your kitchen and bathroom cabinets the royal treatment by adding crown molding. What a big difference it makes to block off all that negative space! Learn how to install your own crown molding from Just A Girl and Her Blog.
9. Adore Your Floor
Adore your floor again by painting over yucky old linoleum. 1915 House explains how to get the job done using a special paint called rust scat. See how she did it over at 1915 House.
10. How Shady!
Bring your windows and doors to life with some personality of their own. Installing drapes and/or shades can make a huge difference but doesn't necessarily require a huge budget. Find plenty of shady ideas here.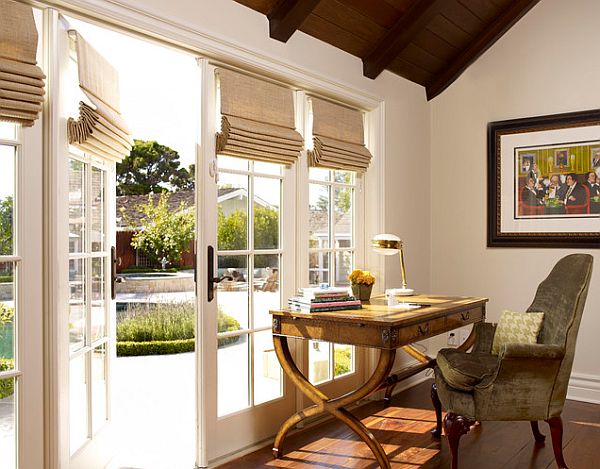 11. Bling Out the Ceiling
Give your ceiling some bling with wood planking. This will extend the feel of the room and make your home feel more spacious and welcoming. The Idea Room shares how to tackle the DIY project on your own.
12. Get Framed
Frame off your bathroom mirror to make a more pronounced and complete statement. Plain mirrors just look so unfinished! Learn how to get framed over at Rise and Renovate!
Looking for more ways to spruce up your living space? Check out this article on restoring a house 101.