Topiaries are an excellent way to add color, depth, and personality to any room or outdoor space. I'm often surprised though with just how much they can cost!! But with some creativity, basic supplies, and a little time, there's really no need to break the bank. Here are 10 + Christmas topiary DIY projects.
Christmas Topiary DIY
Christmas Ornament Topiary
Take some inspiration from your tree decor and make this cute Christmas ornament topiary. Use a plant pot as the base. So fun! Get the DIY from Sweet Haute.
Gifted
Get wrapped up in this fantastic topiary! You'll wrap boxes with normal wrapping paper and ribbon and secure them all together using a rebar. A planting pot acts as the stand. Deck the Holidays gives a full tutorial here.
Get fun wrapping paper at Michaels!
Santa Hats
Make them big or make them small, but either way these Santa hat Christmas topiary DIY ideas are super fun and festive. How cute to use them as a centerpiece with the candy canes at the base! DIY.
Peppermint Topiary
Red and white peppermints are perfect for sharing some Christmas cheer! Simply cover a styrofoam ball with peppermints and rest on a dowel or pipe. Using a garland and ornaments around the base of the topiary is an easy way to add to the overall look. Via.
Traditional Tree
If you're looking for something more traditional, this evergreen with lights is for you! You're going to wrap garland around a tomato cage to make the tree. I love the fun Santa-inspired basket at the bottom! Forget spending over $100 for your front entry topiary this year!! Get the DIY here.
Apple Tree
What a unique take on a Christmas topiary! You can bring in holiday colors with shiny red apples and surround the tree with wrapped gifts to bring in more festive curb appeal. Find this great idea from My Home Ideas.
Cranberry Trees
Cover pyramid styrofoam with faux cranberries to make these berry jubilant centerpieces. The leaves and sticks add perfect pops of color and texture!
Holiday Wonderland
For as much as I love candy- and Santa-filled visions of Christmas, I've always found great beauty with simple displays of evergreens and lights. Use rosemary, twigs, mosses, and sticks to bring this gorgeous piece to life. The rosemary is a wonderful natural air freshener as well. Via.
Christmas Orange
Make this classic Christmas symbol the center of attention with a pretty orange topiary. The cloves and greenery really add some pretty depth to the piece. Find the DIY here.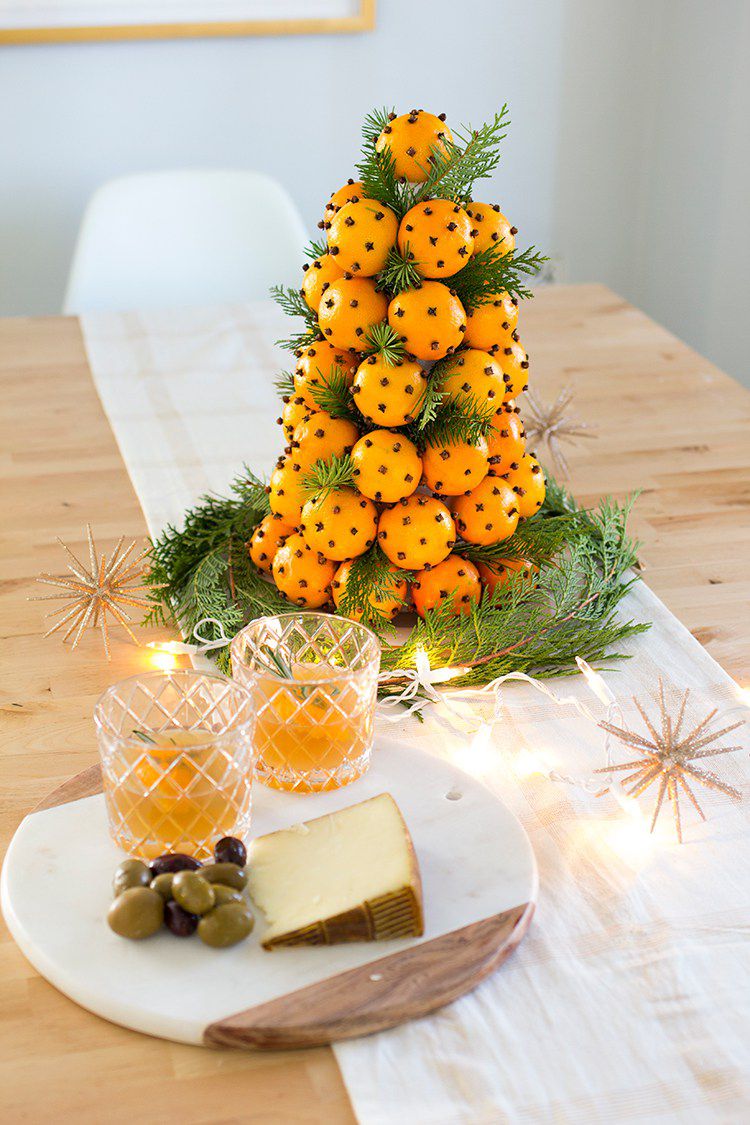 Ball Ornaments
Sometimes it's nice to have lower topiaries to give some dimension to your porch next to other, taller topiaries. This pretty ball ornament topiary is a great way to add some height variation to Christmas display OR can stand alone for a statement piece by itself. Either way, what a pretty addition to your holiday decor. Find the DIY on Crafts 'n Coffee.
Button Tree
Cover pyramid-shaped foam with a variety of green, red, and white toned buttons to make this cute decorative topiary. Image source.
Get more holiday fun here!