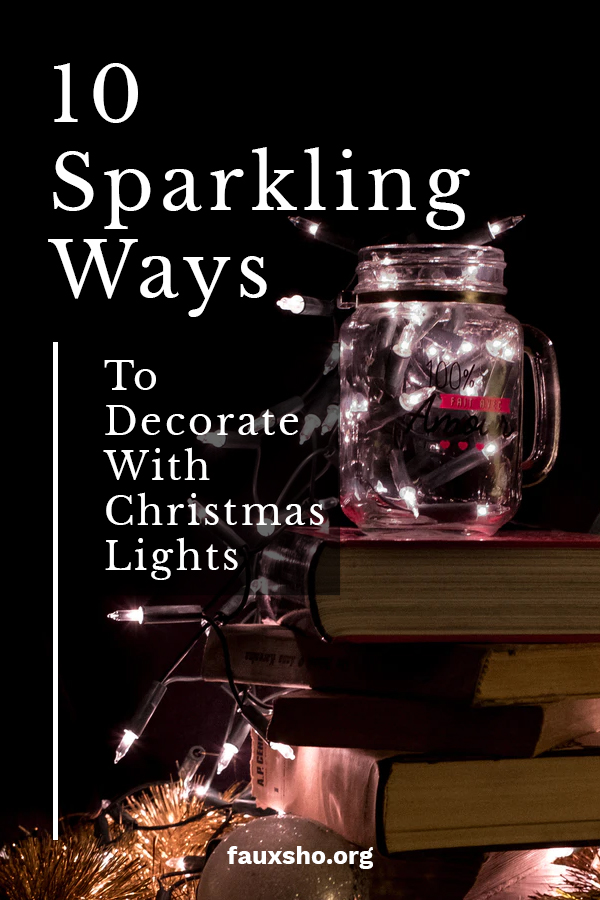 When I think of Christmas decorations, lights come to mind right after the tree and stockings.  Christmas lights really do spread such happy holiday cheer and make for the perfect way to decorate your home for some added warmth.  Here are 10 sparkling ways to decorate with Christmas lights.
String Light Christmas Tree
Sometimes having a Christmas tree just isn't practical in your living or work space.  But that doesn't mean you have to skip out on the fun of having a tree!  Instead, just use pine wood, fairy lights, twine, and some screws to make this most spectacular string light Christmas tree.  Get the all the DIY info here.
Garland Wall Tree
Another alternative to a real tree is a garland wall tree.  I love how this garland tree still makes it possible to have a green "tree" and hang some decorations as well!  You'll simply pin or tack a light-strung evergreen garland in an ascending zig-zag shape from bottom to top.  Then hang a few light decorations and add a star on top.  Super easy and far less of a hassle.  Photo.
DIY Marquee
Marquee signs are such a fun way to make a statement without compromising style.  And with the signature lights, they're especially perfect during the holidays!  Learn how to make your own special message to shine its light on your home from A Beautiful Mess.
Framed Card Display
I love getting holiday cards every December!  But I'm always trying to find great ways to put all those cute cards on display.  I love this framed string light card display as a solution for sharing all the warm wishes from friends and family!  Get the full DIY here.
Shimmer Light Garland
Isn't this shimmer light garland so pretty?  You can use a traditional Christmas evergreen garland or, like shown in the picture, use another greenery option to create some variance in your holiday decor.  Also opt for glimmer orb lights rather than tree lights for a whole new kind of sparkle.  Get the full details here.
String Light Photos
Create this bright holiday focus wall with nothing more than traditional string lights, clothes pins, and your favorite photos.  Oh how there is beauty in simplicity!  Photo source.
Snow Globe Terrariums
Give your tired Christmas village display a much needed jolt of energy with this snow globe terrarium idea.  Fill a variety of glass jars with string lights and faux snow before carefully places scenes from your Christmas village on top.  You still get to showcase your village, just with more warm glows and shimmery pizzazz!  Click for the DIY tutorial.
Ladders & Lights
Don't have a mantle to hang your stockings?  No worries!  Hang your stockings all warm by the… string lights instead.  Okay, maybe not warm but pretty all the same.  Add a holly or evergreen garland ad other tree ornaments for a more full look.  Image source.
Tomato Cage Trees
Here's a bright way to spread some holiday cheer with curb appeal.  Take some tomato cages, wrap them with string lights, and place them on either side of your outside entry.  What a fun way to welcome guests into your home this holiday season!  Source.
Mason Jar Holly Candles
Cranberries, wintergreens, and shimmery lights… it doesn't get much more Christmasy than that!  Pull them all together with this simple mason jar holly candle display.  You just put a handful of cranberries in a mason jar with a few small faux greens and fill it with water.  Place a tea candle on top for a dazzling WOW effect!  Idea seen here.