A home entryway is like the cover to a book, and, let's face it, in one way or another, we all judge a book by its cover.  Does your entryway invite guests to "read more" or does it get you shelved?  Either way, there's always a good reason to spruce up your entry to keep things warm and welcoming.  Here's how to organize your entryway and make it look great.
That's So Console-ing!
A console table will help keep other decor organized and welcoming.  They're also great for storing keys, mail, and other loose items!  Inside Stores has become my new home decor love.  Check out their huge variety of gorgeous console tables here.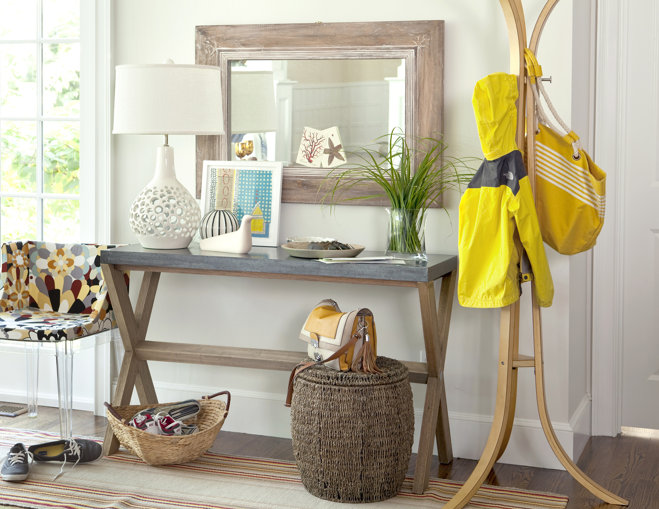 Have A Seat
Another fantastic way to keep the entryway clutter-free and welcoming is with a storage bench.  It's like an instant invitation to sit down and make yourself comfortable.
Nice Rack
Offer guests a place to keep bags and other accessories with an entry coat rack.  I love the feel you create when you pair a storage bench and coat rack together.  It adds a cozy element of depth and warmth to your home.  And of course it's nice just to have somewhere to hang your belongings!
Basket Case
There's a strong case that can be made for displaying baskets in the entry.  They can act as storage for items such as umbrellas and shoes or can be used as a pretty display for planters.  Lots of options here with this entryway display!  World Market is one of my favorite stores for woven baskets and more!
Light It Up
It just makes sense that one of the best ways to make your entry warm and welcoming is with added light from lamps.  Corner lamps or table lamps, either way they'll brighten things up!
Reflective Thought
The entry is one of my favorite places to hang mirrors.  They "expand" the space with added depth perception and also provide welcome reflected light, making your home a place of energy and friendliness.  This quatrefoil medallion mirror can be found at World Market for under $100!  Check out their extensive mirror selection here.
Step On It
Entry rugs often don't get the credit they deserve.  Not only are they a super easy way to add color and depth to your home, but they also create a natural link between the outside world and your safe haven.
Shelf Life
Keep entry decor nice and organized with added wall shelving.  I always have fun changing out my decor for seasonal displays.
Looking for where I got all of my inspiration? For more information about these awesome ideas and products:
Console Tables From Inside Stores
Storage Bench Image Via Richard Lee Byers
Baskets Sold On World Market
Entry Lamp Image Source
Rugs Available at World Market
Wall Shelf Display Seen On Christina's Adventures
You can't miss these other organization articles:
12 Ways to Organize Tiny Closets