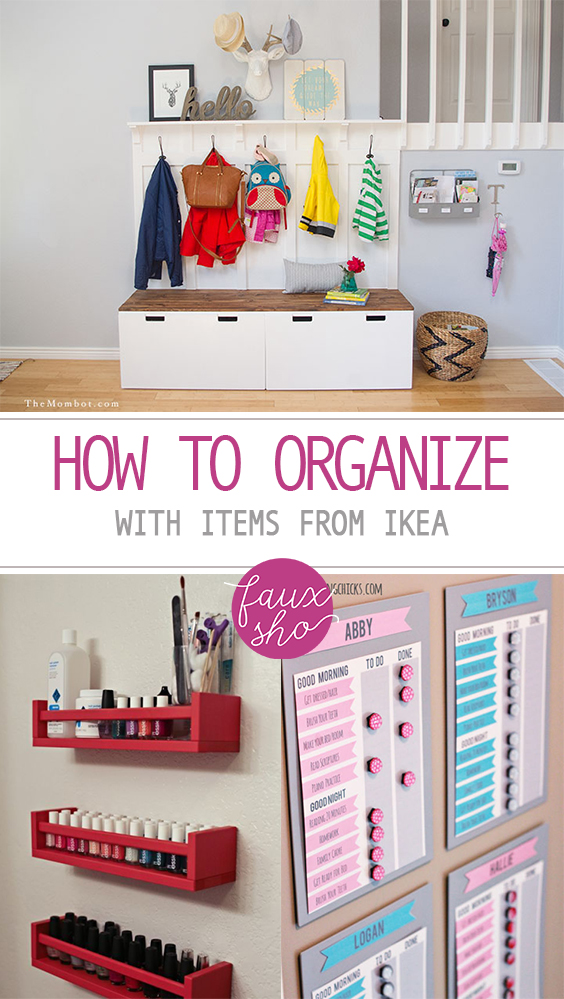 As the seasons are changing and I've been doing some cleaning, I've been trying to find a few new ways to keep our home nice and organized. I've been coming across a lot of really clever IKEA products and hacks that really show how it's a store of affordable possibilities. Here are 13 ways to organize your home and life using items from IKEA.
1. Mail Station
Create a super useful mail station to keep all your letters, bills, and other important documents nice and organized. Use IKEA's KNUFF magazine file and an extra piece of wood to create the shelf. Idea from Instructables.com.
2. Coat Rack Bench
Use IKEA storage benches (STUVA shown in picture) to make a coat rack storage organizer for your garage entryway. The coat rack on the wall is such a nice compliment to the benches! Check out The Mombot for DIY instructions to make your own unit.
3. Chore Charts
Customize IKEA's magnetic boards and cork boards to make chore charts, to-do lists, and other calendars. You have to be organized to get organized! The Crafting Chicks share more about how to make your own family charting system (Looks like Abby is the high achiever of the family).
4. Shoe Racks
Get your shoes all in a row by mounting IKEA's easy-to-install floating shelves. You can also use floating shelves for other organizational purposes in bedroom closets, pantries, coat closets, or even food storage closets. Learn more about the shoe racks from My Frugal Adventures.
5. Car Organization
Keep your car nice and clean with a little help from IKEA's travel caddies. The pockets are perfect for all those little items that get so easily lost in the car! Idea found here.
6. Filing System
IKEA's magazine racks can be stacked to make a perfect filing system! You can have one rack for each member of your family or organize yourself by task. See this idea and more on The Decor Fix.
7. Cleaning Supplies
Keep all your cleaning supplies nice and orderly by repurposing IKEA's VARIERA plastic bag holder. The holes in the plastic make for such perfect supply holders! Check out IKEA's idea page for more.
8. Makeup
Your bathroom will thank you as you make use of IKEA's SKURAR plant pots to hold all your brushes, pencils, and more. Nothing like a little bathroom organization to make the mornings go smoothly! Source.
9. Nail Products
Spice up your bathroom by repurposing IKEA's BEKVAM Spice Rack to keep all your nail supplies organized. The bright paint color adds some fun to the otherwise neutral bathroom. Source.
10. Spices
Sometimes the best way to store and organize isn't with the most obvious products. If IKEA's spice rack isn't quite the right fit for your home, try their picture ledges to hold your spices instead. DuhBe share the idea here.
11. Rolling Drawers
IKEA's Pax wardrobe system comes with rolling drawers. Repurpose these drawers for your kitchen pantry to have easier access to food and goods. As seen on Ikeahackers.net.
12. Under the Sink
Keep your cleaning supplies nice and orderly with utensil holders from IKEA. Tatertots and Jello suggests using mounting pads to stick the utensil holders to the inside of cabinet doors to create additional storage space.
13. Bedroom
Organize your child's room with shelves and storage space. The shelves are made from IKEA's LACK wall shelves. The bench can be made using any combination of EKET and/or KALLAX cube storage units . Cover the bench with a cushion to create a cozy place to read. Idea from Project Nursery.