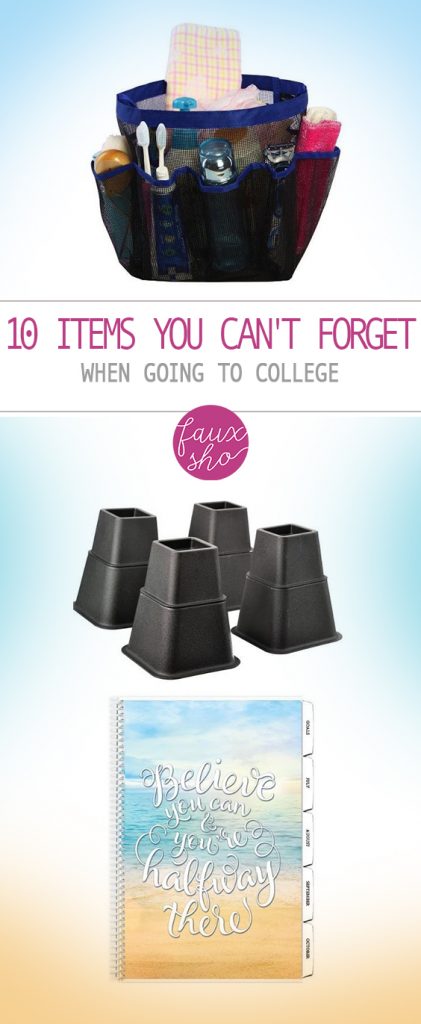 My nieces are both headed back to college this month and I've been having fun going around town gathering some things with them to take back to their dorms.  Not that it's been that long since I was a dorm-dweller myself (wink wink), but I started wondering what today's average college student feels are "must-haves" for their dorm.  I asked my nieces this very question and we put together a well thought out list.  Here are 10 items you can't forget when going to college.
1. Bed Risers
Having bed risers in your apartment makes good organizational sense.  Raise your bed… create more storage space.  Some dorms will provide bed raisers but not all.  You can find some fun colorful bed risers here.  However, my dorms all had cement cinder blocks as an alternative.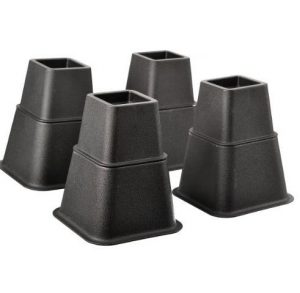 2. Planner
I was a little surprised when my nieces both adamantly said they MUST have actual physical planners to survive as a student.  I figured they'd have some kind of digital planner on their phones or laptops, but they say that when it comes to staying on top of your schedule and responsibilities, having a physical calendar to look at is much more effective.  As a teacher with daily lesson plans, I couldn't agree more.  Some things technology just can't outdo!  Target sells my favorite day planners and calendars.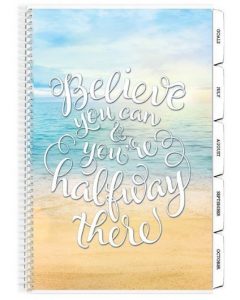 3. Shower Caddy
When it comes to sharing a bathroom with other people, shower caddies become pretty essential!  Having bathing supplies for one person is enough to crowd out a shower alone, but supplies for 4-6 people… not gonna work (I'm talking to you in particular, girls!)  Instead, keep all your shampoo, razors, soap, etc. in a caddy for easy grab-and-go showering.  Bed Bath & Beyond has a great selection of options.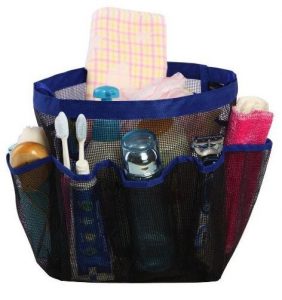 4. Safe
There are an average of over 11,000 dorm room thefts per year in the United States alone.  While you certainly can't put everything under lock and key in a dorm, you can use one for those most pricey items such as electronics and jewelry.  Even if all it does is give you peace of mind, consider investing in a dorm room safe or a combination lock at the very least.  Check out Costco for a good variety of choices.
5.  Fan & Heater
I'm sure any current or former college student will agree that a fan is a must!  The same can be said for a heater in the winter if you live in a colder climate.  I mean, it's just part of college life to have a furnace and A/C that you pay for but don't work, right?… :\    My nieces and I found some good products to choose from again at Bed Bath & Beyond.
6. Hanging Shoe Organizer
As a blogger, I'm kind of at the point where I cringe a bit when I see hanging shoe organizers.  They are EVERYWHERE, in just about every blog article.  If you need to organize your cleaning supplies, get a shoe organizer.  If you want to help keep your kids' room clean, get a shoe organizer.  Use them for storing fruit in your pantry, for holding art supplies in your craft room, and even as a hanging herb garden.  Next it'll be "How to Use Hanging Shoe Organizers to Make Your Wedding Dress."  Okay, so I'm exaggerating here, but it is true that these hanging organizers really are handy.  Having one in your dorm is a pretty good idea.  Look at some options here.
7. Electronics Cords
With everything going wireless, it's easy to forget that wi-fi isn't just magically available everywhere.  Many dorms will provide internet service, but not always wi-fi.  And even if they do offer wi-fi, there's no guarantee that it'll always be working.  There's nothing worse than having an assignment due but no internet available to get the work done!!  Get around all these wi-fi woes by having Ethernet cords on hand.  Also consider other electronics cords you might need as well such as HDMI and others.
8. Humidifier
Whether you're attending college in a new climate than you're used to or not, having a humidifier is just a good idea.  Dorm rooms aren't exactly known for having the best air control systems so air often gets stale and dry, leaving you susceptible to allergies, dry sinuses, and colds.  Having a humidifier will help you beat these annoying (and unnecessary) health problems.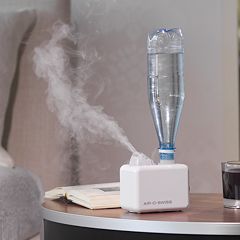 9. Aromatherapy
Not just for relaxation, aromatherapy is actually a great way to prevent and treat all sorts of physical ailments from a common cold to headaches, skin irritations, mood swings, and more.  Now if they only made one for acing tests and writing papers…..  You CAN however buy rosemary, cypress, and peppermint, which have all been shown to improve memory or focus.   Having an aromatherapy diffuser in your dorm would be a great way to stay on top of your health for such a stressful time of life.  Young Living and DoTerra are both great companies to buy from.
10. Mattress Toppers
College is both one of the most exciting and stressful times in life.  Either way, whether having fun or working hard, you need to get good sleep.  Don't plan to make that happen with the mattress provided in your dorm.  My nieces have learned this the hard way and both just bought themselves new foam mattress toppers from Kohl's.  I very happily helped them test their options out in store.  I was pretty surprised how comfortable those things are!  Check out some options here.