It's a good thing it's Fall that comes after my favorite season of Summer because otherwise I'd be much more annoying about moving to Hawaii.  I'm always sad to put all my fun Summer gear and home decor away, but I will admit that I always look forward to decorating for Fall as well.  You can create such warming moods that invite some of the best times to create new family memories.  Here are 10 adorably cozy ways to decorate your home for Fall!
1. Mantle
Brighten your mantle with wood decor, lighting features, and warming Autumn colors.  I like how the artificial candles add such a sense of coziness without putting off unwanted heat.  Find this mantle display on The Frugal Homemaker.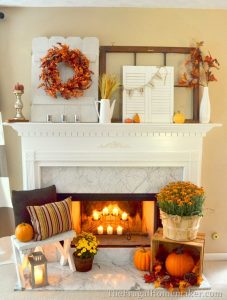 2. Chalkboards and Pumpkins
From choosing your favorite orange gourds in a pumpkin patch to carving jack-o-lanterns and having all the yummy pumpkin spice treats your little taste buds can handle, pumpkins are simply the ultimate Autumn crop.  For a welcoming display, put some on display this Fall with a festive chalkboard message.  Find this adorable idea here.
3.  Go Nuts!
Fill glass jars with candles and other small Fall items such as acorns.  You could even fill the jar with your favorite Halloween candies (back away from my candy corn!).  Get the tutorial here.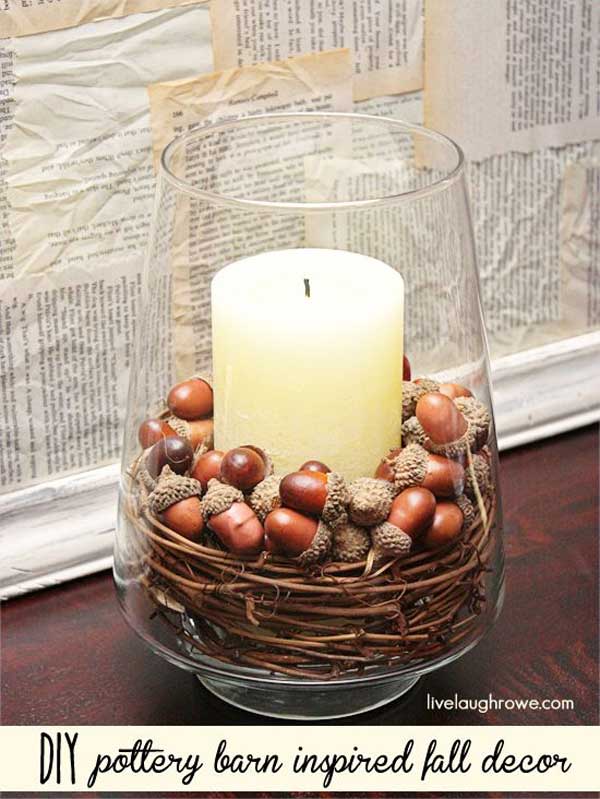 4. Chandelier Wreath
I always like including decor around my house in somewhat unexpected spaces.  Placing decor up high draws the eye upward making rooms appear larger and more spacious…  and more welcoming if the decor is warm and inviting like this wreath.  Learn how to make your own here.
5. Flowers & Gourds
Carve out some pumpkins and fill them with an Autumn-colored floral arrangement.  Super easy and very pretty!  Image source.
6. Wheat
Create a Pilgrim-worthy dried wheat and pumpkin display for long tables.   Lay a festive ribbon over a straw or burlap runner.  Then top with dried wheat-filled mason jars and tiny pumpkins.  Wrap some twine or string around the mason jars to complete the look.  Image source.  You can buy dried wheat a hobby and home decor stores such as Hobby Lobby.
7. Fall Fruits
Here's a very affordable and fruity Fall decor idea…  Fill an antique pan, box, or container with Fall-inspired napkins and fruit.  The antique spice shaker completes the look.  Check out local consignment stores or estate sales for old-fashioned treasures at excellent prices!  Source.
8.  Candle Box
Invite some added warmth into your home with a long candle box display.  All you need to do is fill a wooden box with some candles, mini pumpkins, and decorative twigs.  Image source.
9. Decorative Pillows
Pillows can make a huge impression with such little effort.  You can find some really fantastic pillows at many home decor stores, or you can make your own like this cute DIY no-sew pumpkin pillow.
10. Blankets
Talk about a cozy display!  Find a space to lay out some warm, fall colored blankets and pillows.  I love how they pulled in the pine cones and "leaves-on-a-string" to finish off the look!  Image source.