When moving into a home or renovating an existing one, there's always quite a debate between parents and children on the idea of having bedroom door locks.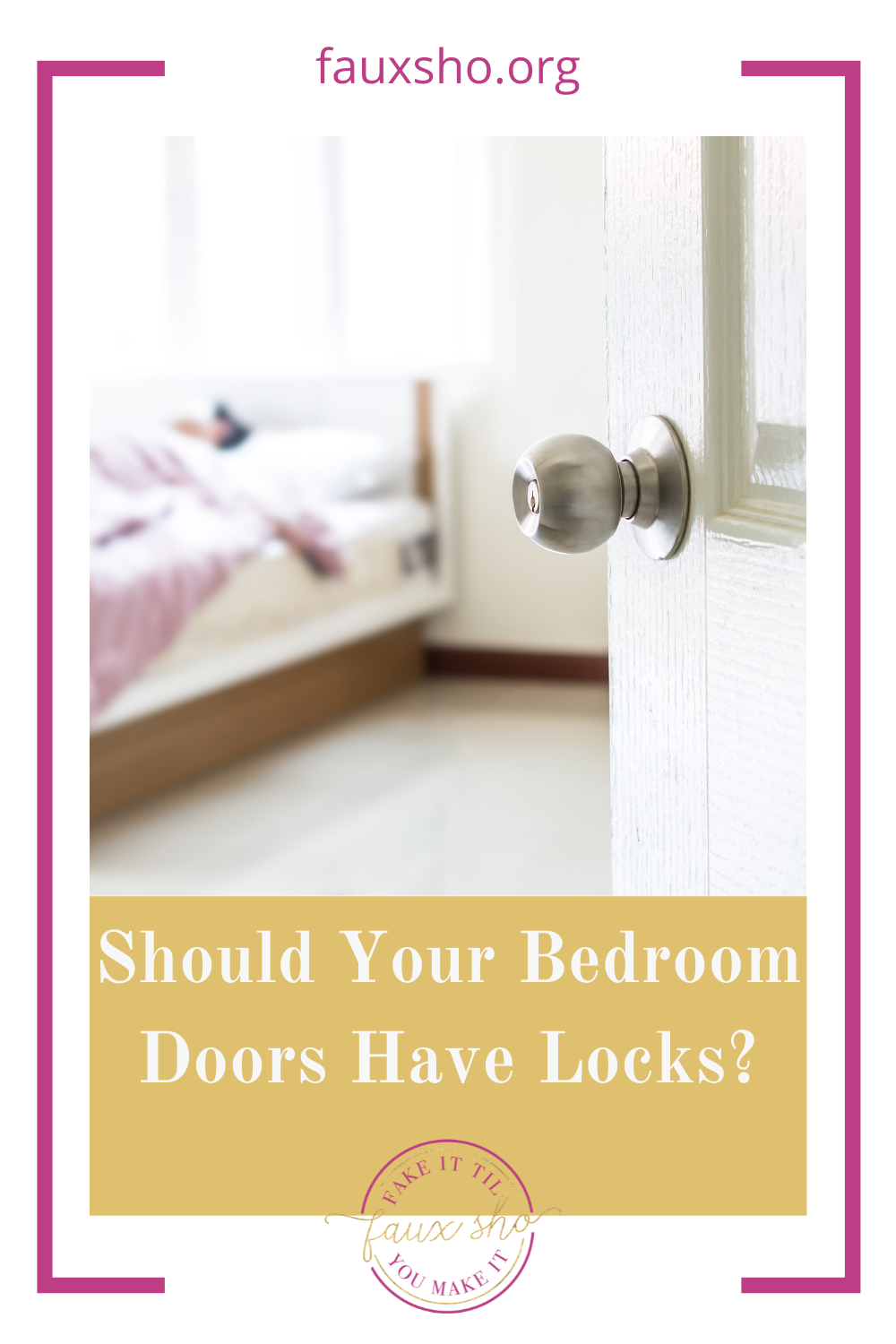 The ultimate question here is: should bedroom doors have locks?
There's no denying the fact that bedroom door locks provide a sense of privacy and security to anyone living in the house.
At the same time, they also pose a number of risks and hazards especially in case of emergencies.
Bedroom Door Locks – Benefits and Downsides
Bedroom door locks come with a fair share of benefits and downsides. So, it's best if you explore the factors on both sides before making a decision.
Benefits of Bedroom Door Locks
As mentioned earlier, bedroom door locks provide a great deal of privacy to the person in the room. They can lock the door as per their convenience and whenever needed.
They offer security as well in events like theft or robbery. Door locks can help keep people out of harm's way to a great extent.
Locks are a great way to prevent other people from entering your room in your absence.
Downsides of Bedroom Door Locks
Door locks present a serious threat for children because the lock can get jammed. Moreover, you would have to call a locksmith for help if the key gets stuck in the lock.
In case of events like a fire, locks can be a serious safety hazard. A locked door will take longer for a person to escape or receive help in the event of a fire.
Door locks for children's bedrooms aren't a good idea, especially for the younger lot. This is because parents need to monitor their child's activities and installing a door lock might put them up to indecent or undesired activities.
Which Bedrooms Should Have Door Locks?
When it comes to children's bedroom doors, ideally they should be without door locks especially if your child is young. Once they are older and express their desire to have a locking door, then it makes sense to install door locks.
For younger children, you could opt for keyless lock systems, also known as privacy locks. These don't require a key and you can open them from both the inside and outside with minimal effort. So, in essence, a privacy lock basically performs two functions in one go.
It not only offers some level of privacy to the person using the bedroom but also provides easy access in case of an emergency.
Different Types of Bedroom Door Locks
Whether you choose to install locks on bedroom doors in your home or not, it's always helpful to know the types of bedroom door locks that are available.
Take a look at some common types of bedroom door locks in case you ever need to install one.
Knob Locks
These have to be one of the most popular and commonly used types of bedroom door locks. They can easily be used in any bedroom and are also super practical.
Knob locks basically come with a knob-operated spring bolt along with a key-operated deadbolt. These locks are ideal for preventing people from entering and invading your privacy.
There are two main types or varieties of knob locks. The first type is for entrances and exits which is called the key doorknob lock. It has an internal lock system where you have to insert a key in the lock component.
When you turn the key, you can lock or unlock the door.
The other type is called a twist lock that has a smaller knob located in the middle of the doorknob. Instead of inserting a key, you can lock and unlock the door by turning the small knob either left or right. Homeowners majorly use twist locks in master bedrooms and bathrooms.
Hand Levers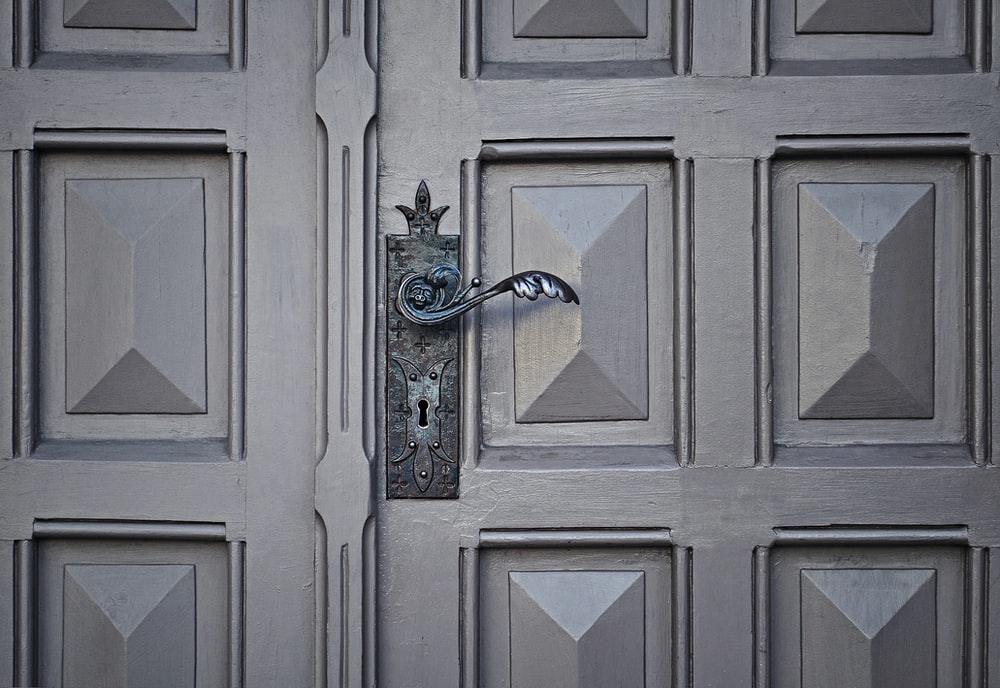 Commonly used for basement doors and closets, you will find hand levers in many people's bedroom doors as well.
On one side, there's a simple hand lever and on the other, there's a twist knob.
Hand levers aren't really meant for security purposes but do provide minimal privacy, making them an ideal option for children's bedrooms.
Push Button Door Lever
This is a lever-shaped doorknob with a twisting mechanism. As the name suggests, this door lever comes with a push-button that allows you to open and close the door as needed.
Should You Use A Key Lock on Bedroom Doors?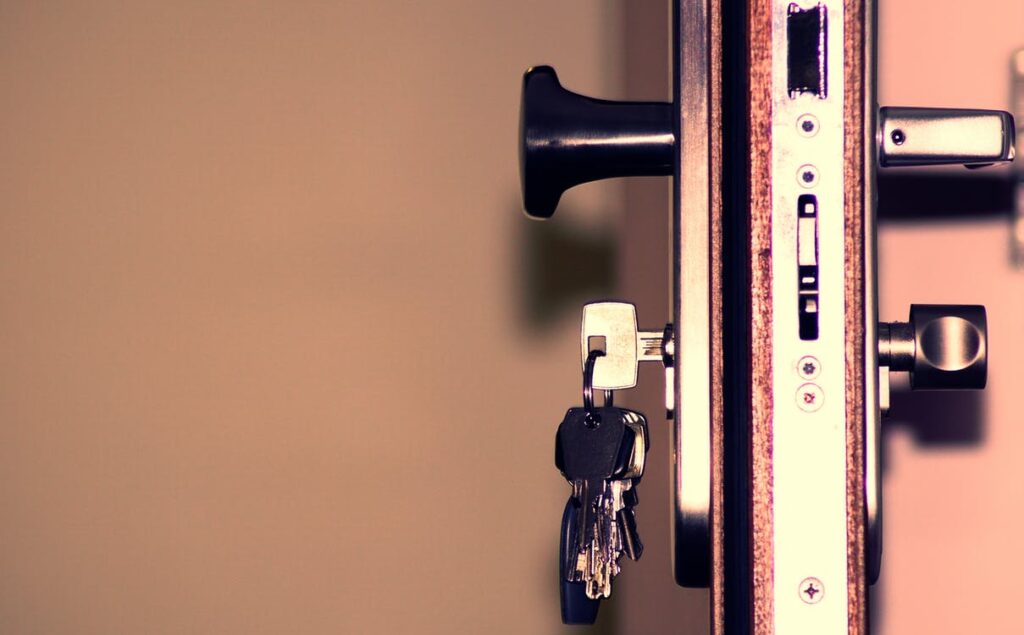 Another common question attached to the debate on bedroom door locks is whether you should use a lock with a key or not.
It is a general belief that door locks with keys present a major safety hazard. This is primarily because keys can be difficult to work with, as mentioned earlier as well.
In such situations, breaking down the door is the only option, which isn't exactly easy or feasible.
Also, the same applies to children's bedrooms. You should avoid using a lock that requires a key to prevent all sorts of risks.
However, there are some exceptional instances in which it would actually be a good idea to use keyed locks on bedroom doors.
For instance, if you happen to have a guest room in your home that you are renting out, it's best to use a lock with a key. This will ensure the guest's privacy, security and will also make them feel more comfortable whether they're inside or outside.
Another exception is if you travel a lot and frequently, which requires maximum security and safety. Furthermore, each time you are away, keyed locks will help increase the overall security of your home.
Ways to Secure A Bedroom without A Lock
They say, necessity is the mother of invention and this also applies to bedroom door locks.
If you don't wish to install locks on the bedroom doors in your home, there are many other ways through which you can secure a bedroom without a lock.
You can fashion a makeshift lock for a door with the help of a fork. However, this isn't suggested for normal circumstances and should only be opted for in dire situations. Another thing you can do is use a portable door lock.
There are numerous varieties you can choose from and these are ideal for those who travel frequently. Additionally, portable door locks are quite easy and simple to set up and use.
Lastly, one of the most effective methods for securing a bedroom is a door stopper or a door wedge. All you need to do is jam the wedge underneath the door when you close it.
This helps provide adequate security during the night and also requires a great deal of strength to dislodge.
Key Takeaway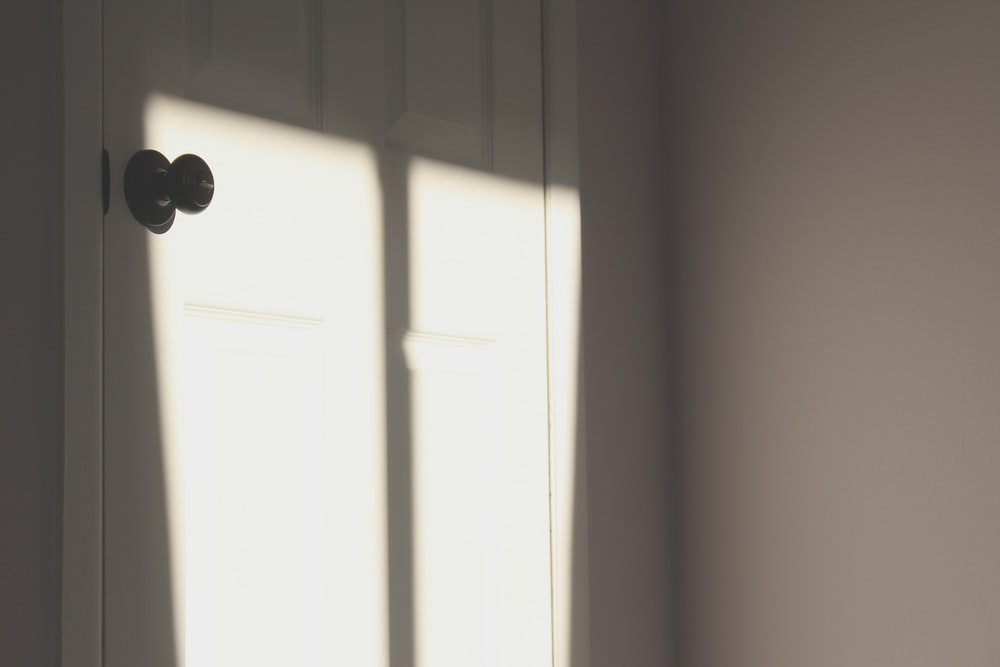 Most people want privacy when they are inside the bedroom which makes bedroom door locks a good idea. It all comes down to personal preferences, but ideally, little children's bedroom doors should definitely be without locks.
Furthermore, every homeowner should always have a plan ready in case of an emergency, such as a fire, burglary, and robbery.
At the end of the day, it's all about the level of privacy and security you are looking for in your bedroom.