Don't throw that old dresser away just yet!  You may not have need for the whole piece, but here are 10 brilliant ways to repurpose old dresser drawers:
Storage Box
Add legs to the bottom of dresser drawers and repaint the wood to make a cute storage box.  It's perfect at the end of a bed!  Two It Yourself gives the full DIY here.
Ottoman
Take the storage box one step further and add a removable cushion to make a storage ottoman.  We used to keep our shoes in our storage ottoman when we had one.  It made it so easy to just grab and go!  Tutorial here.
Underbed Drawers
I'm always looking for great ways to organize the space under beds!  What a neat idea this is to use old dresser drawers as underbed drawers instead!  The wheels on the bottom make it easy to pull them right out.  Find the creative idea on Olive and Love.
Wood Trough
Whether you're planning an event or just want an elegant display, this repurposed wood trough is très chic!  I always like finding creative excuses for using fun knobs and pulls!  DIY.
Jewelry Box
Jewelry boxes are always nice to have to keep your bling organized, but it seems like they're always too small.  Repurpose an old drawer into a wall shelf and jewelry organizer and you won't have to worry about running out of storage space again.  Michaels always has some fun knobs and hooks to choose from.  Image source.
Craft Station
Shut the front door dresser drawer!  This repurposed dresser drawer could not be more fantastic as a craft station!  The wrapping paper and ribbon rods, the pull holes at the bottom, and the corkboard on the side for notes… I'm pretty sure everyone can find a use for a craft station in their home. Project details found on Curbly.
Drink Station
Opt for a vintage style wall desk or drink station as a way to repurpose your old dresser drawers.  This takes me back to many happy memories in my grandmother's home.  You simply can't go wrong with some early 20th Century style!  Check out how Pottery Barn suggests using wall mounted desks here. DIY tutorial in image below.  Image source.
Shelves
Add some character and storage to your bathroom or bedroom wall with a drawer shelf.  Simply remove the drawer knobs and add some space dividers.  Chalk paint would be perfect for the project.  Via.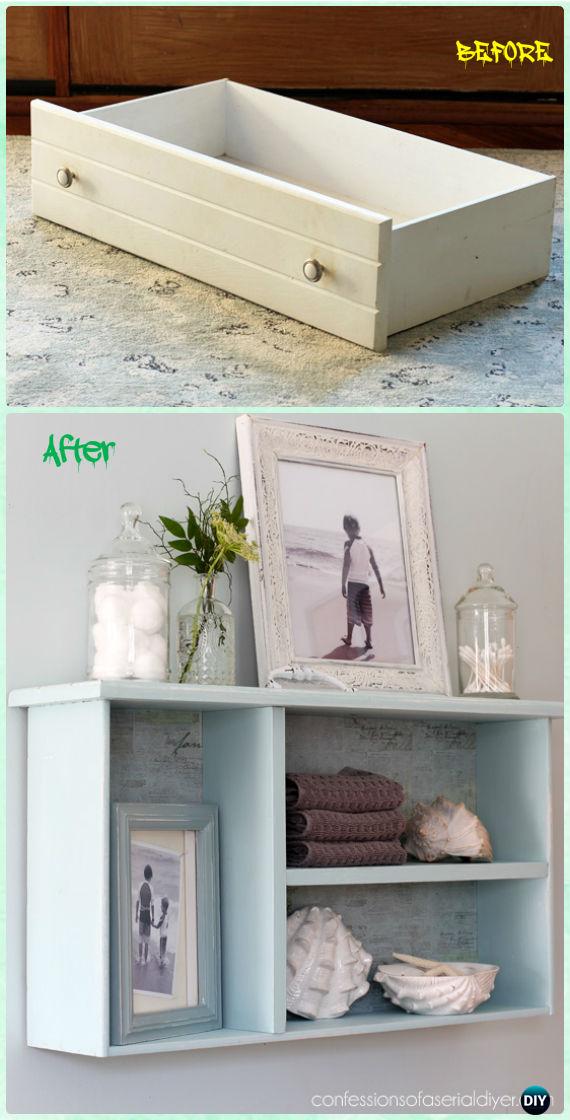 Pet Bed
Keep your furriest friends off the cold and dirty floors with their own special bed.  Add a pillow or small cushion for extra comfort.  As Charles Schulz said, "Happiness is a warm puppy."  DIY instructions found here.
Bookshelves
Yes I'm a little biased, but every home needs bookshelves!  These repurposed book cases would fit really nicely in small spaces and children's bedrooms.  Find more info here.