It's that time of year again to get out all your favorite family recipes. Here are 10 basic but brilliant baking tips to help you revamp all those old tasty traditions into seemingly new delights.
Holiday Baking Tips
Grease the Better Way
Not all greases are made equal. Butters and other spreads can be okay to use for greasing pans at times, but the added water content also means these pan slickers don't always do the best job. For a truly stick-free bake, go with fats such as oils and shortenings that don't have added water. Get more of the rub here.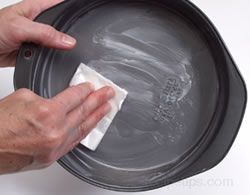 Don't Overload the Oven
Putting too many baking sheets and pans in the oven at once will affect heat distribution, leaving some food more/less baked than the rest. For a more consistent job, plan extra baking time and go with one tray or sheet at a time. Source.
Making the Perfect Bars
I always drool over the delicious bars in the Starbucks glass display. Not only do the ingredients always sound tasty, but they're always so beautiful as well! But here's a little tip to help you get drool-worthy bars as well. Line a baking sheet with aluminum foil and extend the sides about 1-2 inches over the sheet edges. After baking, gently lift up on the extra foil for an easy lift before cutting. You'll have perfectly even bars every time. Click here for a copycat Starbucks Cranberry Bliss Bar recipe.
Gingerbread Goodness
I can't think of many other scents and flavors that scream Christmas quite like gingerbread. But the gingerbread man will agree that not all gingerbread is meant for the eating. Depending on whether you want soft, melt-in-the-mouth gingerbread or firmer dough for decorating, Cooking Classy shares all the secrets you need to know for baking gingerbread here.
Overbaking
To prevent any overbaking, check cookies at the minimum baking time indicated on the directions. Unless you're like me, and actually like your cookies crispy and crunchy. Yum! Betty Crocker gives cookie troubleshooting guide here.
Cooling Cookies
If you're short on cooling racks, lay out some wax paper on a cool counter and sprinkle on a light coating of sugar. They get firm without getting soggy. Read more here.
Cool Before Storing
Cool baked goods completely before storing them in plastic containers or baggies. Get Martha Stewart's tips here.
Perfect Lattice Pies
Move over Marie Calendar… this lattice pie tutorial will have anyone making show-worthy holiday pies. Gimme Some Oven shows you how here.
Smart Substitutions
You just got back from the grocery store and realize you forgot to buy the sour cream AGAIN! But you DID buy Greek yogurt… Here's a handy chart for making substitutions without losing flavor or quality.
Sugar Showdown
It's a sugar showdown! If you're ever wondering which sugar is best for all of your favorite holiday recipes, get the 411 from Buzzfeed.

Baking Temperatures
When it comes to baking, especially with cakes, temperature DOES matter! The Cake Blog explains here how to get the perfect bake every time.
Get more delicious recipes here:
I hope these holiday baking tips help! Happy baking!