If you've recently painted the walls in your bedroom gray, you must be wondering, what color curtains go with gray walls, right?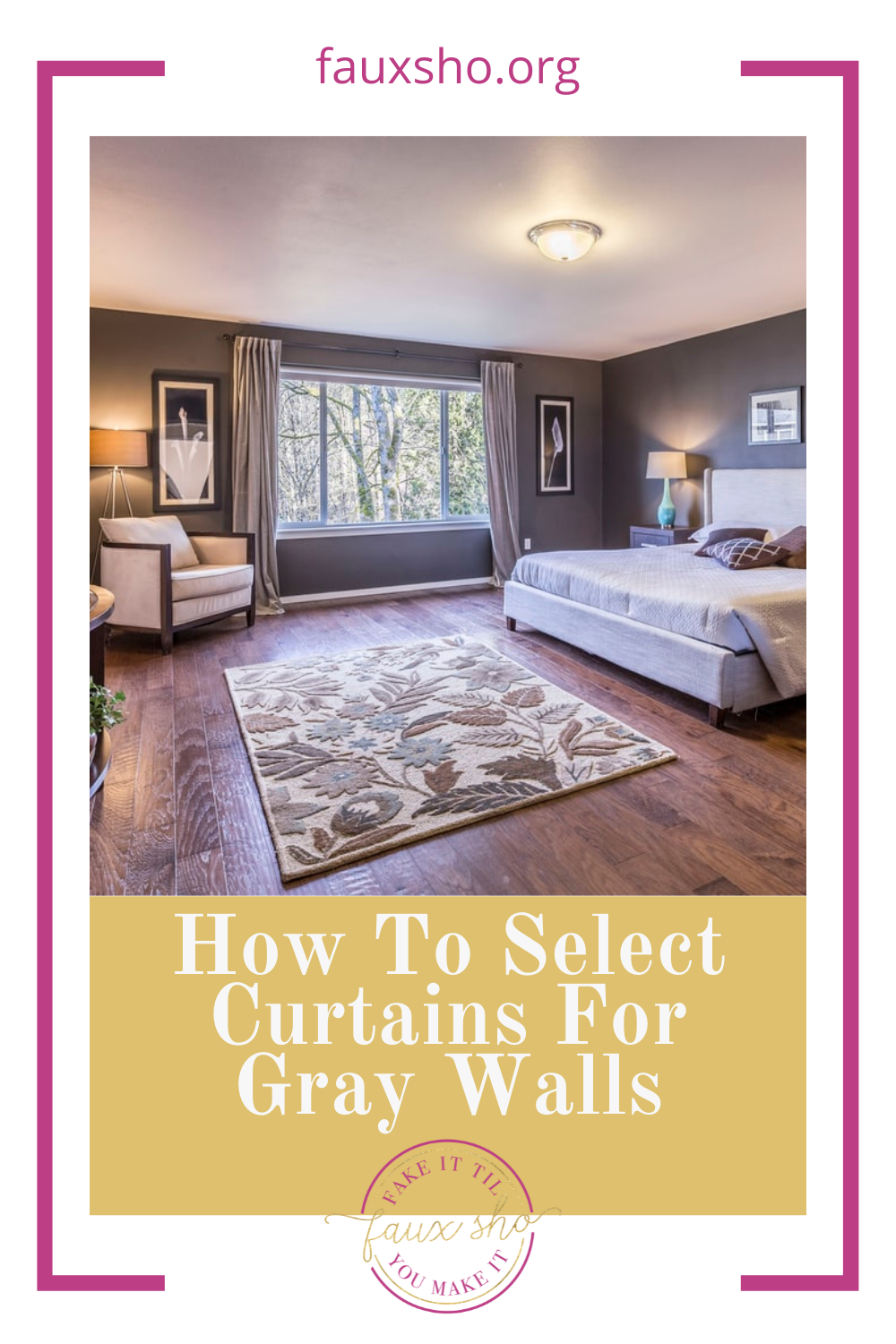 Truth be told, gray is such a beautiful, neutral color and has so many gorgeous shades. From deep charcoal gray to ash gray to soft dove grays, the options are so versatile and unique.
The color gray adds so much depth to a room without making it look dark. So, no matter what color curtains you choose, they would somehow end up looking great with gray walls.
However, you might still want to check different colors and see which look best because the right color of curtains is essential to enhance the overall look of the room. So, what color curtains go with gray walls? Let's find out.
What Color Curtains Go with Gray Walls?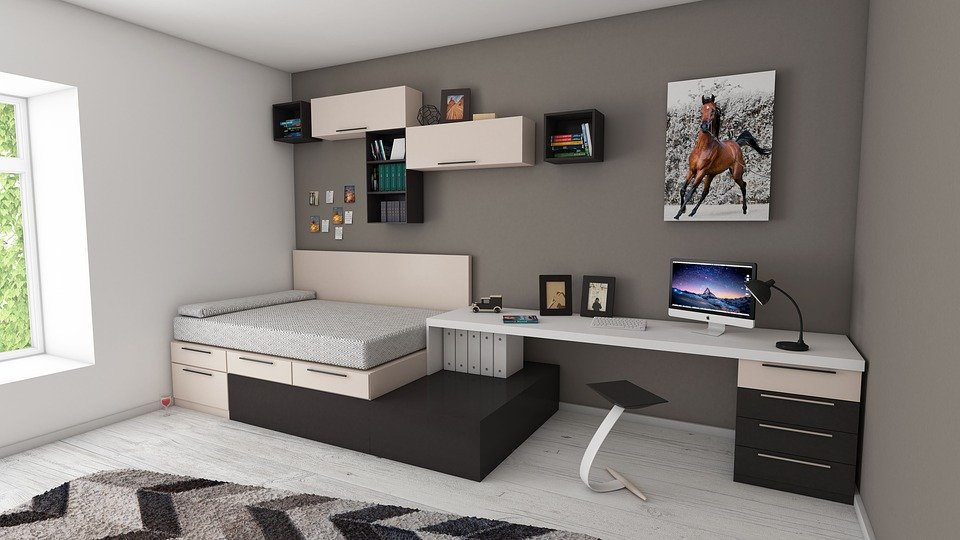 Gray is undoubtedly the new "in" color and has lately been upstaging all other colors in the neutral family, such as ivory, taupe and beige. Many homeowners have been switching to gray walls as well mainly because of its modern, classic and edgy appeal.
If you are unsure when it comes to what color curtains go with gray walls, we have some stunning ideas for you. When choosing the color of the curtains, you must also consider which shade of gray the walls are.
If your home has gray colored walls, these are some of the most ideal color curtains that will compliment them the most.
1. Classic White
When you talk about gray walls, the first color that naturally comes to mind is white.
Gray and white go hand in hand, be it for curtains and walls, furniture or any other interior design. Classic white curtains would pop out beautifully against gray walls and create an overall light and airy feel.
If you particularly opt for sheer white curtains, they will really bring out the grayness of the walls. Another thing you can do is go for embroidered white curtains for an added touch of beauty.
2. Yellow
While this might seem like quite a bold choice of color, yellow curtains are truly made for gray walls. If you want a really "out there" answer to the question what color curtains go with gray walls, then yellow is a great choice. Yellow compliments gray beautifully and paints a very bright, vibrant picture.
If you wish to achieve a nice, warm glow, you might want to go for citrus yellow. However, if you would rather have the space popping with brightness, mustard yellow is a great choice.
3. Charcoal Gray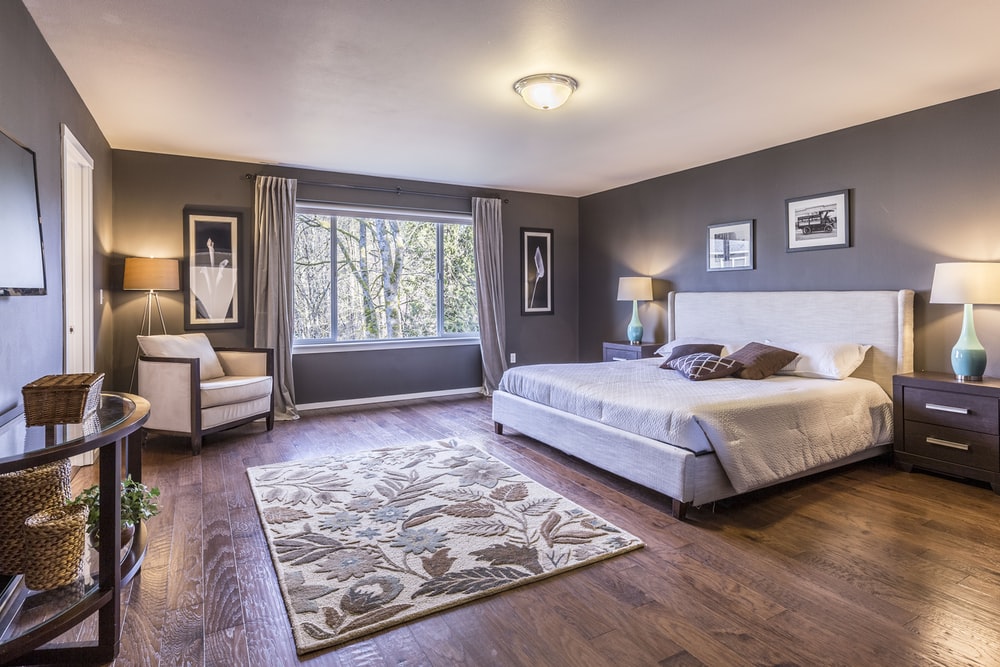 Gray on gray? Why not!
With gray walls, you can also opt for gray curtains in a different shade to create a nice contrast. You are likely to find this color combination in many modern homes. It's super sleek and minimalist, to say the least.
For instance, if the walls in your bedroom are a nice ash gray color, deep charcoal gray curtains would look absolutely amazing.
To break the gray theme of the room, you can add some bright green planters or even a purple couch!
One of the best colors for gray walls has to be navy blue. This color itself is incredibly beautiful, so you can imagine how great navy blue curtains would look with gray walls.
When paired with a lighter shade of gray, navy blue curtains would pop really well without making the room look dark.
5. Teal
This is another stunning choice of curtain color for medium gray walls. Like navy blue, teal is also such a pleasant color with great aesthetics.
When paired with gray walls, teal curtains would create such a subtle transition without any sharpness.
You can further enhance the look with the help of matching décor and embellishment items.
6. Light Pink
Pink curtains might not be your top preference for curtains, but they will look stunning with gray walls!
Dusty rose pink, in particular is the right choice for gray walls for it would offer quite a sophisticated overall look and feel.
7. Natural Green
When it comes to what color curtains go with gray walls, nothing beats the gray and green color duo.
Natural green curtains with gray walls are ideal if you're looking to create an earthy theme. You can further accentuate it with the help of some wooden effects through either the furniture or décor items.
8. Cream
Like white, cream colored curtains are another timeless color option for gray walls. Cream is such a warm, pleasant color and would complement gray walls really well.
Cream curtains help create a very soft contrast and would rest easy on the eyes as well. You will notice that the overall aesthetics created by cream curtains are quite different from that of classic white.
9. Purple
Who doesn't like purple, right? When thinking of what color curtains go with gray walls, you can't go wrong with a little bit of purple. It's a great way to add some regality to your space.
Purple has to be one of the most globally loved colors, and it's really hard to hate it given how modern and elegant it is.
Purple curtains and gray walls are literally like a match made in heaven. The entire look and feel of any room will change just by adding a pop of purple.
Purple also comes in such a great variety of shades, so the exact color depends on the shade of the walls.
If you have dark gray walls in your room, you might want to go for lilac curtains. If you have light gray walls, violet or any other dark purple shade would be the best fit.
10. Floral
The best part about gray walls is that they are super versatile, which means that any color curtains will look amazing.
Floral curtains are another choice for gray walls, especially if they are patterned. You can either go for single-colored floral curtains or multicolored ones, the choice is yours.
In both cases, the final look would be beautiful, and there's no doubt about that!
11. Neutral Stripes
For those who fancy patterns and textures instead of one single color can go for striped curtains in neutral colors. Now, this could be a combination of light gray and white, tan and gray, cream and gray, beige and white, or any other of the sort.
The idea here is to have neutral-colored stripes that help the gray walls pop out without creating a sharp contrast.
12. Chalk Blue
Navy blue is a classic, yes, but chalk blue curtains with gray walls are a whole other territory.
Chalk blue curtains offer such a contemporary and sophisticated look for both light and dark gray colored walls. This particular shade of blue has this dusty appearance to it, which compliments the gray so perfectly.
13. Orange
This might throw some people off, but if you really imagine it, orange curtains would actually look spectacular with gray walls! The key here is to get the right orange shade according to the color of the walls.
Orange curtains offer the same kind of brightness and vibrancy like yellow curtains do. If your home is quite open in the sense that it has large windows and a lot of sunlight coming in, orange curtains will look incredible with gray walls.
14. Champagne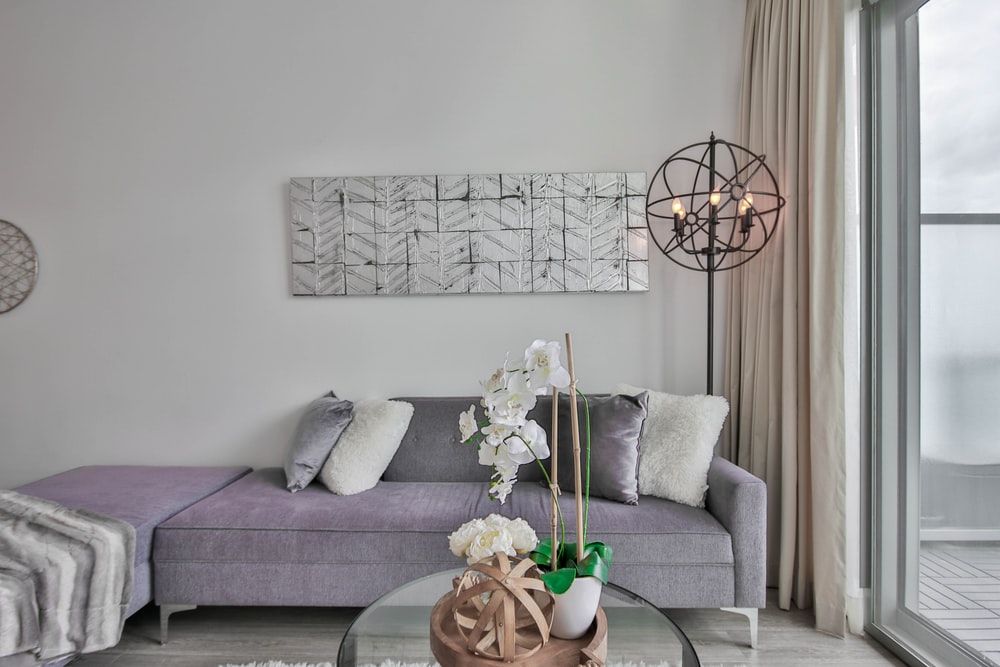 With pale tints of yellowish-orange, champagne curtains are just what gray colored walls need to create an appealing look.
You can never go wrong with champagne curtains because they look so chic, elegant and perfect for a modern look.
15. Emerald Green
If real beauty had a color, it would be emerald green!
This jewel-toned color is simply exquisite and extraordinary, to say the least. Emerald green curtains are quite rare, but that's simply because many people haven't discovered this color's aesthetics and versatility.
When paired with gray walls, you can expect emerald green curtains to stand out beautifully without shadowing the walls.
16. Beige
If you want a warm, earthy look but don't fancy white curtains, you can go for beige curtains.
Beige has become such a popular color when it comes to interior designing and for all the right reasons too. Beige colored curtains are ideal to pair with gray walls because they would just blend in effortlessly. If you want, you can particularly look for grayish beige curtains with a touch of gray to compliment the walls.
17. Black
If there is one evergreen, classic and timeless color, it's none other than black.
Black is the epitome of elegance, sophistication and beauty, and there's no reason why black curtains won't look great with gray walls.
If you are feeling unsure about the curtains, simply go for black ones without any worry at all. Black never disappoints and also compliments gray so well.
Another plus point of black curtains is that they would help create a monochromatic color scheme with gray walls.
18. Bright, Dark Red
Red is a universally loved color, and there are no reasons to dislike it!
It's bold, it's vibrant, and most importantly, it has this unique appeal to it which is very hard to find in other colors.
If a neutral color scheme is too dull or boring for you, dark red curtains are excellent for gray walls in your bedroom!
If bright and bold is your thing, you must absolutely go for red curtains without any second thoughts!
Needless to say, red and gray is a timeless combination and is an ideal option, particularly for living rooms.
19. Olive Green
While creating a natural contrast, olive green perfectly complements gray. Olive green curtains with gray walls might not be an ideal combination in your head, but truthfully, it's a combination unlike any other.
Olive green curtains are the perfect way to add freshness to a given space, along with some earthy and nature-inspired hues. When further paired with green décor and furnishings, it's going to be simply fantastic.
If you do decide to go with olive green curtains, make sure to consider the exact shade of gray of the walls.
20. Rust
Similar to red, but not red, rust is another elegant color you can consider for your curtains with gray walls.
Rust would add a whole layer of depth of dimension to a give space, especially when paired with medium-gray walls.
This color is also more on the darker side with deep undertones so if you are someone who fancies such colors, rust is ideal for you!
Final Thoughts
So, what color curtains go with gray walls? Well, before you get to what color curtains go with gray walls, you first need to determine the kind of space that you want to have. Are you looking for bold and bright? Light and earthy? Warm and cozy?
It's all about personal preferences, after which you can look at various curtain colors to see which one would look best with gray walls.
Gray, on its own, is a very flexible and versatile color. It's also a trending color, so you don't have to worry about going wrong with it.
So, it's safe to say that you won't struggle much when choosing the color of the curtains because anything would complement gray walls.
Whether you go for solid colors or other designs like checkered, abstract patterns, layered or patterned, you can expect a beautiful end result and the answer to your question – what color curtains go with gray walls!