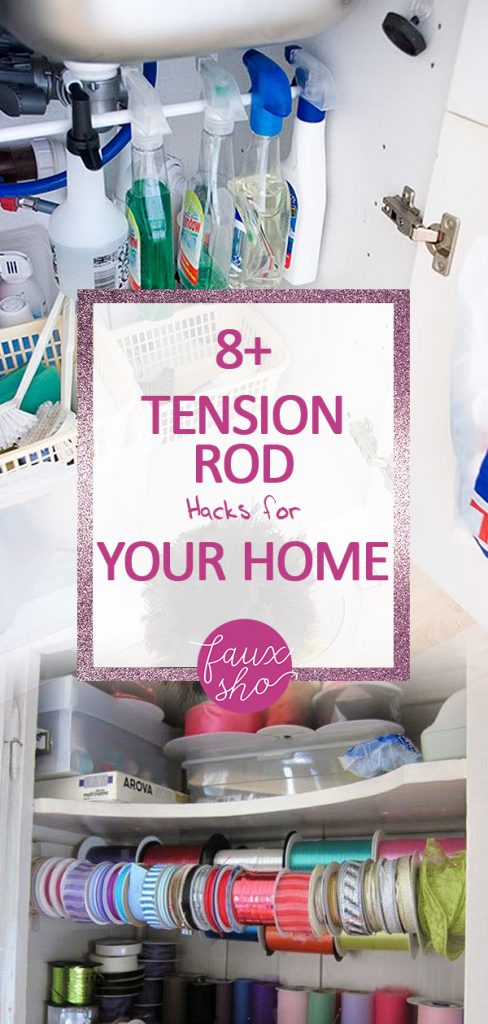 Tension Rod hacks are a great way to come up with easy home storage ideas! While tension rods appear to be for the sole purpose of holding up drapes, this simple tool has plenty of uses. Along with being extremely handy, tension rods don't require drilling nor will the device mark up your walls. Here are 8+ tension rod hacks for your home.
1. Paper Towel Holder
Use a tension rod to reclaim your countertop space. Install one of these handy items in the cabinet below the sink or other cabinet. It will make your paper towels easy to reach and allow you to move them off your counter. Tension rods are available online at Hardware World.
2. Hanging Herb Garden
If you've always wanted an herb garden but lack the space, consider making one using tension rods. Place a tension rod or two in a window, and then, hang your herbs on them. This will not only ensure that the plants get the light that they need to thrive, but it will also prevent your pets from eating them.
3. Kitchen Storage
Tension rod ideas include arranging kitchen items. This room of the house is often the most cluttered because we have so many things in it. Tension rods make it easy to store lids, baking sheets and cutting boards.
4. Gift Wrap Organizer
Tension rods work especially well as gift wrap organizers because they keep gift wrap looking nice as well as prevent it from becoming ruined during the year. Use the rods to create a storage area that allows you to store wrapping paper vertically. This is one of my favorite tension rod hacks!
5. Spice Drawer Separator
If your spice rack is a cluttered mess, then organize it with tension rods. You can use the rods to divide the space, keeping your spices arranged and organized. Unique spices are available from Piquant Post. This site sends a spice box to you monthly.
6. Cleaning Product Holder
Tension rod ideas include using the piece as a cleaning product holder. To use a tension rod for your cleaning products, just install one in the cabinet where you store them. You can then hang the cleaning products across the rod.
7. Ribbon Organizer
If you have a lot of ribbon to go with your wrapping paper, then a tension rod hack to organize it. You can hang spools of ribbon, washi tape or decorative duct tape on them.
8. Laundry Hangers
Laundry tends to accumulate, and if it piles up at a faster rate than you can handle, then use tension rods as drying racks. Tension rods can also be used as additional hangers.
9. Scarf Rack
Corners are the perfect spot for a scarf rack made from tension rods. Not only will you appreciate having your scarfs nicely arranged, but they'll also be easier to find. This one of the best tension rod ideas!
Ideas for other ways to use tension rods came from DIY and Crafts and Apartment Therapy.