In another recent post I shared how my niece and her husband recently bought a "new" home that was built back in the 70s. They fell in love with its unique character and how "homey" the house feels. But despite its charm, there are a few rooms in the house that need to major TLC! They wanted to start with the guest bathroom so they can welcome friends and family as quickly as possible with the holidays being right around the corner. Step one was to update tired countertops with a versatile concrete vanity. Although the project was easy, it did take my niece about a week to complete. Steps 2-11, however, are not just easy, but quick as well. I'm certain we'll have that guest bathroom updated in less than three days or less! Here's how to refinish your bathroom in only a weekend!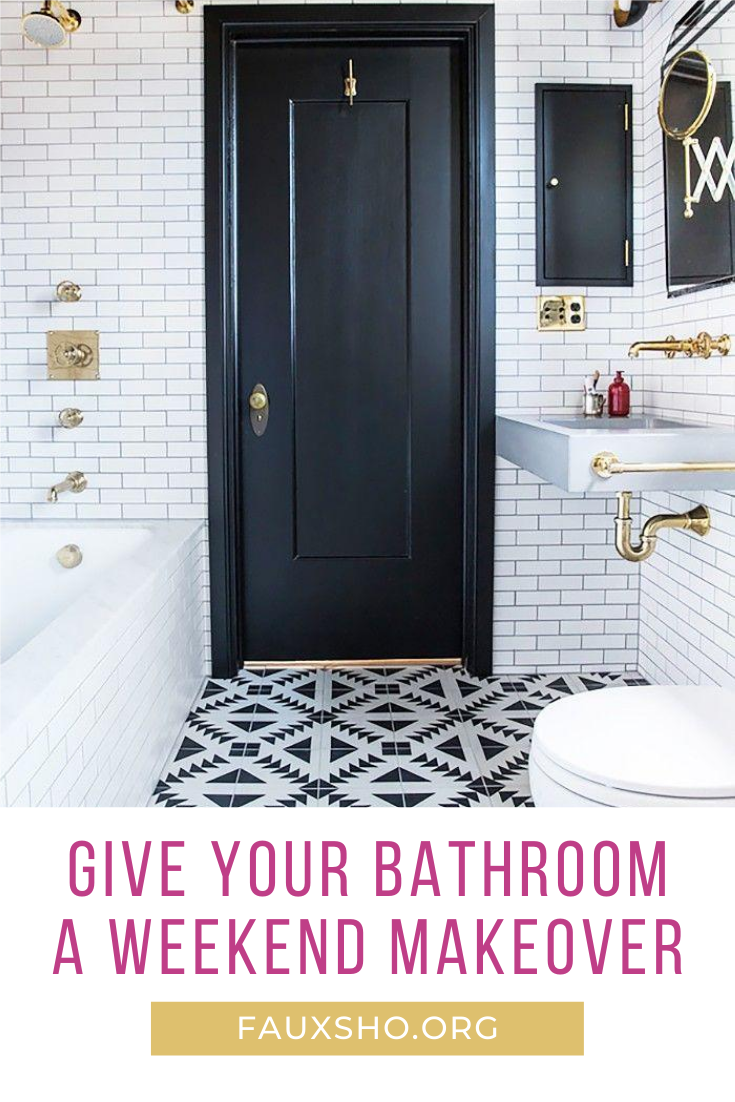 Repaint
Take your bathroom from blah to beautiful with a simple new paint job. What a dramatic difference some color makes! Get some great tips for repainting your bathroom from The Spruce.

Wallpops
If solid walls aren't quite what you had in mind, wallpaper is a great way to get some pattern and personality into the bathroom. My current favorite obsession is Wallpops. They are peel and stick wallpapers that come in a variety of charming patterns, including prints made just for bathrooms. I absolutely love the subway tile design!
Stenciled Tile
Who needs the hassle and expense of new tile when you can create custom flooring in your bathroom?! Simply grab some paint and a stencil and this DIY will be done before you know it. Get a full tutorial from Life On Shady Lane.
Get Framed!
One of my favorite bathroom DIY projects is framing out the mirror. It can take a bland and boring bathroom and instantly transform it into a warm, inviting space. Get yourself framed by checking out the DIY from Cherished Bliss.
Update Cabinets
Cabinets tend to be seriously underestimated when it comes to bathroom decor. Cover up those boring, washed out wooden tones with colors or stains that will add a richness to your bathroom ambiance. Also, update cabinet knobs, pulls, and hardware for another quick and easy update. Amazon sells some seriously cute knobs and pulls! Learn how to paint cabinets like a pro here.
Install New Faucets
Replacing gross faucets might sound like a big and overwhelming job, but this is one DIY you don't really need to be afraid of. Especially when you consider how much fresher your bathroom will look and feel. Lolly Jane shares just how easy this spouty update really is.
Light It Up!
I like to think of light fixtures as the jewelry of the home. They can either add a dull source of light or give you that WOW bling factor that people can't stop looking at. Get accessorized with this must-do weekend bathroom update. Learn how to replace light fixtures here.
Shelving
Adding decor is always a good idea for bringing character and charm into a room. Give yourself some new decor space by adding shelves to your bathroom walls in just a matter of hours. Learn how to make and install these rustic wood floating shelves here.
Curtains Are Certain
Yes, shower curtains are meant for keeping water in, but NO, you shouldn't overlook the decorating power a shower curtain holds. I especially love installing a bright and colorful shower curtain in an otherwise neutral bathroom like the one below. Image source.
Be Shady!
Another quick way to update your bathroom is by installing shades over your windows. Goodbye outdated blinds, hello added texture and charm! Image source.