As I've been playing around lately with the lampshades in my own home, I've found that they can make a drastic change in both the look and feel of a room. It's easy to just buy the standard shades from a store that seem like they might match a particular room.  But these shades are often plain and uninteresting.  And the uninteresting ones?  Oh, you mean the overpriced shades that could adorn my home for the same price as a trip to Europe?  I'll take the trip, thanks!  So what are we to do if we want non-standard shades for standard prices?  We make our own of course!  Here are 10 DIY lampshades that will transform any room.
1. City Lights 
Bring the magic of city night life to your living room.  You simply poke holes in a lampshade to achieve this look.  Find the full DIY tutorial on Just Crafty Enough.
2.  Cute Jute 
For a textured, neutral look, make this jute wrapped shade.  All you'll need is a jute rope or twine from a local craft store like Hobby Lobby and a glue gun.  The Handmade Home shares more information here.
3. Rhododendron Chandelier
I love the look of Anthropologie's home decor.  And Anthropologie's home decor likes my wallet just as equally.  Bring the distinct look of Anthropologie to your home without the expense by making this fantastic rhododendron chandelier. $898.00 Under $50.00!
4. Felted Flower Garden
Another Anthropologie remake, this felted flower lampshade could not be more fresh and enlivening!  It will take some fancy folding and cutting, but Another Crafty Day shows how to make the project fun and doable.
5. A Bit of Light Reading
For a bit of light reading, make this fun book page lampshade.  Use modge podge to cover a plain lampshade with book pages.  It's really that easy!  For an even more personal touch, add pictures from an encyclopedia.  Love it!  Learn more here.
6. Ruffle Your Feathers
Ruffle your creative feathers with this ruffled DIY lampshade.  Bunch together patches of heavy linen and glue on to a plain lampshade to achieve the look.  Learn more here.
7. In Or Out
Use a stencil to create your desired look.  You can either make the print more obvious or more subtle by painting on either the outside or inside of the shade.  In or out or both… your choice.  Cutting Edge Stencils shows how to make your own lampshade.
8. Light of the World
These unique globe lights would be fun to add to a children's study room or bedroom.  Idea found from Upcycled-Wonders.
9. Paper Motif
If you want a great way to display some original art work, this lampshade is just for you.  Get your craft on with just some paper, modge podge, and a simple lampshade to cover.  Find the tutorial here.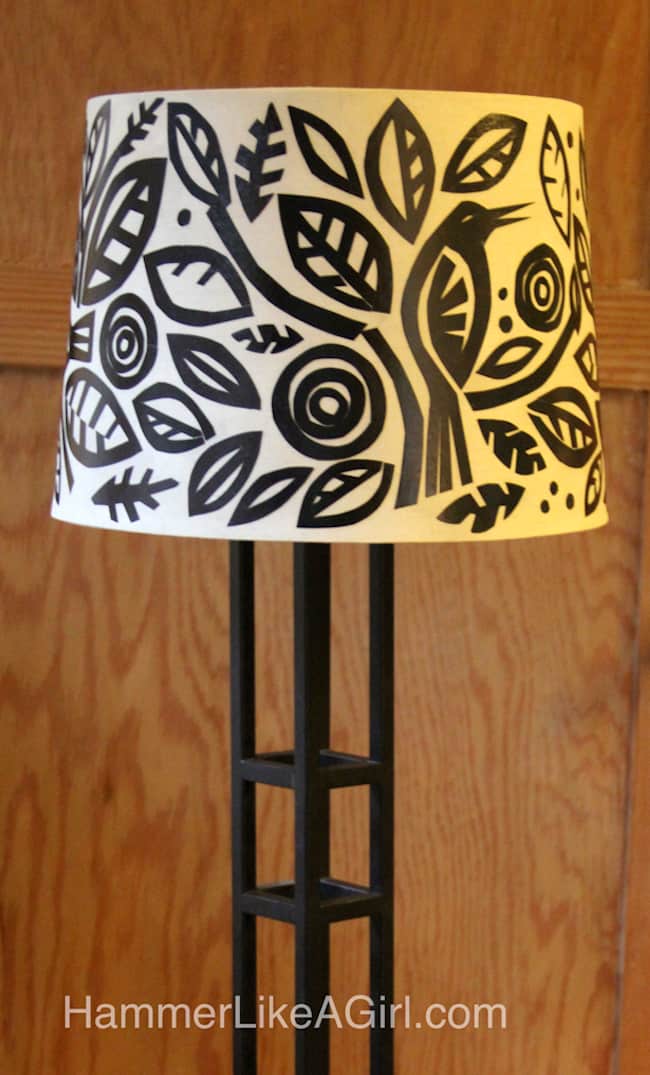 10. Mosaic Tile
Bring in some extra reflected light into any room with this mosaic glass tile lampshade.  Simply wrap a mosaic tile sheet around a basic lampshade and you're nearly done already.  Get more details from Pretty Handy Girl.