I can't believe it but Fall is practically upon us.  I may not like saying goodbye to Summer but Fall is my favorite time of year when it comes to decorating my home.  And with all the holidays, celebrations, and brilliant change of colors, it can be especially fun and rewarding in the Fall to decorate your porch and yard.  Here are some great ideas for adding curb appeal to your home.
Flowers & Landscaping
You typically think of gardening in the Spring but Fall can offer some fantastic landscaping as well.  Plant flowers and shrubs that showcase all the great colors of Fall.  What an easy way to add color!  Image source.
Pumpkin Perfection
Using pumpkins is another simple way to add color and life to your curb appeal!  Place them on your porch, along your walkway, or throughout your landscaping… you really can't go wrong.  Image source.
Fall Doormat
Change out your doormat for something inspired by Autumn colors and harvest.  This cute DIY polka dot doormat gets the job done perfectly!  Learn how to make your own from H2O Bungalow.
Pumpkin Pots
Use pumpkins as pots for planters and other small greenery on the porch.  Just hollow out the pumpkins and place the planters inside.  Source.
Wheat
Display bunches of wheat in you in your windows or around the porch. The neutral color will compliment any other Fall decor you include as part of your curb appeal.  Get tips for this simple but elegant idea from Julie Blanner.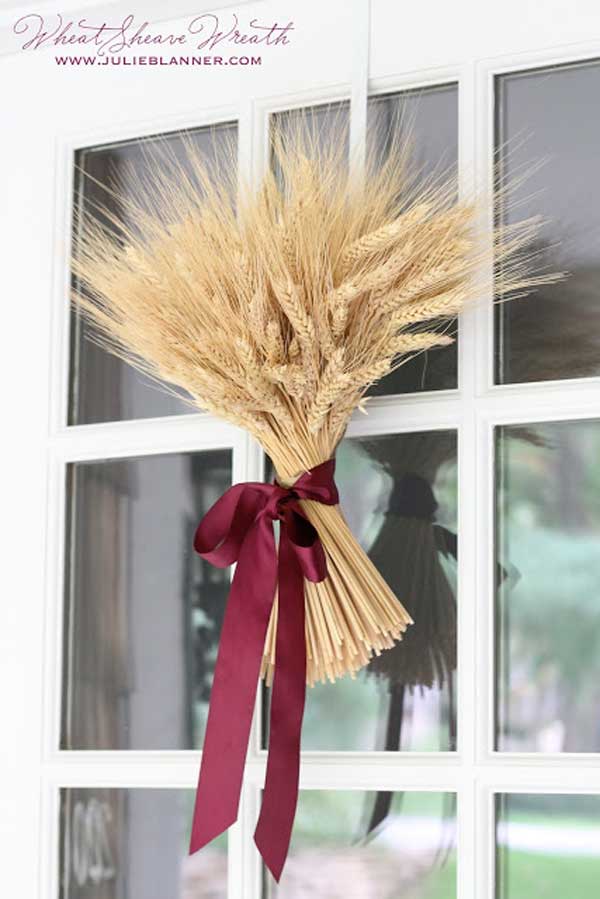 Cozy Comforts
Nothing beats the cozy comforts of Fall!  Welcome guests into your home with the homey appeal of soft pillows and a warm blanket set out on a swing or bench.  I'll be over before you know it!  Source.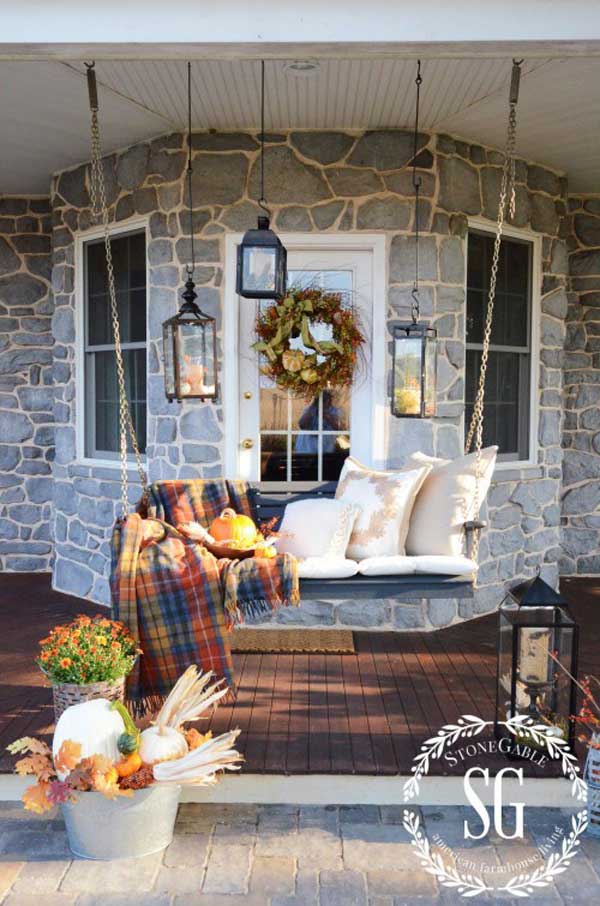 Crates
Use wooden crates to add leveling to your Fall porch display.  Place lanterns, candles, and other decor on the crates to create a just-right curb appeal.  The Fall foliage is such a beautiful finishing touch!  Hobby Lobby shares the idea through this link.
Wheelbarrow
Gathering the harvest is easy with a wheelbarrow.  They're also a great way to gather some excellent curb appeal.  Display with pumpkins, foliage, corn, or wheat.  Visit Folded Gingham for more info.
Stalks of Corn
One way to give your curb appeal some height and variation is with stalks of corn.  What a perfect seasonal touch to pull your porch display together.  Read more about this idea here.
Pumpkin Address
It seems like home addresses are becoming more and more hidden on houses these days.  That won't be the case with this gourdish display!  Carve your house numbers into pumpkins and stack them snowman style for this lighting feature.  Source.
Flower Box
When maintained, flower boxes can really add some beauty to your house!  Fill yours with Fall colored flowers and wicker pumpkin lights.  How charming!  Source.
Lamps
Secure Fall inspired bunches of flowers and foliage to your outdoor lighting to add an extra layer of warmth and beauty.  Small touches go a long way to add great curb appeal!  Image source.