I'll admit that I'm not the biggest fan of Halloween. I don't hate all of it but I really don't get into the parts that are all about death, creepiness, and terror. It's just not a place I like to dwell. But, all that aside, I still enjoy celebrating Halloween for the fun and silly aspects like dressing up and having parties. Especially the parties. It's such a fun way to bring in the holiday season from the games and activities to the music and decor. But with all the candy flying around for Halloween, how do you send home the perfect party favors that don't just seem like a cop out? Look no further… here are GHOULicious DIY party favors for Halloween.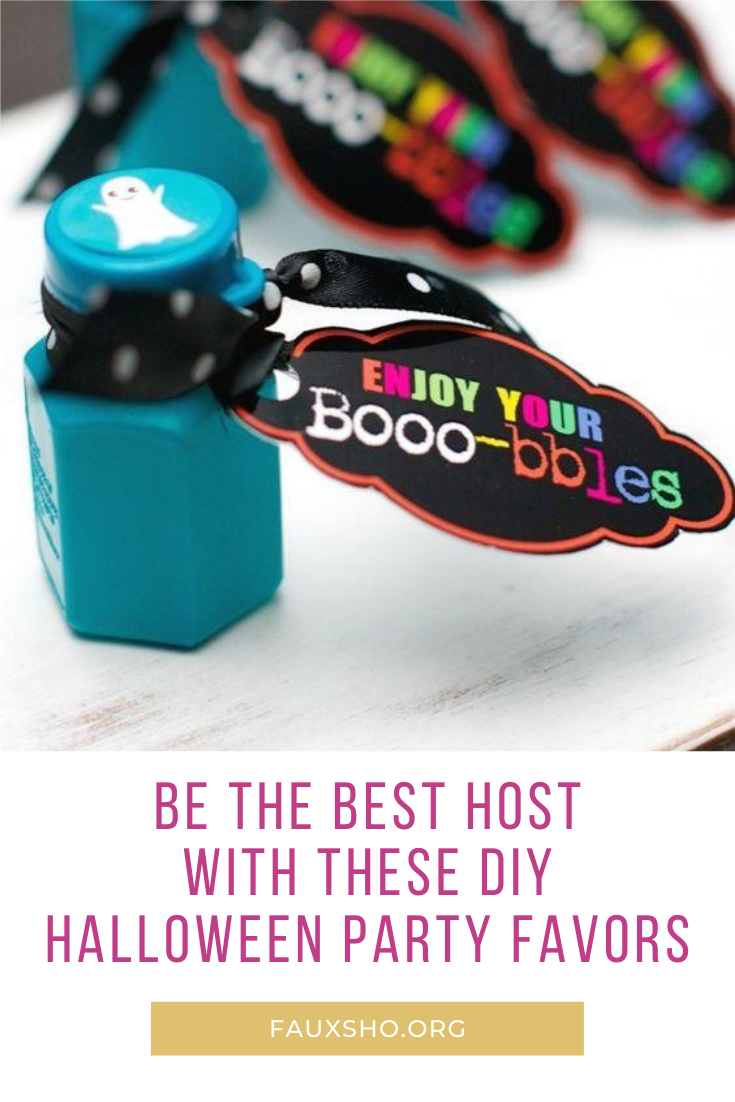 I Want To Suck Your Blood Lolli
Even Dracula will agree that Halloween suckers make for tasty party favors. Simply buy Halloween colored suckers from any store, remove the commercial packaging, and rewrap them in clear cellophane baggies (available for cheap at the Dollar Store.) Tie the cellophane with holiday inspired ribbon (again, available at Dollar Tree) and then top the wrapping with these free printable labels from The TomKat Studio. I love the black and white display as well!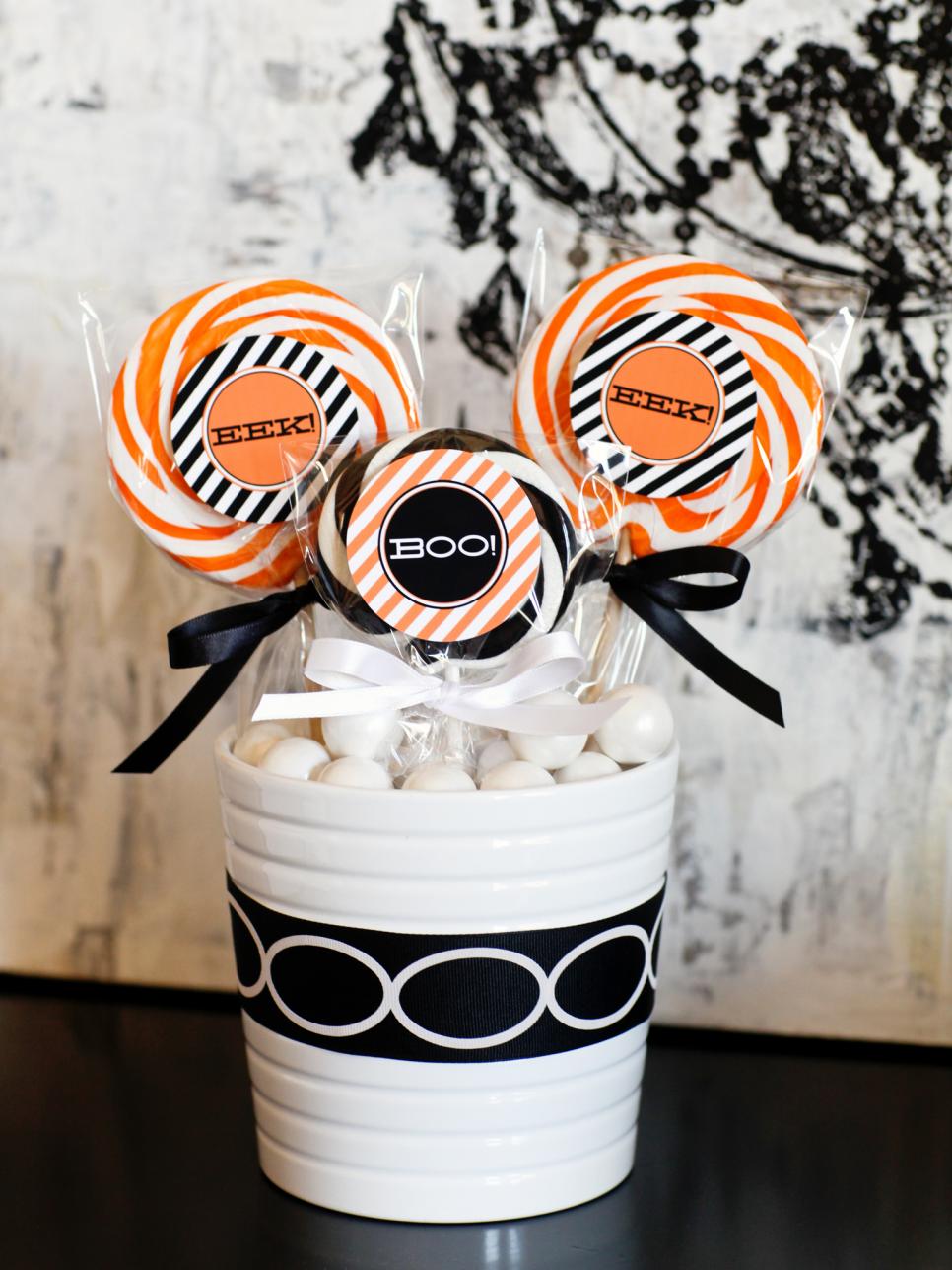 Monster Munch Popcorn
With all those sweet treats going around, it's nice to have something that's a little on the lighter side but that doesn't disappoint guests either. Popcorn is the perfect answer! Simply decorate some single serve paper cups and decorate with stickers, paper, or other crafting items. You can either serve your party monsters their popcorn at the party or wrap the cups in cellophane and send them on their way. I like my popcorn with some other flavors as well and absolutely love this sweet and salty recipe! I like to add extra pretzels and candy corn while I hold back a bit on the chocolates.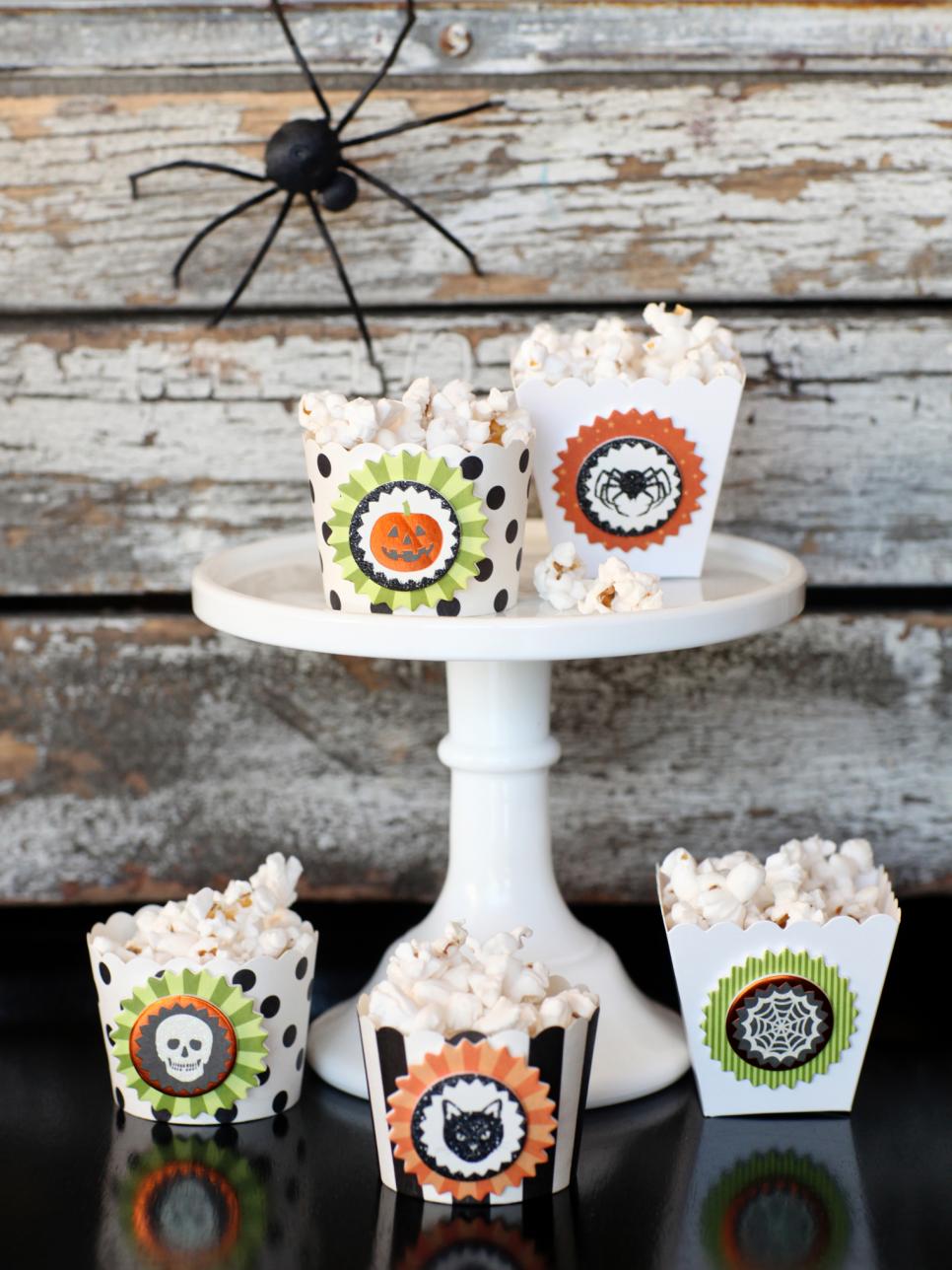 How Batty!
I'm completely hung up in all the right ways about these fun batty party favors! Use toilet paper rolls and colorful cardstock before folding and filling with candy. Then add the wings and faces as you'd like. Get all the BATastic DIY details here.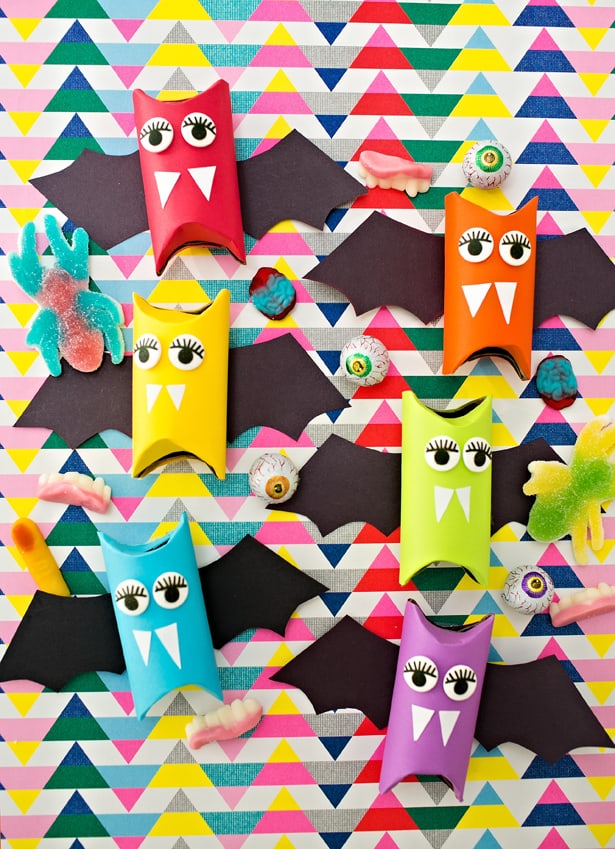 Smell My Feet
Trick-or-Treat,
Smell my feet.
Give me something good to eat!
You won't need any fancy potions or brews to make that Halloween request come true! With this cute DIY party favor, guests will be smelling feet AND getting something good to eat! Step into all the cackling details here.
LeGo My Pumpkin!
Here's a super fun candy-free favor that still packs a punch of pumpkin! Fill cellophane baggies with orange Legos that can be built to make a pumpkin. Close the bag off with wrapped twine and a paper leaf. Get the DIY blueprints from Repeat Crafter Me.
S'More Halloween Fun
Even after the party ends you can still have s'more Halloween fun with these ghostly favors! Just wrap ghost Peeps in a cellophane bag with mini chocolate bars and graham crackers. Top the bag with the cute free labels from Dixie Delights.
Rest in Peace
I guess the party died after all 😉 But seriously, what better way to send ghosts and goblins home than to wish them to rest in peace?! And with how easy these party favors are to make, you'll be sure to rest in peace as well!! All you need to do is trim the tops of black paper bags to look like tombstones and add the RIP with white marker or stickers. You can find gravestone templates from Martha Stewart.
He's Alive!
Frankenstein's alive and so will your guests be too when you hand them one of these fun Halloween party favors. Use empty Chips Ahoy, Oreo, or Nutter Butter snack containers as a base before electrifying some life into them with green and black paint or paper and peanut butter cups. Image source.
A Fangtastic Halloween
Give your monster pals one more bite of party fun with a fangtastic party favor. You can find vampire teeth here or at most party or craft stores any time from September through October. Print the free label from The Resourceful Mama and tie it on the fangs with string.
Boo-bles of Fun!
Ghosts and ghouls will have boo-bles of fun with this haunting party favor. You can usually find little bottles of bubbles at the Dollar Store. Scare up the free printable labels from Tatertots and Jello.
Keep Calm and Balm On
Keep calm and balm on with all your other party planning with this chappy party favor… Halloween infused lip balm labels! Get the cute free printable labels from Thirty Handmade Days.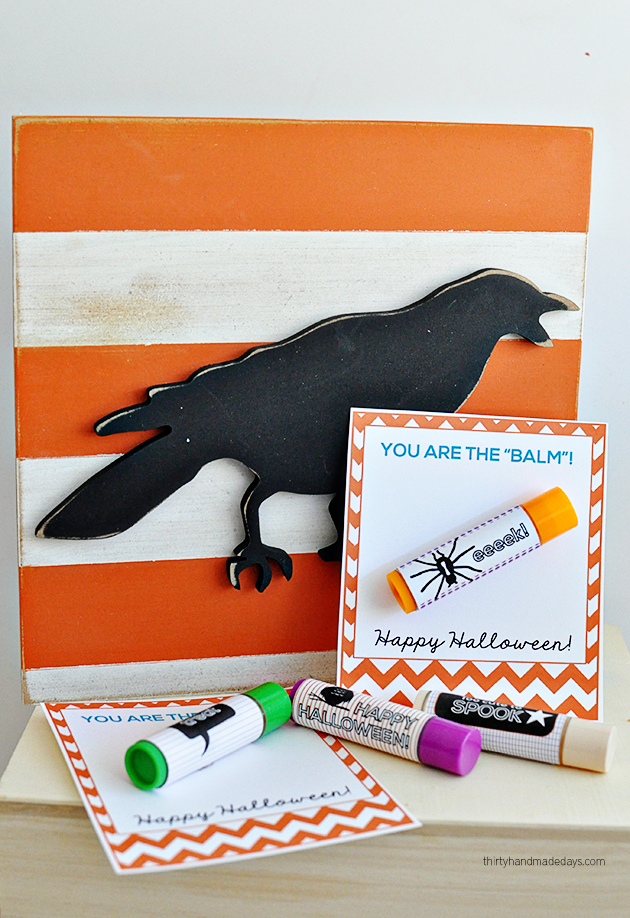 Sweep Them Up
Sweep witches and wizards off their feet as they leave your Halloween affair with these off the handle broomstick favors. Use glow stick bracelets as the handle and brown sacks or packing paper for the bristles. Fly over to One Little Project for more details.