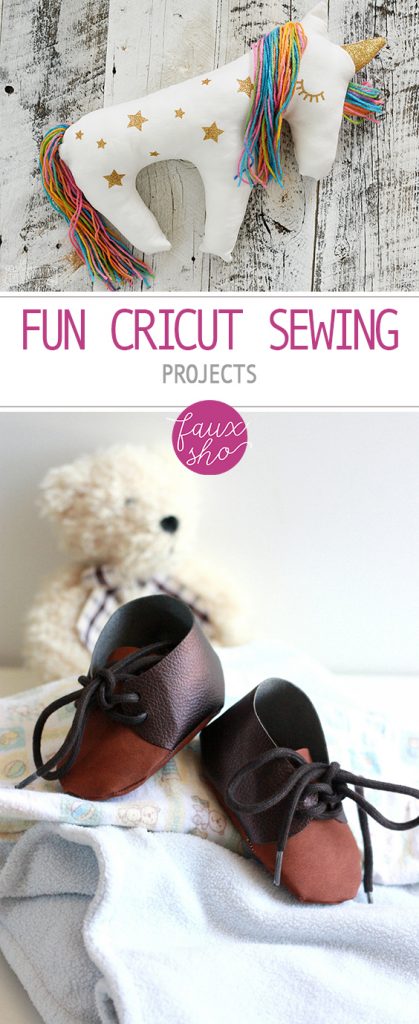 I can't say I'm all that familiar with using a Cricut.  However, many of my friends and neighbors are and they are always showing me their cute Cricut projects.  I've been running across some more ideas on Pinterest and around the Web and I'm finally at the point where I'm planning a Cricut party where my friends can help get me started.  Here are some fun Cricut sewing projects for inspiration.
Unicorn Magic
You don't have to work around children all day like I do to appreciate the awesomeness of this adorable unicorn backpack!  Your Little Fairy Tale Lover would be so excited to bring her own to school this year!  Get the DIY tutorial from Sew Much Ado.  They also have patterns for a bunny, cat, and heart backpacks!
Where's My Rememberall?
Use the Cricut to create a Harry Potter memory game for your aspiring Hogwarts students.  Neville's rememberall will come in handy for this game!  Get the DIY here.
Monogrammed Undies
A friend of mine shared a potty training idea with me the other day that I thought was pretty genius.  She said she would give her toddlers a new pair of big kid undies as rewards as they successfully filled out a potty chart.  She would make a big deal about earning the underwear and her children would get so excited that they were apparently potty trained in no time at all.  Whether potty training or not, make your own special undies by monogramming them with the Cricut.  You can also label them with days of the week to help your child remember to keep things fresh.  😉  More info here.
Embellished Dresses
While I don't have any daughters myself, I do have enough nieces to keep me well informed on everything princess, frilly, sassy, and much more.  I know that dress shopping can be frustrating at times because the best fitting dresses can be a bit plain.  But that doesn't have to matter with a Cricut.  Take your plain dresses and add all the perfect embellishments using this tutorial here from The Simple Life Company.
Shoe Bag
If your children are involved in athletics or sports, you know just how important footwear can be to your Little Athletes.  Use your Cricut to make a special shoe bag for ballet flatties, soccer/football/baseball cleats, or any other important shoe that deserves some special care.  Your kids will be the envy of all their teammates!  Tutorial here.
Embellished Shirts
If your on a team, in a group, or have a special occasion, use the Cricut to make a perfect shirt for the cause.  But then again, who needs a reason to make a fun shirt with a sassy saying?  Embellished shirts are just fun, period!  DIY found here.
Mended Clothes
In our home of 3 boys, new clothes didn't stay new for long.  I'd often get frustrated with how a perfectly good pair of pants would quickly end up with a hole after just an hour at the park.  But with the Cricut you can patch those holes in no time and still get plenty of use out of otherwise perfectly good clothes.  Learn how to Cricut-mend here. (I love how this Little One has her shoes on the wrong feet!  But how proud she should be for putting them on herself!)
Unicorns ARE Real
Now you can tell your Little One that unicorns ARE real… just as plush toys, that is.  How fun is this unicorn stuffed animal that you can make using your Cricut?!  Get the DIY details from The DIY Mommy.
Leather Booties
It's a good thing I have in-laws and nieces who are having babies because these little leather booties are just too cute NOT to make!  I can not get over how adorable any baby would be wearing these!  Everyday Jenny shares this most fabulous pattern here.
Goodie Two Shoes
You'll have a goodie two shoes on your hand with this fun idea.  Use the Cricut to embellish a plain pair of shoes for some seriously envy-worthy customized trainers!  Made For Mermaids shares more info here.
Reading Pillow
Keep track of your nightly reading book with this handy reading pillow.  I can think of some great book character fabrics that would be perfect for this project!  DIY here.  Does your Little One have a nighttime story that would find a happy home with this?