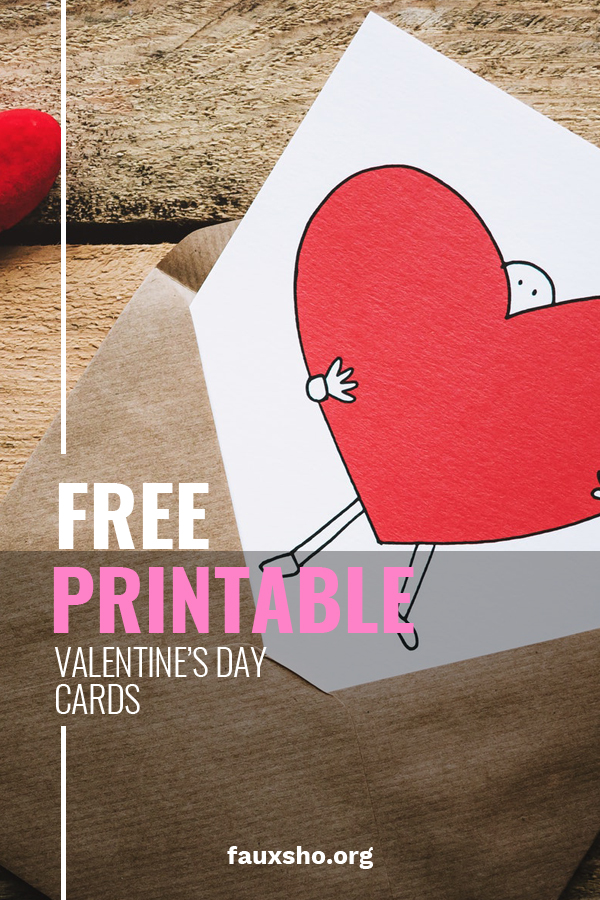 Gone are the days of buying expensive generic Valentine cards from the store!  Check out these free heart-filled printable Valentine's Day cards instead!
Gold Foil
You can't say "Happy Valentine's Day" any louder than with red and gold!  And these gold foil cards in particular are oozing Valentine's but with a simple prettiness as well.
Say It Bold
Simple message.  Bold colors.  Perfect combo.  I love how these clean cut Valentine's are also so bold!
Fun Lovin'
Here are some free Valentine's cards that can only be described as just fun!   With 12 cards to choose from, there's something for everyone.  The Star Wars one is a personal favorite.
Quirky Love Notes
Romance and passion are important but a good dose of laughter is another sure way to the heart.  Keep things light and humorous with these quirky love notes.
That's So Sweet!
I love fancy gifts and finery just as much as the next girl, but there's no denying that there are times when sweet treats really are the best Valentine's gifts.  For those times, be prepared with these equally sweet tags and labels.
Doh You…
Who could say no to this fun Play Doh Valentine?!  Kids (and adults!) will love getting their favorite moldable toy for a change.  You can find 4 packs of Play Doh from Dollar Tree.  Doh you want to be my Valentine?
Monstrously Fun
These cards would certainly be a riot to share with Little Monsters for Valentine's Day!  Candy, bouncy ball, bubble wands, and chapstick, Michael's is your one-stop shop to find everything you need!
Heart Air Balloon
Your Valentine will surely be flying high when they open their very own pop-up heart air ballon card.  The kitty in the basket is a purrfect finishing touch (I couldn't resist)!
A Colorful Valentine's
La vie en rose?…  I think not!  Life is better when things are colorful.  Give a gift of crayons, markers, or coloring pencils to wish your Valentine's a colorful holiday this year.
Wild Heart
Tame all sorts of wild hearts with these wild safari animal Valentine cards.  Who wouldn't find these pretty aMOOSEing?!  Find plastic animals in bulk from Discount School Supply.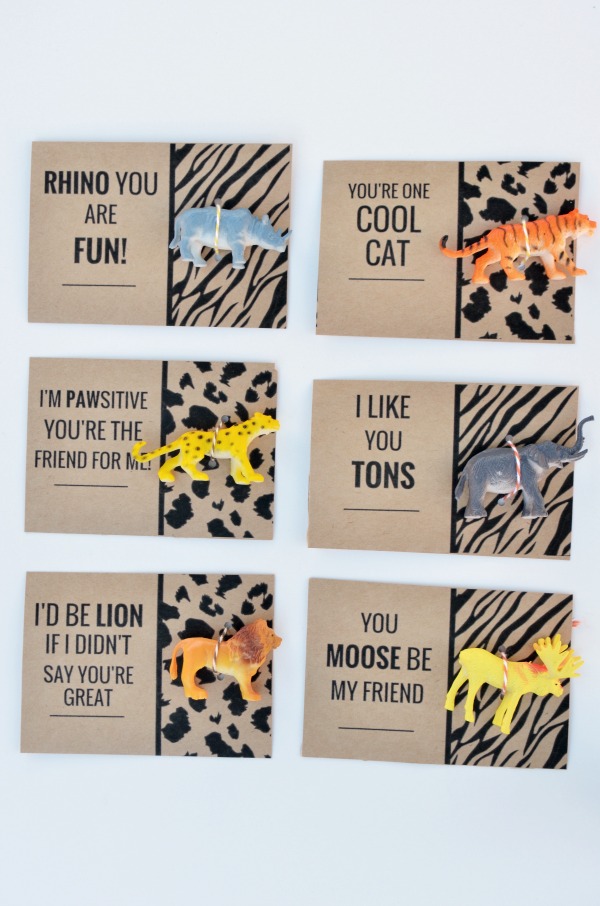 Get more information on each of these fantastic ideas from:
Gold Foil printables from YellowBliss Road
Say It Bold via Tales of a Thirty-Something
Fun Lovin' cards from Very Jane
Quirky Love Notes via My Someday In May
That's So Sweet printables from Crazy Little Projects
Play Doh Valentine's from The Nerd's Wife
Monstrously Fun Valentine's found on Fun Squared
Heart Air Balloon from Lia Griffith
Colorful Valentine's found on My Frugal Adventures
Wild Heart cards via Eclectic Momsense