Living in a small home can be challenging but it doesn't have to be frustrating.  With a little bit of creative organization and use of space, your tiny home will still have a big heart. Here are 10 ideas to get you started.
 1. Mirror, Mirror On the Wall
 Adding a large mirror to a room welcomes additional sunlight and gives the appearance of having more space.  Nothing wrong with tricking our brains a little bit to maintain some sanity and remain the fairest of them all.  
2. Ready Or Not…
Play a little hide-and-seek with your appliances by storing them in hide-away shelves and cupboards.
3. A Couch Pouch
Use the area under sofas and couches to hide ugly piping.  You could also use the space for any needed storage.  Idea from Apartment Therapy.
4. Feeling Lofty
I was fortunate enough to have a loft in my bedroom as a child and haven't stopped loving them ever since.  Adding a loft to your tiny home makes perfect sense to free up needed space and it'll leave you feeling pretty high and lofty.
5. Friends Things In High Places
Continuing with the theme of using high spaces, here's another great idea from Tiny House Swoon.  Just add some extra shelving above doors and other places to add room for storage and/or decor.
6. Shelf Life
The space under the stairs is one of the most underused areas of the house.  Rather than having a flat wall and closet, your home might benefit from turning the staircase into shelving space.  Idea found here.
7. Ceiling The Deal
Here's a fantastic idea if you're limited on garage storage.  Open up some floor space by adding a sliding tote system to your garage ceiling.  Installation guide found on The Family Handyman.
8. Stow-Away
What another creative use of stair space!  Who needs a bulky linen closet when you can store your sheets and blankets under the stair?
9. Sugar and Spice
Utilize that awkward gap between your fridge and wall by installing a sliding spice and can rack.  This really does make "everything nice" in small kitchen spaces.  Idea from Huffington Post.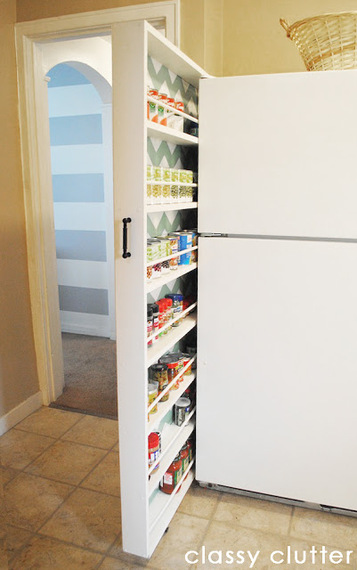 10. Step Inside
Yet another use of stair space for added storage.  I love how it gives double purpose to something that's already there!  Thanks to Tiny House Swoon for the stair-iffic idea.