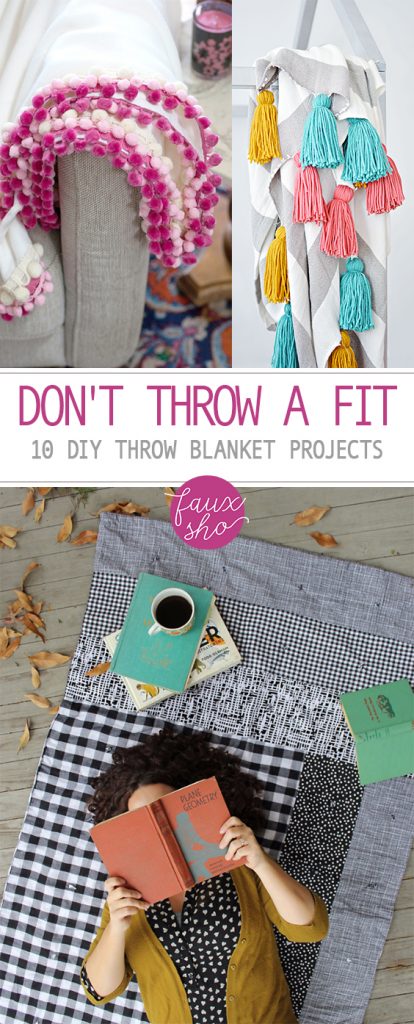 With changing seasons, weather, and just because, there's always room for a new throw around the house.  We have our lighter summer throws and heavy, cozy winter throws, all of which get used almost daily (guilty!).  Needless to say, I'm always looking for a new throw and what better way to get a new one that to make it yourself!  Here are 10 designer-worthy DIY throw blanket projects.
1. No Hassle Tassel 
Add more personality and style to an otherwise straight-edged blanket by adding your own tassels.  I think this giant tassel throw is a great example of how using materials you already own (or can buy for cheap) can turn into beautiful finished pieces.  Read how to make your own tassel throw here.
2. The Pom's the Bomb!
How cute is this pom-pom throw!  I can see it going really well in a child's room in particular.  It's as easy as finding your favorite fleece and gluing on pom-pom trim.  This pom-pom project is the bomb!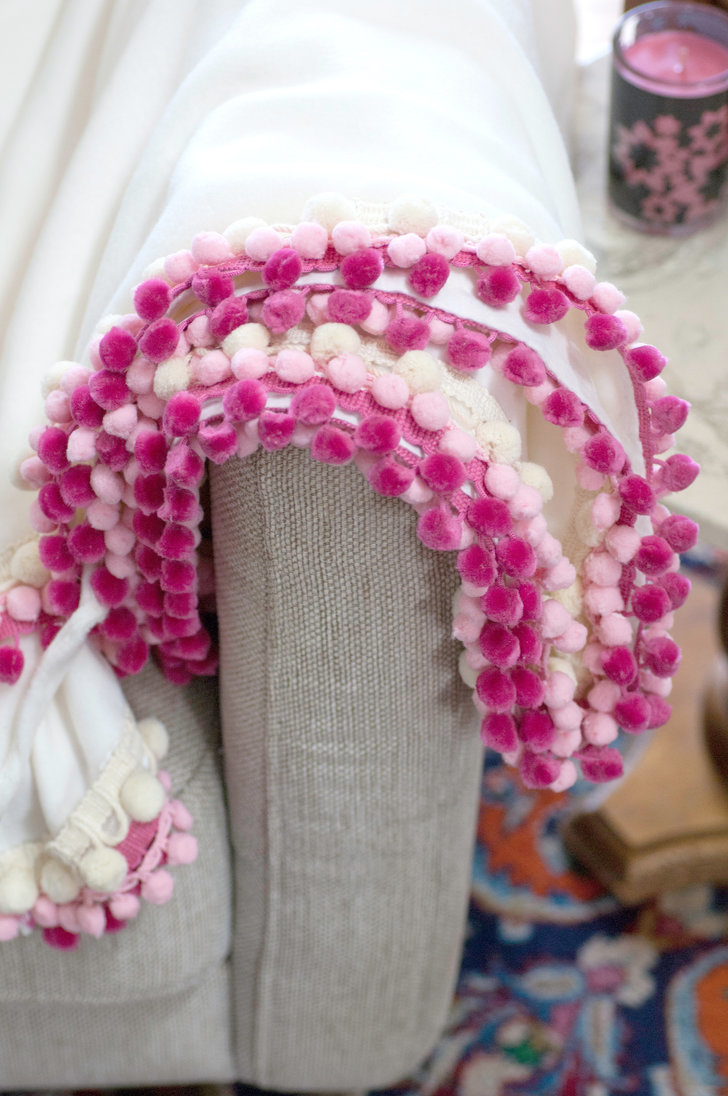 3. Fast and Furriest
This super fast faux fur throw looks so cozy for wintertime!  I especially like how this blanket switches up the norm by putting the fur on the pom-poms instead of as they main fabric like most other faux fur throws.  Get the tutorial from Earnest Home Co.
4. It's A Flan Stan
I saw this pattern a few weeks ago and truly made my own within the same week.  I live in a house of all boys, dog included, but Fido, unlike my other men, will actually use our couch throw with me.  Although I love this, I've been wanting to make him his own blanket for a while now because he tends to add extra wear and tear to my decorative couch throw.  Now we both sit on the couch in our own comfort each night as the other boys are cold and lonely (don't deny it, honey!)
5. So Patchy!
I really don't like giving food and treats as gifts.  Don't get me wrong… I know how to pull together a candy jar or plates of cookies if I need to!  But when I have the time, I feel like people usually get enough food as it is for events and holidays and I think it's more fun to do something a bit more special.  Blankets are a favorite gift of mine to give.  My boys and I have become experts at making no sew patchwork fleece blankets!  They make excellent gifts for teachers and school friends.  Powerful Mothering shares a tutorial and video here.
6.  Knit Happens
I don't have time for it like I used to, but knitting is still one of my favorite hobbies.  Much of my winter wardrobe includes knitted sweaters of one kind or another and I'm always stopping in stores to admire nice knitted pieces.  You know I had to try this DIY arm-knitted project when I first saw it!  It did take some patience and an extra pair of hands at times, but it was so much fun and the final project is gorgeous!
7.  Stitch It Up!
Personalize a throw with just a trusty needle and some yarn.  How fun!  You could do this for any fun or special purpose.  Lovely Indeed shares more info on her blog.
8. Afghan-I-Can
If you don't know how to knit or crochet yet, now is your chance to learn.  Knitted and crocheted throws are not only gorgeous but they make for some of the most special heirlooms to pass down.  My knitted blankets from my grandfather are among my few most prized treasures.  Check out this afghan pattern here and say "I can" after learning how to knit with some new friends at a local knitting club!
9. A Patch of Perfection
Use your fabric scraps to make a light, multi-purpose throw.  The pattern was made for beginners in mind so don't hesitate to check it out from A Beautiful Mess!
10. Travel Throw
I like to keep a spare blanket in my car at all times.  You just never know when you'll need to cover your trunk or seats (hello mom of 3 boys!) and I like having a blanket for my sons' soccer games.  When I saw this convenient travel throw complete with carrying handle, I knew I had to make my own!  Toting team treats and a chair and everything else is enough without having to worry about how to carry a big blanket.  The handle makes life so much simpler and I am ALL ABOUT SIMPLICITY when and where it can be had!  Get the DIY Tutorial from Tried & True.