We made it through the holidays and you just received more candles than you know what to do with.  Good thing candles make for an excellent way to decorate!  Now just bring it all together with a touch of your personal flair with these simple DIY candle holders.

DIY Candle Holders
Dipped Wooden Egg
Who said you have to paint the entire thing?  I love the natural look of these partially dipped wooden egg holders!  How perfect to display in spring!  You can find unpainted wooden candle holders at Michael's in various shapes.
Mason Jar Lanterns
Add a leather belt and a subtle touch of fresh herbs or greenery to a mason jar to make this glowing lantern. These would be so fun to use to illuminate an outdoor summer gathering. They would look great on tables and hanging from trees!
Rope Wrapped
Add a nautical feel to your candle decor with nothing more complicated than a cardboard tube, sisal rope, and some hot glue. Why can't all DIY projects be THIS easy!?
Wooden Block Centerpiece
Drill candle-sized holes into a wooden block for a rustic, open-flame centerpiece.  Stagger the holes and candle height for an especially countryside feel.  You can find wood drill bits for a seriously good deal from Hardware World.
Cinnamon Stick Wrap
Spice up your candle decor with nothing more than some cinnamon sticks and twine. Simple. Elegant. Festive. DONE!
Wooden Logs
These rural logs remind me of World Market's classy birch candles.   Use your wood drill bit to make holes in real or craft tree logs alike to make this simple project.  I like how these were cut at an angle to give the pieces more dimension. This is one of my favorite DIY candle holders.
Stenciled Mason Jar
Whether for your own home or as a gift, these stenciled mason jar candle holders are such joyfully pretty holiday displays! Beans, dried berries, and more give the candle a decorative raised bed and simple twine finishes off the look. The best part is that you can choose any stencil for any occasion or purpose.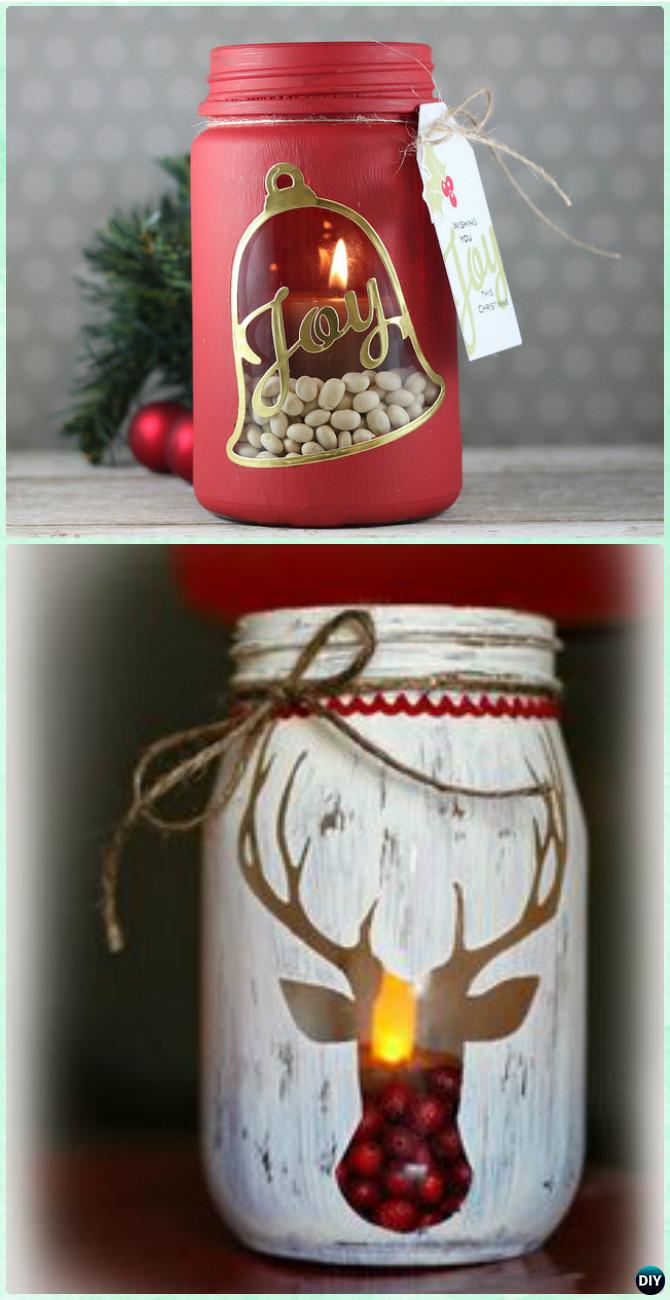 Hanging Lanterns
And you thought tins cans were just garbage! Think again with this fabulous hanging lantern idea where emptied tin cans are wrapped with craft paper and hung as open-flame lanterns. How vintage chic!
Learn more about these projects and products from:
Find wood craft supplies at Michael's
Dipped Wooden Egg tutorial found on Hello Lidy
Mason Jar Lantern via Stylizimo
More information about the Rope Wrapped candle holder found on Muy Ingenioso
Wooden Block Centerpiece image from Merchant Design
Tools and Hardware Supplies found on HardwareWorld.com
Cinnamon Stick Wrap via Garden Therapy
Image source for Wooden Log idea
Wooden Log image found on Pinterest
Stenciled Mason Jar shared by Soapbox Creations
Hanging Lanterns found on Recyclart
Be sure to look at our website for more DIY ideas!