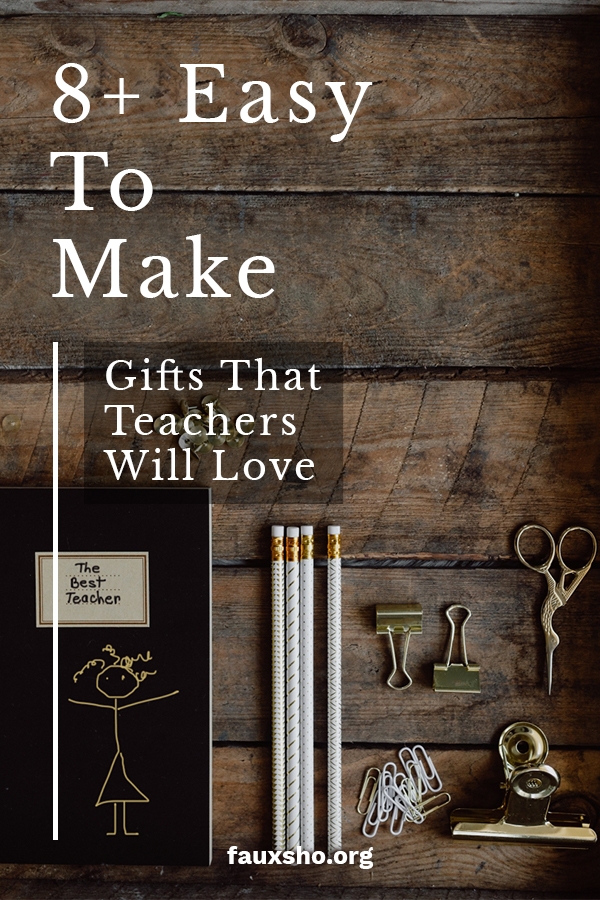 Every teacher deserves a DIY gift for teachers. Teachers do a lot for our kids. Because they do, it's only right to show your appreciation. If money is tight or if you want to make your kids' teachers something special, then consider one of these 8+ easy to make gifts that teachers will love.
Mason Jar Gifts
DIY gifts for teachers include glittery mason jars. Fun and shiny, this present is sure to adorn the desk of your kid's teacher for years. To make this glittery gift, you'll need a large mason jar and glitter glue along with paint.
2. Inspirational Lantern
To show your child's teacher how appreciated he or she is, make this inspirational lantern. You can find affordably priced ones at craft stores like Michael's. Consider painting it a bright, cheerful color. Then, add the inspirational saying.
3. Pencil Vase
DIY gift ideas consist of making a pencil vase. Perfectly themed, this vase is fun for any teacher to have in his or her classroom. To make it, you'll need a box of number two pencils, pretty ribbon and some fresh flowers. Affordable school supplies are sold at Discount School Supply. Head to the site to get number two pencils and supplies for your kids.
4. Crayon Candles
Easy to make, crayon candles are a smart desk decoration for your child's teacher. Make them in his or her favorite colors to further express your thanks.
5. Teacup Planter
Make your child's teacher a teacup planter featuring succulents. By planting succulents, you'll be giving him or her a pretty plant that's easy to maintain, one that is sure to add a fun vibe to any classroom.
6. Mason Jar Filled with Gumballs
This easy, affordable and quick-to-make gift is sure to delight your child's teacher. Often, simple presents are the most appreciated. He or she will love the vintage element of the gift. Plus, gumballs are a sweet treat.
7. Custom Coffee Mug
DIY gift ideas for teachers include custom coffee mugs. Initial a plain white mug to make an inexpensive present. Then, fill it with a homemade cocoa mix, coffee or tea.
8. Homemade Caramel Dip
Homemade caramel dip is the contemporary version of the classic apple. Make your favorite caramel dip, and then, pour it into a mason jar. Place an apple on top of the lid and cover both items with a clear bag. If you tie the bag with ribbon or twine, you'll give the present a rustic look.
9. Stationary
DIY gifts include making stationary for your child's teacher. To make the cards, hand dip cardstock in all-natural blueberry dye. This will give them a slight hue and smell, ensuring that they're original. Stationary is a useful gift. Your child's teacher will surely love it. Visit Scrapbook for cardstock and other craft items, and maybe even a few other DIY gifts for teachers!
My DIY gifts for teachers came from DIY Joy, Mashable and Reader's Digest.