There's more to the end of October than Halloween alone!  October 31st also marks the first day of the Day of the Dead, or Dia de los Muertos.  This multi-day holiday is celebrated in Mexico and other parts of Central America to remember and honor those who have died and to help them in their spiritual journey beyond the grave.  What a beautiful holiday!  Do you have relatives you could help out on their spiritual journey?  Whether or not you do, celebrating Day of the Dead is well worth your time!  Here are some great ideas for decorating for Day of the Dead in DIY style!
Pumpkin Candle Holder
These pumpkin candle holders are perfect for a Dia de los Muertos dinner table centerpiece.  All you need to do is hollow out the inside of mini pumpkins and paint them white.  Then paint on some sugar skull features and fill the inside of the pumpkins with candles and flowers.  Source.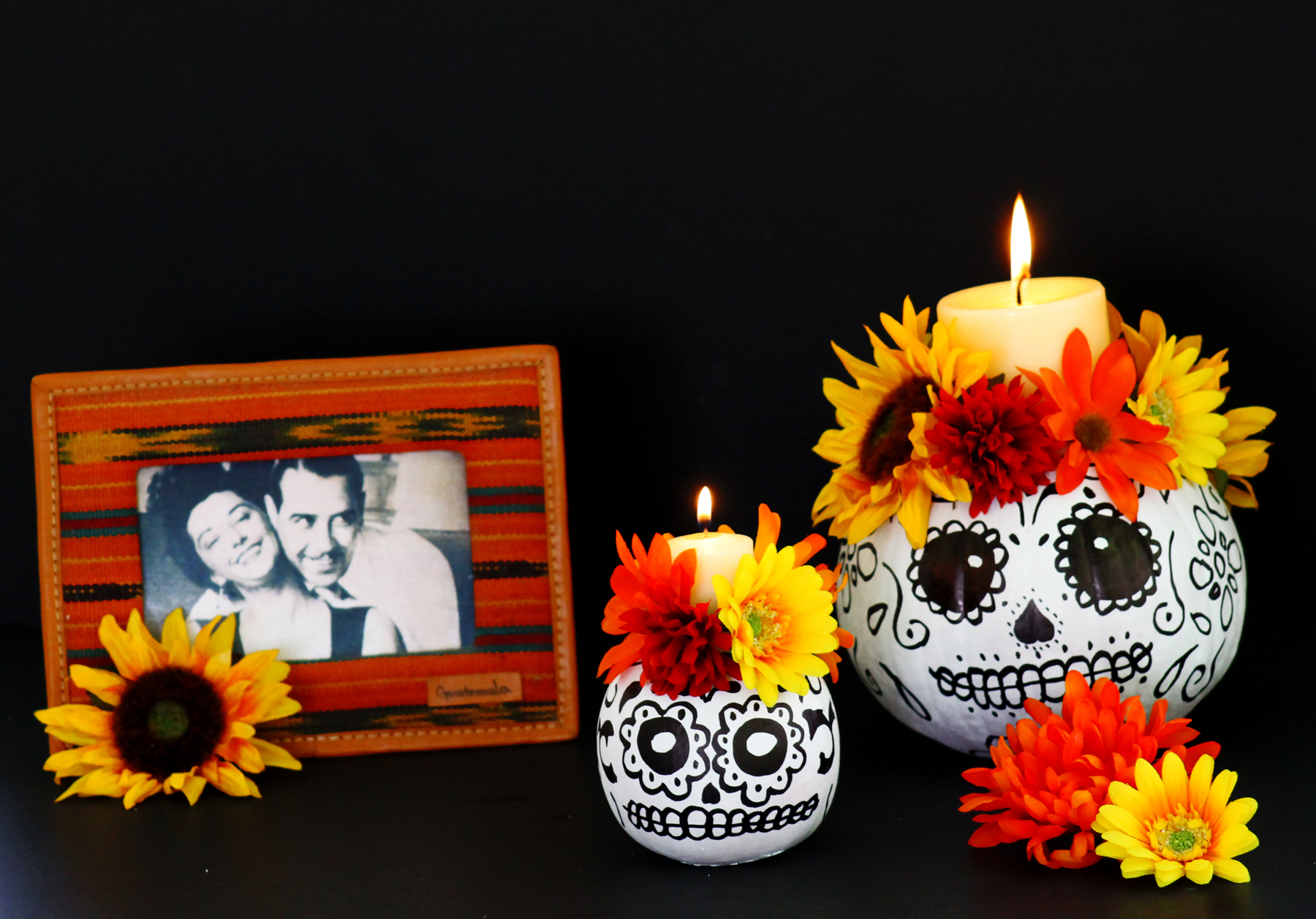 Sugar Skull Balloons
All the best parties have balloons!  Kids would have so much fun decorating their own sugar skull balloon and they make for great party decor afterwards.  Source.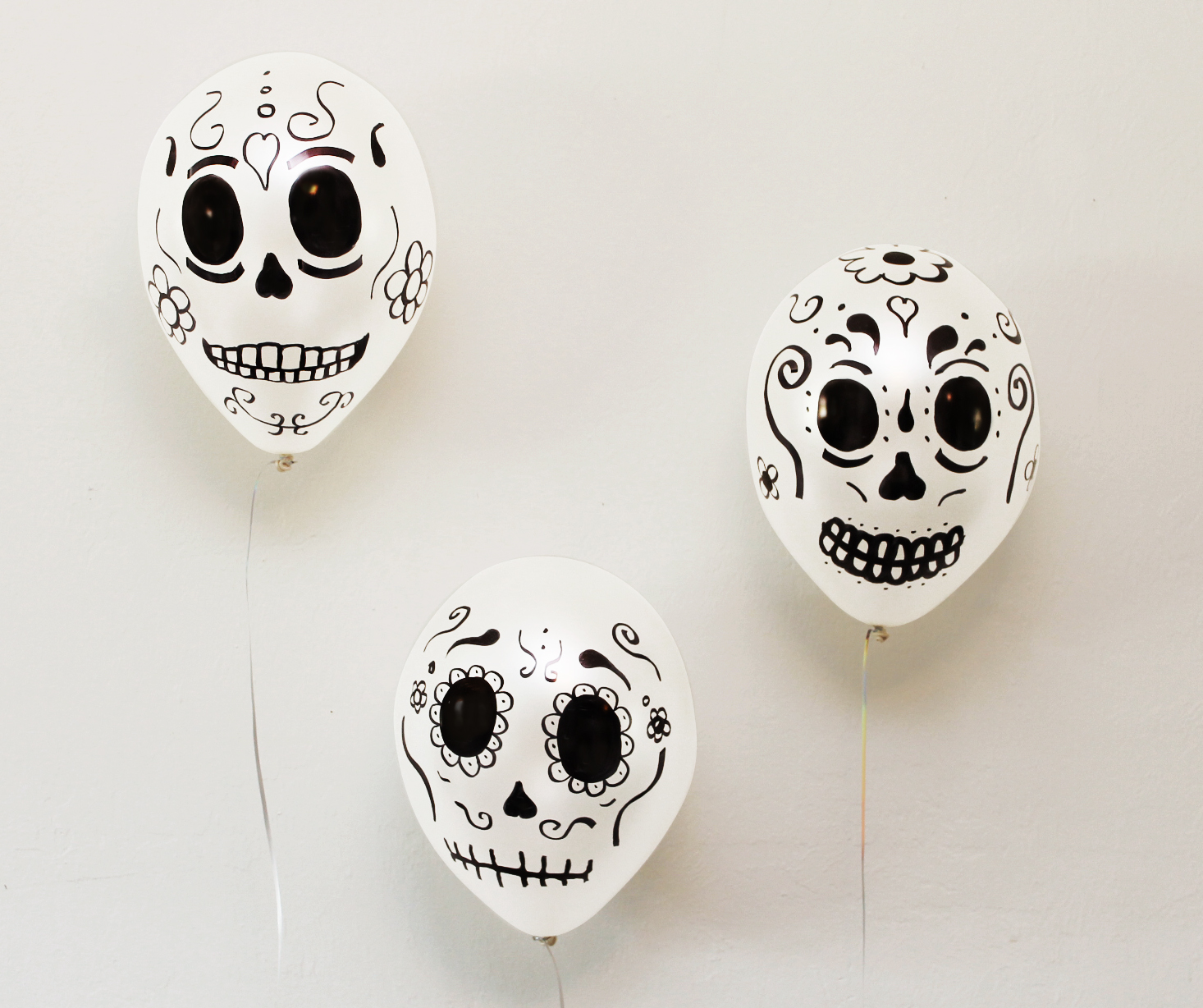 Dia de los Muertos Garland
Add a pop of color and festivity to any corner of your Day of the Dead celebrations with this super fun garland.  You can get the free printables here and then all you have to do is clothespin them to a string.  How easy!
Mini Sugar Skull Lanterns
Set the perfect mood for your Day of the Dead celebrations with these mini sugar skull lanterns.  Turn them upside down and cover tea candles to create the lantern effect.  Source.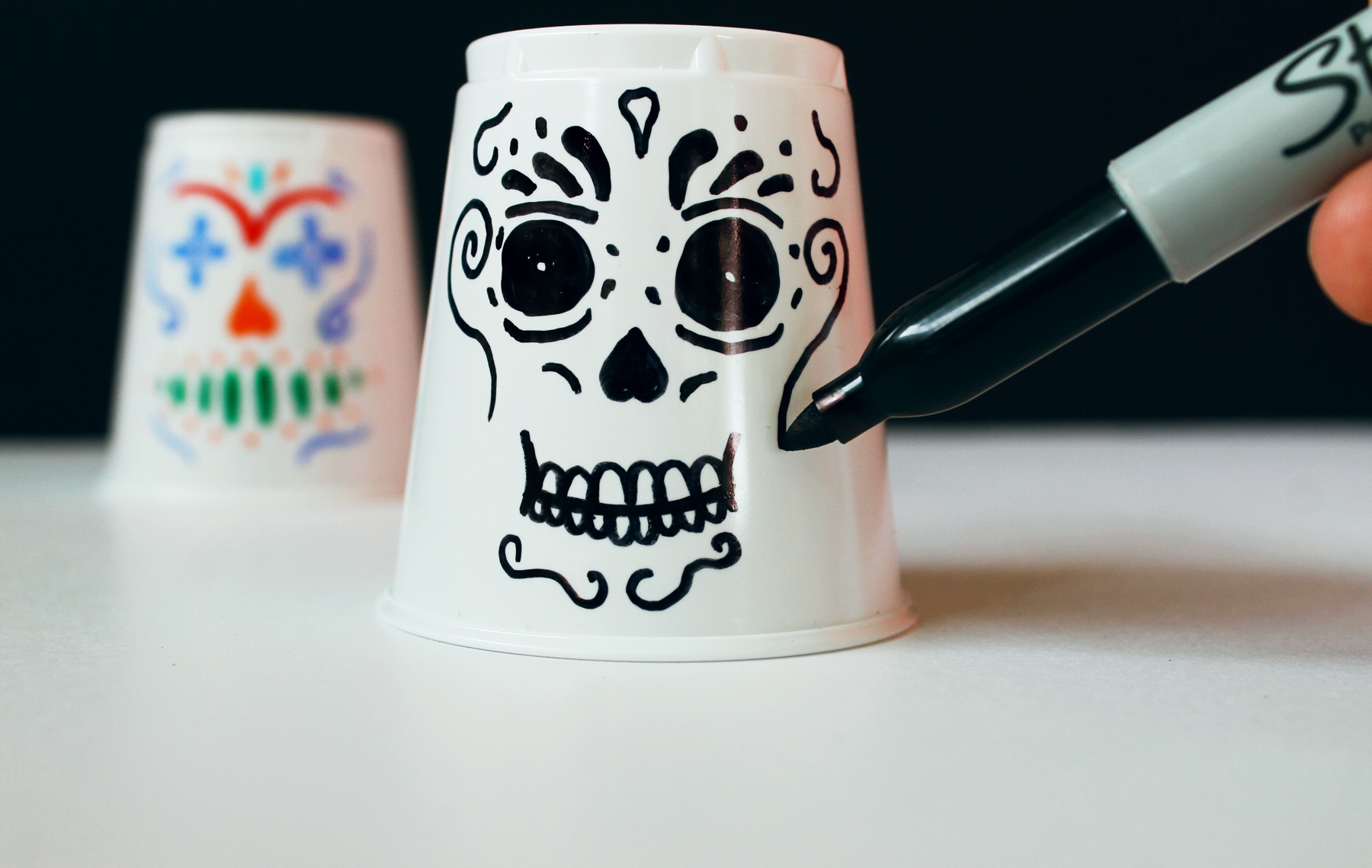 Dia de los Muertos Piñata
No fiesta is complete without a piñata!  Especially when they're as easy to make as this cute sugar skull piñata!  All you need are streamers, cardboard, tape, and glue!  Get the DIY here.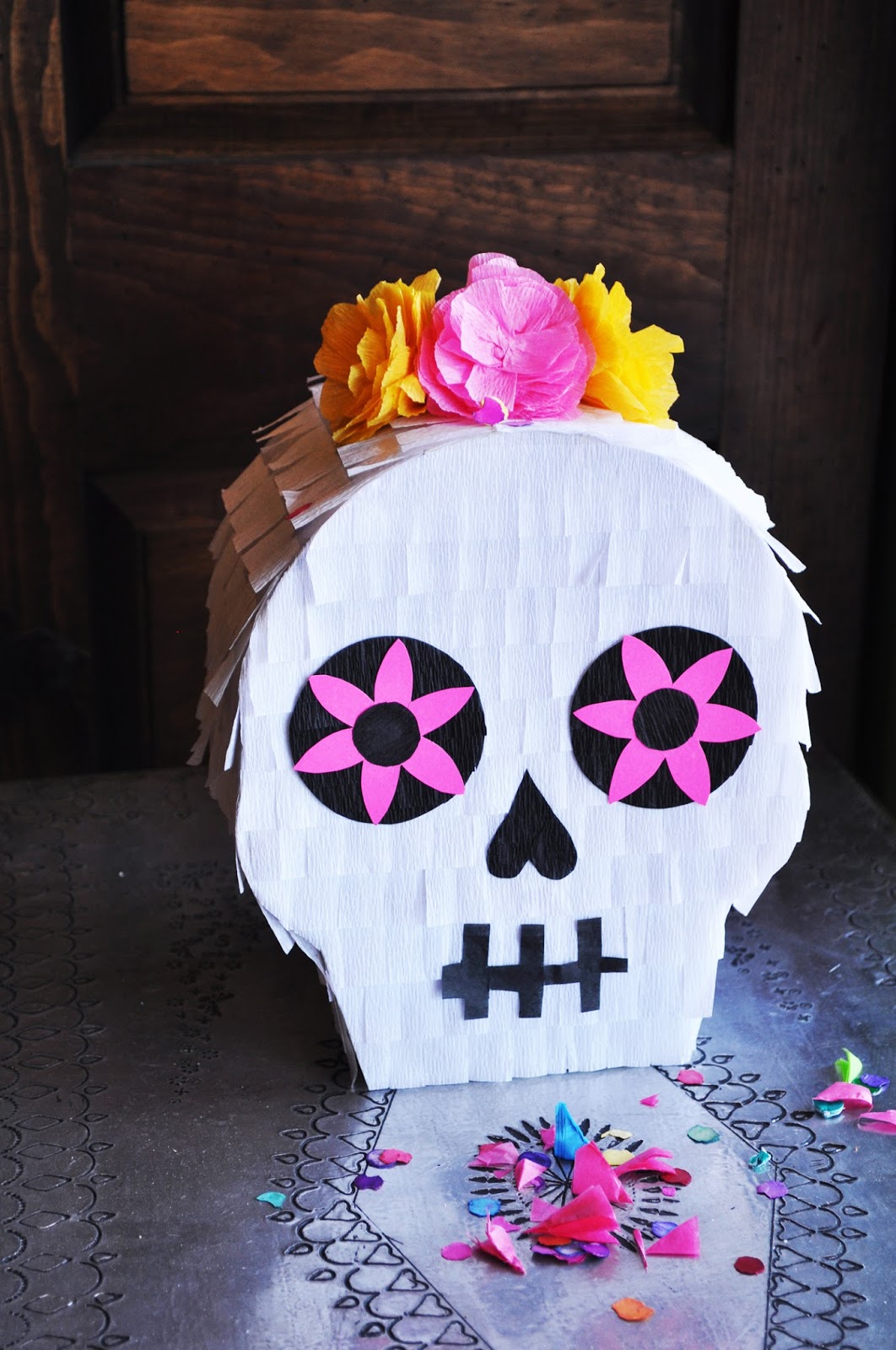 Sugar Skull Pots
Succulents and cactus are the quintessential plants for Dia de los Muertos decor!  These fabulous sugar skull pots could not be any more perfect to hold your greenery for Day of the Dead.  You'll just use acrylic paints on terra cotta pots.  Source.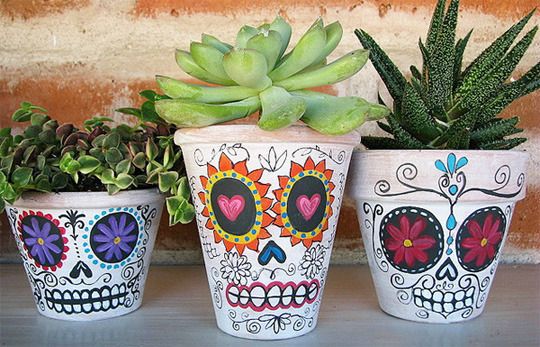 Dia de los Muertos Wreath
Welcome party guests to your home with a fun Dia de los Muertos wreath on your front door.  This tutorial shows you how to make the wreath using tissue paper but artificial flowers from the dollar store would be even easier.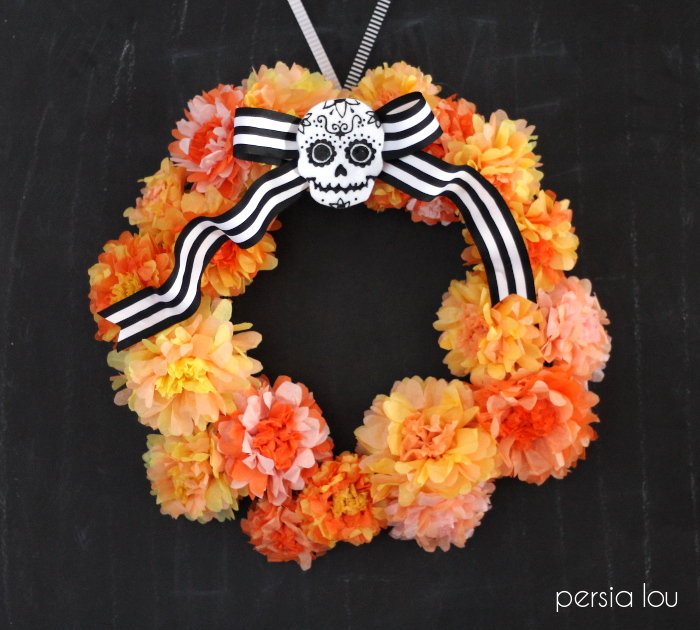 Papel Picado Banner
I love seeing papel picado banners out and around Mexican cities!  Include this fun tradition in your own Day of the Dead celebrations by making your own!  Get the DIY here.
Floral Headband
Sometimes the best decorations are the ones you get to wear!  Pay tribute to Mexico's beautiful marigold flowers for this year's Day of the Dead festivities by making this fun floral headband.  Jamonkey shares how.
Face Paint
Go all out with some face paint this Dia de los Muertos!  It's really quite easy and makes for a more authentic celebration.  Find the free step-by-step guide here.
Dia de los Muertos Necklace
My favorite items to purchase when I travel to Mexico are those which are handcrafted and true to the Mexican culture.  This Dia de los Muertos necklace reminds me so much of these special items made with such care and precision.  What a little treasure!  Learn how to make your own from Cassie Stephens.
Pumpkin Skeleton Boxes
Skeleton boxes are a popular way to tell humorous or other stories for Day of the Dead using skeleton characters.  Tell your own story this Dia de los Muertos with a fun pumpkin skeleton box.  Find out how here.