Our little dog is such an important part of our family.  Dedicated walking companion, protector, cuddle buddy, bed warmer, teammate, and comic relief, I just can't imagine our lives without our furry best friend.  It's for all these reasons that any extra work or mess made by Fido is completely worth it, including the mess of pet food.  However, although you just have to accept some mess with pet food, that doesn't mean you have to store it in style-killing bags or containers.  Here are creative ways to store your pet's food.
If your pet is a part of your family, spoil them with wholesale pet gear from Pet Updown. This link will get you 47% off your online order! 
Animal Lid Mason Jars
Use hot glue and spray paint to make fun animal lid mason jars.  The glass jars are so much more appealing than ripped bags and sticky cans!  Grab your leash and head over to Irresistible Pets for more on this simple DIY.
In need of more mason jars? Get them cheap when you purchase them through this link. 
A FAN-ister of the Canister
I'm a fan of the pet food canisters from Ballard Designs.  What I'm not a fan of is paying $65 for a thin metal can.  Make your own version instead for a fraction of the cost using holiday popcorn cans.  Plus, you can munch on your own popcorn Scooby snacks while you whip up this easy DIY.
Glass Is Class
Keep your storage more classy with a simple glass jar.  Glue or stick on animal inspired shapes, vinyl stickers, or even paint to customize the jar specifically for Fido.   You can find glass jars at many home decor stores. My favorite are from Cost Plus World Market. 
Pamper With the Hamper
Pamper your pet by storing his food in a wicker laundry hamper.  The clean cut look of the hamper will blend right in with your other furniture and decor.  Get the tails wagging with this food storage DIY from Golden Boys & Me.
Garbage Can
I love this hide-away can idea from BHG.com!  Fill up a clean and empty garbage can with a long term supply of Furball's dried food, scoop, and feed.  Easy as sit, shake, and roll over!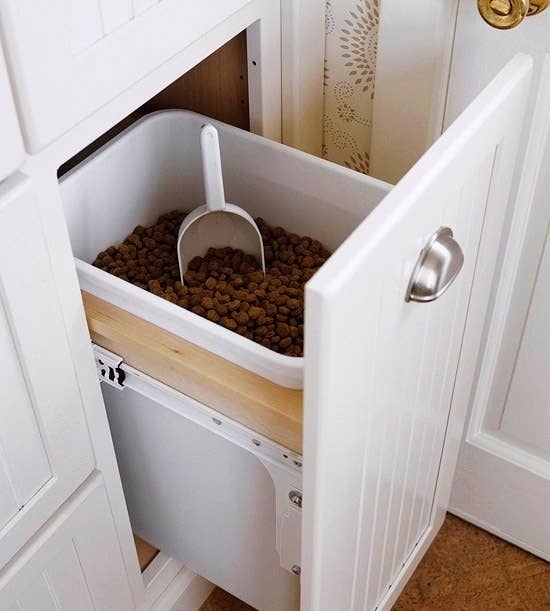 Drawers
You know those small plastic drawers you were going to use for all your great crafting?  Yup, the ones that are just sitting around collecting dust now.  Well, here's a brilliant way to use those drawers while making Spot happy at the same time.  Each drawer can be for a different pet or you can keep food in one drawer and treats in another.  Get the full meow-down from Real Coake.
Island Hideaway
Give Rufus his own island hideaway of sorts with this food storage idea.  Use your kitchen island shelving as a way to store and feed your pet.  The glass jars and matching bowls are a great way to keep it all organized.  If only it came complete with palm trees and a hammock…  Image source.
Pet Station
Food isn't the only important part to keeping noses wet.  Keep track of all of Princess' important documents, fur care, medications, and food in a one-stop pet station.  How nice that the desk blends right in as a natural part of your home furnishings!  Read more here.