Oh the magic of sidewalk chalk!  What a great way to get outside on a warm day and get out some creativity.  We also enjoy playing games like hopscotch, tic-tac-toe, hangman, and bean bag toss.  Save a bit of money and add some extra fun to sidewalk chalk this year by making your own.  Here are 8 simple recipes for making sidewalk chalk at home.
1. Chalk Pops
Enjoy a refreshing popsicle while you're outside with these fun chalk pops!  To make the pops, use Plaster of Paris, tempura paint (the neon colors are particularly awesome), a silicone pop mold, wood craft sticks, plastic cups and plastic spoons. You'll also need cold water, scissors and measuring cups.  I suggest buying the supplies from Hobby Lobby and/or Michael's.  Find the instructions for this recipe here.
2. Chalk Paint
Make a squeeze with chalk paint. All you'll need is baking soda, cornstarch, water, and either food coloring or food gel.  Get the DIY instructions from Living Well Mom.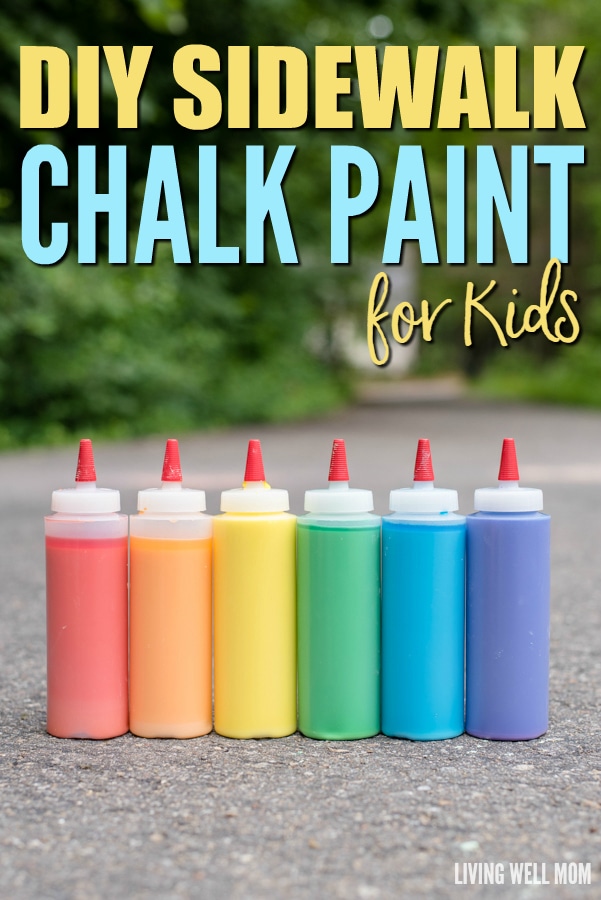 3. Glow In the Dark
What a bright idea!  Enjoy your chalk paint any time of day with this glow in the dark recipe.  For each color, you'll need 1 Cup of Plaster of Paris, 1 Tbsp. of glow in the dark or fluorescent paint, 3/4 Cup warm water, and a silicon mold.  Get more details here.
4. Scented Chalk Paint
Here's an excell-SCENT!  Make noses happy with just a bit of yummy scents in your sidewalk chalk recipe.  You'll need cornstarch, water, food coloring, and extracts of your choice.  Smells like fun!  Read more here.
5. Foam Paint
Bring the chalk paints to bath time for a splash of a time!  This easy-to-wash recipe is just as easy to make.  Check out Growing a Jeweled Rose to learn how to make the foam paint.  You'll have to start by making chalk powder.
6.  Chalk Paint Spray
One Tbsp. flour, 10 drops of food coloring, and half a cup of warm water.  That's it!!  With just 3 simple ingredients, you'll be creating some unique spray art of your own.  Learn more from Wine & Glue.
7.  Fizzing Chalk
You'll have a fizzle of a time with fizzing chalk!  Make a normal batch of cornstarch-based sidewalk chalk but then spray it with baking soda after your Little Picasos have made their masterpieces. For more specifics, go to Kids Activities Blog.
8. Sparkly Chalk Paint
Add some glitz and glam to your chalk for a sparkle of a time!  Use a blender to combine cornstarch, water, and food gel before sprinkling a dash of color-coordinated sparkles into each chalk mix.  Read more about the recipe and this blender mixing method from Mama Papa Bubba.