A basement holds tremendous opportunities for enhancing your home's value. You may not consider your basement a valuable part of your property, but you'll be amazed to know the numerous ways in which you can utilize your basement. From expanding your living space to transforming it into a full-fledged recreational space, your basement has a lot to offer. A finished basement is associated with massive ROI, which is why so many homeowners have started to invest in basement remodeling. If a basement remodel is on your to-do list, don't forget the ceiling of your basement like many homeowners do. A ceiling can change the aesthetics game if you design it right. This article highlights some of the best basement ceiling ideas that are sure to offer some serious inspiration!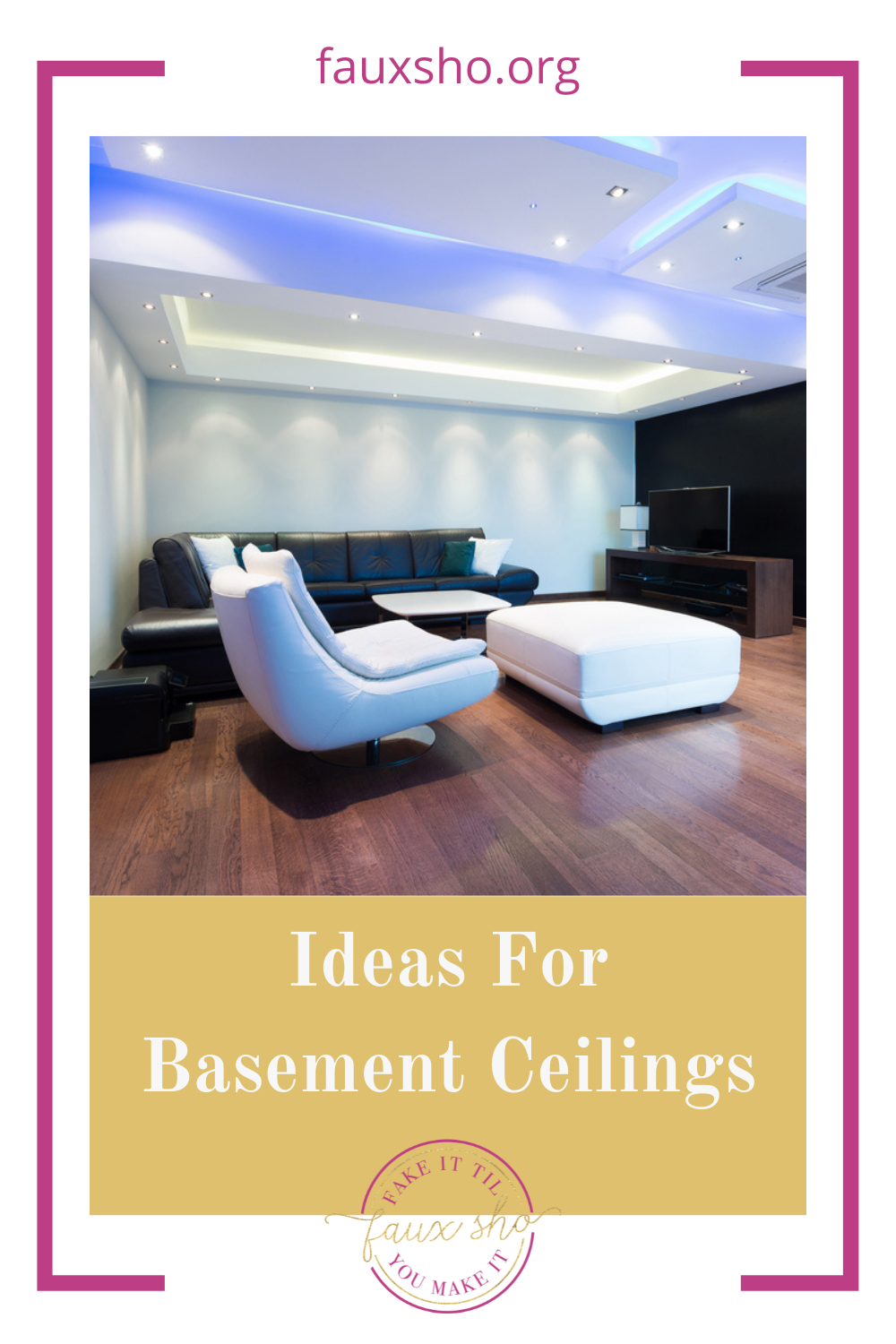 You may wonder why it is important to invest in a good basement ceiling design when it's not something that's visible right away. Most homeowners focus on the flooring and lighting more than the ceiling, but we say that ceiling doesn't is as important as any other element of your basement remodeling project.
Why Should You Pay Attention to Basement Ceiling Design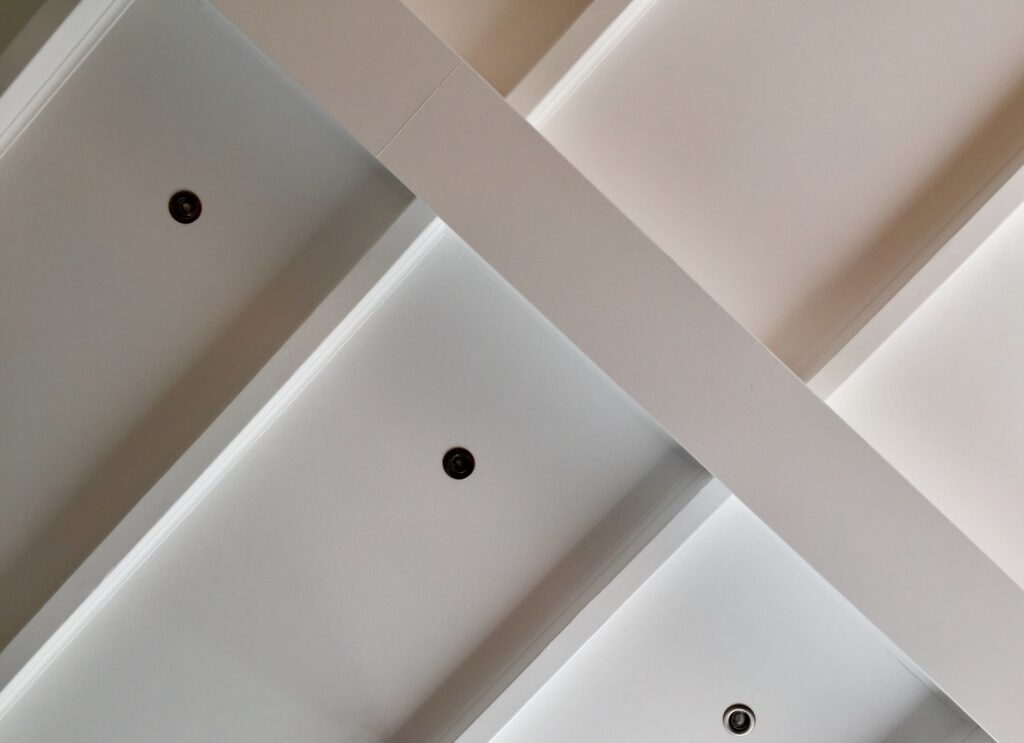 Below are some of the major reasons why you should pay attention to basement ceiling design.
Improved Aesthetics
The primary reason homeowners invest in home remodeling projects is to improve the aesthetics of their homes. Your unfinished basement isn't hurting you, is it? Then why are you investing your hard-earned money in its remodeling? The answer is simple – for the sake of improving the visual appeal. The ceiling of your basement is an integral component, and if you overlook its design, your remodeled basement may not look as attractive as you want it to. For example, a wooden ceiling can make your basement look rustic, warm, and welcoming.
Good Acoustics
The right ceiling design can make your basement soundproof. It means that you can enjoy hard metallic music in your basement without disturbing the rest of your family upstairs. Good ceiling design is critical for your basement's acoustics. For example, you remodel your basement into a private theatre. If you neglect the ceiling design, you might not be able to enjoy the theatre-like sound when watching a movie.
Good Insulation
Ceiling design doesn't just affect the aesthetics, but it also plays a critical role in keeping your basement comfortably warm or cool. Proper ceiling design can improve the basement insulation by a great deal, thereby making your basement a more usable and livable part of the house.
Concealed Wiring
Basements are usually dark. You've got to ensure ample lighting if you wish to bring your basement to good use. While adding sufficient lighting to the basement isn't difficult, concealing the unsightly wiring is. However, you can conceal all the wires coming from ceiling lights under a false ceiling. You can explore various basement ceiling ideas and see what sits well with your idea of a perfect basement.
Basement ceilings can play a vital role in bringing all the components of your new basement together. No matter how luxurious flooring you get or how attractive your wallpapers are, your basement will be unfinished and incomplete if you don't focus on ceiling design.
Best Basement Ceiling Ideas
You might not know how to design your basement ceiling if it's your first time working with basement ceilings, but you need not worry. Below is a list of some of the best basement ceiling ideas that are going to give you a serious dose of inspiration before you undertake your basement remodeling project.
1. Stylish Beadboard Ceiling
You can install a beadboard ceiling if you want a budget-friendly basement ceiling idea for your new basement. Beadboard ceilings look beautiful. Beadboard dates as far back as the Victorian era. It's cheap, durable, and looks contemporary, making it an ideal ceiling material for a modern basement. A beadboard ceiling will make your basement look warm and cozy, just like a cottage. This basement ceiling idea goes great with low ceilings. Not only does a beadboard basement ceiling adds to the aesthetics of your basement, but it also offers a great degree of insulation. Your basement will feel warm in the winters and cooler in the summers.
You get the perfect blend of modern and vintage if you leave the beams exposed with a beadboard ceiling. Beadboard is a popular choice for ceiling material, and with the right decorative add-ons, you can achieve a truly beautiful basement ceiling.
2. Black and White Wood Panels
Next on our list of best basement ceiling ideas is a black and white ceiling made from wood frame panels. A black and white framed ceiling looks absolutely gorgeous. Paint the ceiling black and top it with white-colored wooden panels to give it the typical checkered appearance. It'll look all more attractive if you pair it with white or gray-colored ceiling walls. Black floors will be a cherry on top!
Basement ceiling ideas like this one are ideal for basement game rooms, living rooms, and guest rooms. It looks timeless and extremely sophisticated.
3. Textured Glue-Up Tiles
You don't have to go with fancy options when it comes to basement ceiling ideas. You can opt for something as simple as textured glue-up tiles. It's one of the most economical and budget-friendly basement ceiling ideas. You can find textured glue-up tiles in home stores easily. All you've got to do is glue the tiles up on the ceiling, and you're done! If you can't think of a basement ceiling idea that looks simple yet elegant, this one is for you!
4. Ceiling Medallion
Not many homeowners have got the budget to invest heavily in their basement ceiling. However, if you don't work on making your basement ceiling look presentable, at least basement remodeling may end up being a failure. But don't worry – you can install a ceiling medallion on a plain ceiling and up the aesthetics game almost instantly. Depending on your preference and budget, you can choose from a huge variety of ceiling medallions, from simplistic ceramic ones to metallic varieties.
5. Old Tin Ceiling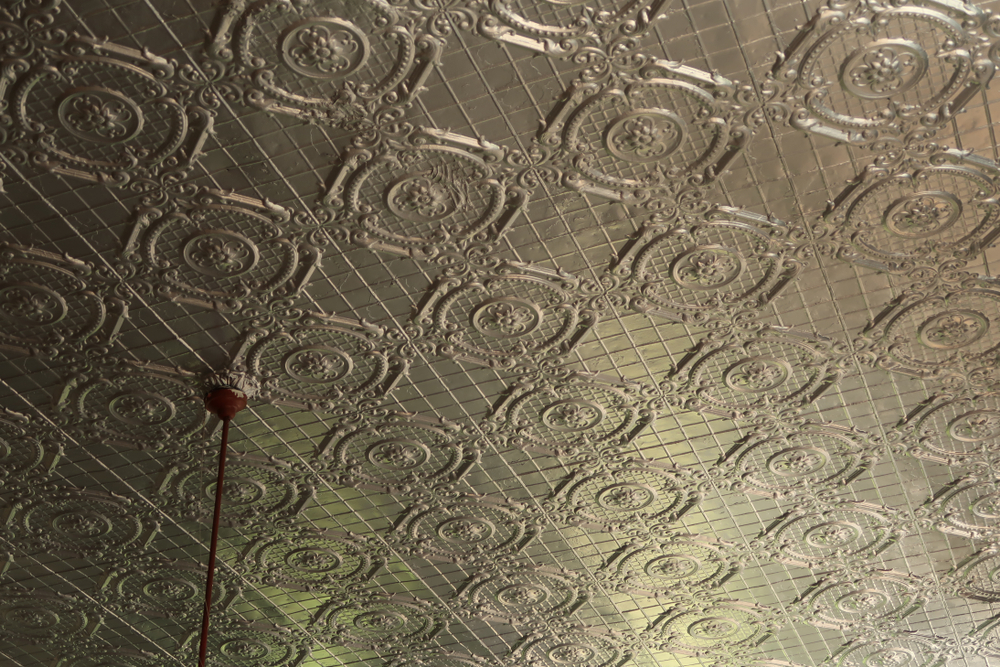 You can make your basement ceiling from old tin for an old-timey feel. Tin for a ceiling is easily available in home improvement stores. It's one of the cheapest ceiling materials. Tin ceilings are highly durable and very pocket-friendly. The best thing about the old tin basement ceiling is the classic style that it adds to your basement. This is the perfect idea for anyone who's looking for cheap and simple basement ceiling ideas that also look stylish and classy!
6. Mosaic Stick-On Ceiling Tiles
With more and more people searching for affordable basement ceiling options, more and more ideas are springing up so that everyone can enjoy an equal share of stylish basements. One of such basement ceiling ideas is the mosaic stick-on ceiling tiles. Mosaic is timeless. No matter what home décor style you prefer, the mosaic will always blend in, whether it's mosaic flooring or ceiling. You can find mosaic stick-on ceiling tiles quite easily. They're available in a massive variety of designs and colors. The best is yet to come – they're sure affordable.
7. Beveled Mirror Tiles
Most basements feature a low ceiling. Basements are usually dark, and low ceilings can make them look smaller and more congested. However, one of the finest basement ceiling ideas for low ceilings is beveled mirror tiles. These tiles add depth to your basement. The light from your basement light fixtures will reflect from the tiles and make your basement look bigger and brighter.
8. Coffered Ceiling
Another great way to add elegance to your basement is by installing a coffered ceiling. If you're exploring basement ceiling ideas that can make your basement look like a sight and won't cost an arm and leg, a coffered ceiling might just be what you're looking for. These ceilings will compel everyone to stare up at your ceilings. The intricate designs and detailing of the coffered ceiling make it such a top choice for homeowners when it comes to basement ceilings. Coffered ceilings come in a wide variety of designs and colors, so you'll have plenty of options to choose from.
9. Textured Vinyl Tiles
Textured vinyl tiles are beautiful, elegant, and absolutely delicate. You can make your basement look absolutely gorgeous by installing a textured vinyl tile ceiling. Installing these ceiling tiles is quite simple and doesn't take too long if that's a concern for you. This basement ceiling idea is one of the best because these tiles don't require extensive maintenance. They'll last you a lifetime with minimal maintenance.
10. Art Deco Tiles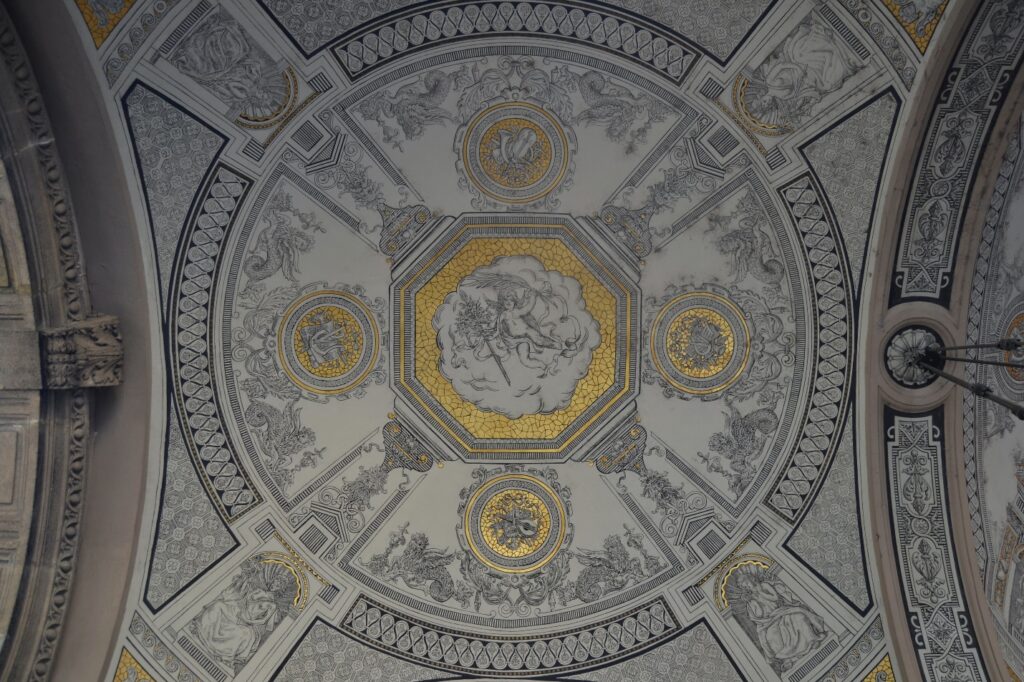 Did you know you had as many ceiling options as you had for floors? We bet you didn't. Most homeowners stick to the traditional ceiling designs, but the market is full of extremely unique and innovative basement ceiling ideas. One such idea is art deco tiles. These ceiling tiles are the best option for everyone who loves the old-world feel. Art deco tiles come as stick-on tiles and as drop ceilings as well. So you can choose whichever design and style you like more. Art deco tiles are expensive, but the vintage feel is totally worth it!
11. Ceiling Papers
Installing ceiling papers is one of the simplest and cheapest basement ceiling ideas that can transform the look and feel of your basement. Ceiling papers are installed just like wallpapers. There are endless options in terms of colors, designs, and patterns when you set out to choose ceiling paper for your basement ceiling. If you want your basement to look lively and bright, choose light-colored ceiling papers. If you want your basement to give off warm and vintage vibes, you can choose darker and heavier designs.
12. Hanging Planters
Fresh plants add life to any space, be it your kitchen, living room, or basement. Basements don't usually receive a lot of sunlight, but many plant varieties can do well in the shade. If you're looking for out-of-the-box basement ceiling ideas, this one might win for you. Hang ceiling planters to your basement ceiling. You can also add LED lights to give a beautiful, subtle look.
13. Leave the Ceilings Raw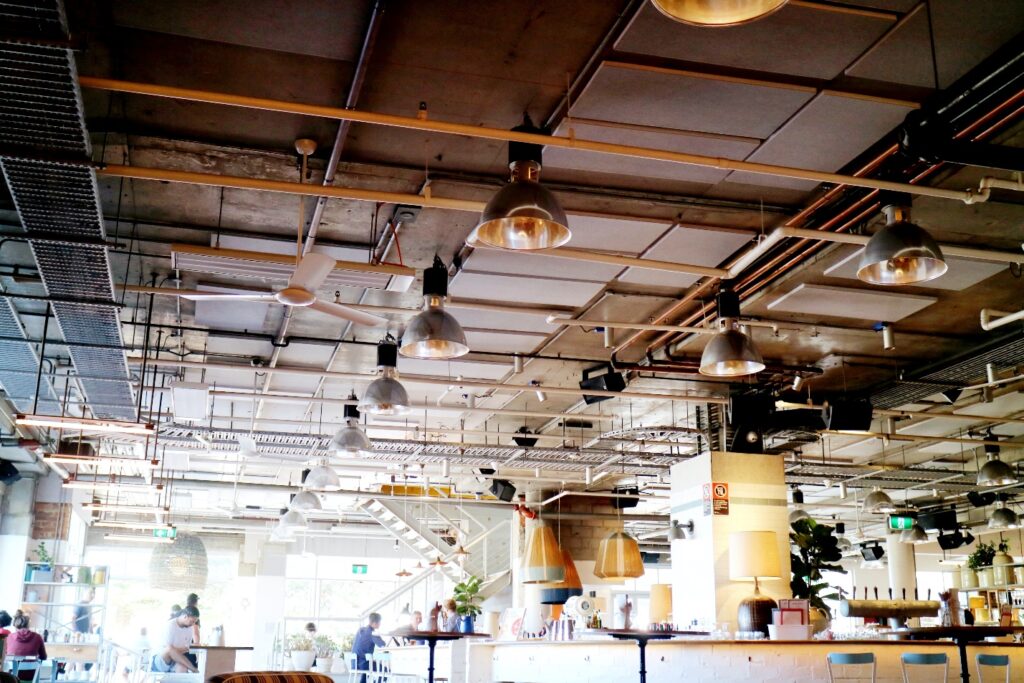 Not everyone likes sophisticated and delicate home interiors. Some prefer to keep it raw. If you're one of those, this basement ceiling idea might be the right one for you. Don't install a false ceiling or any additional layer on your ceiling to give it a finished look. Leave it raw instead, with the beams exposed and the ceiling unfinished. It'll give your basement a rugged, industrial look that would sit perfectly well with your preferences. And no, it won't look unsightly, if that's what you want to know. The theme will come together perfectly if you pair it with the right furniture and accessories.
14. Add a Chandelier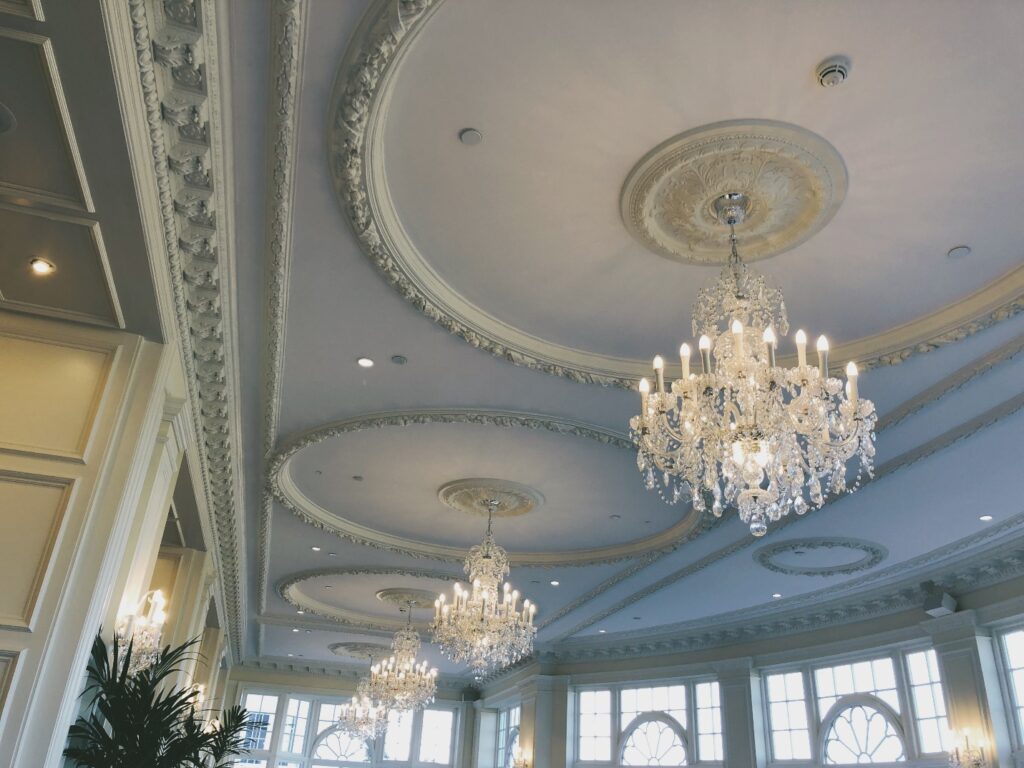 Chandeliers look every bit luxurious and classy. They add to the aesthetics of any room. They make such an impactful addition to the décor that they alone make a difference. You'll be thrilled to see the endless variety of chandeliers. They come in every imaginable shape, size, and style. If you want to make your basement look bright and classy, add a chandelier to the basement ceiling. Choose the color, style, and size that sit well with the rest of the basement décor, and you're done. A chandelier can transform the appearance of even the simplest ceiling!
15. Mosaic Artwork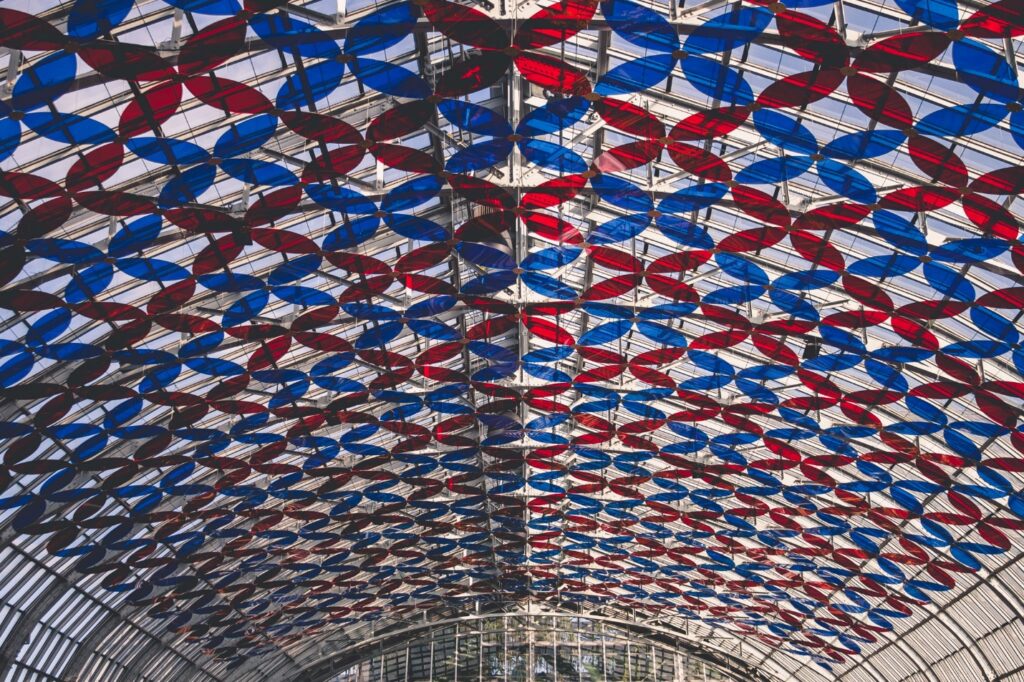 Do you remember we talked about mosaic stick-on tiles earlier? While mosaic tiles look beautiful, they can't compete with the actual mosaic artwork. Mosaic artwork is done using broken glass, pottery, and other colorful material. Mosaic artwork looks absolutely stunning on ceilings. This is one of the prettiest basement ceiling ideas on our list. If you want your basement ceiling to look as stunning as it possibly can, you should give this basement ceiling idea a shot!
16. Go Dark with Your Ceilings
Most of us have grown up thinking that the ceilings are supposed to be white or light in color, but that's going to change today with this basement ceiling idea. Most basements have a low ceiling, and homeowners try to make it look higher. They do so in an attempt to make their basements look bigger and open than they really are. However, if the basement is large in size and the ceilings are high, the basement may start to look cold and unwelcoming. You should try to make your ceilings appear lower to make the basement look smaller than it actually is. We suggest that you go dark with ceiling paint. Black, dark brown, or any other darker shade will do the job well. Make sure to keep the walls light and the lighting bright to prevent the basement from looking congested.
17. Styrofoam Ceiling Tiles
You can install Styrofoam ceiling tiles yourself and make your basement look beautiful without having to spend a lot of money. Styrofoam ceiling tiles are good-looking and inexpensive. Not only this, but they also have great insulation properties. If you're looking for cheap yet highly impactful basement ceiling ideas, this might be it for you!
Focusing on the basement ceiling is very important when you're remodeling your basement. Basement remodels don't come cheap, and all your money will go to waste if the ceiling design isn't aligned with the rest of your basement. There are plenty of basement ceiling ideas out there. It won't be wrong to say that there's something for everyone. Make sure you don't overlook the importance of a good basement ceiling design. Finally, it might not seem as important right now but wait till everything comes together!