When it gets hot outside and your kids start saying "I'm bored," it's time to break out the creative games. If you haven't hit up your local Dollar Tree, then it's time. Not only can you get a lot of bang for your buck, but the folks at Dollar Tree are super creative when it comes to activities with their products! From an obstacle course to hopscotch, baseball, sailboats, marble runs, and more, one of the most versatile summer staples is the foam pool noodle! They are great at providing hours of backyard game fun. And the best part? They are only a dollar!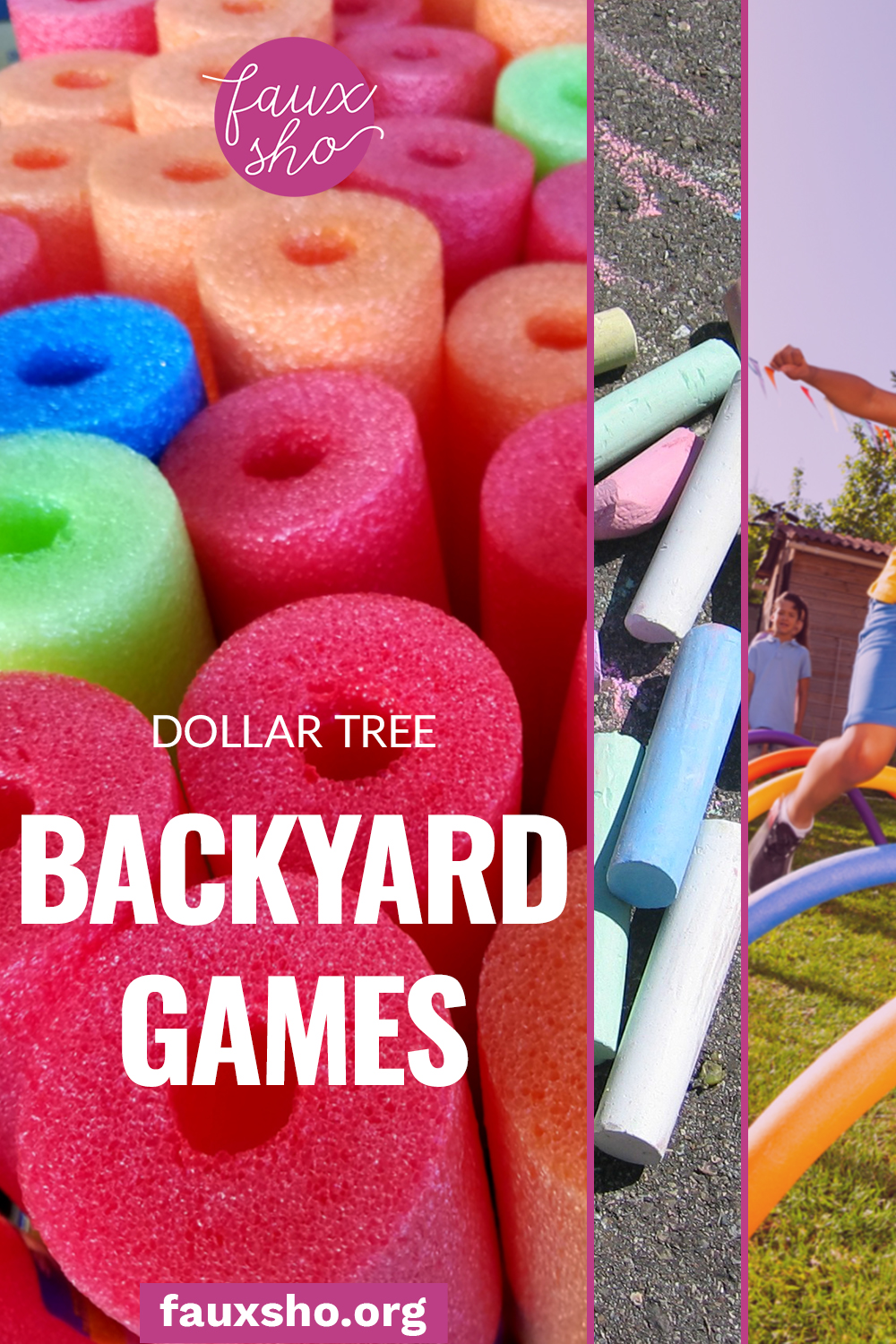 Dollar Tree Backyard Game 01: Obstacle Course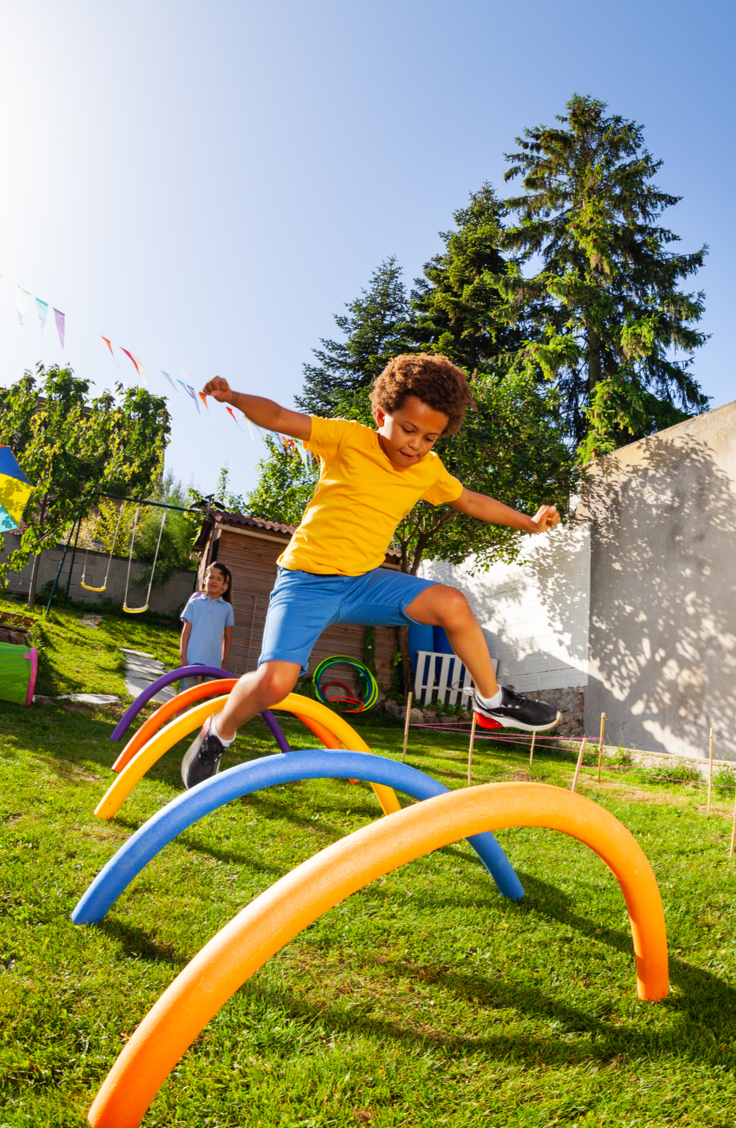 First grab a few rolls of tape, a pair of scissors, and create your own obstacle course! Next, cut the pool noodles and tape them together to create hoops to climb through, hurdles to jump over and climb under, and even baskets to throw object into. It's a great activity that's versatile and easy to modify for the space you're using. Plus you can reorganize as much as you'd like to keep your kids on their toes!
Dollar Tree Backyard Game 02: Hopscotch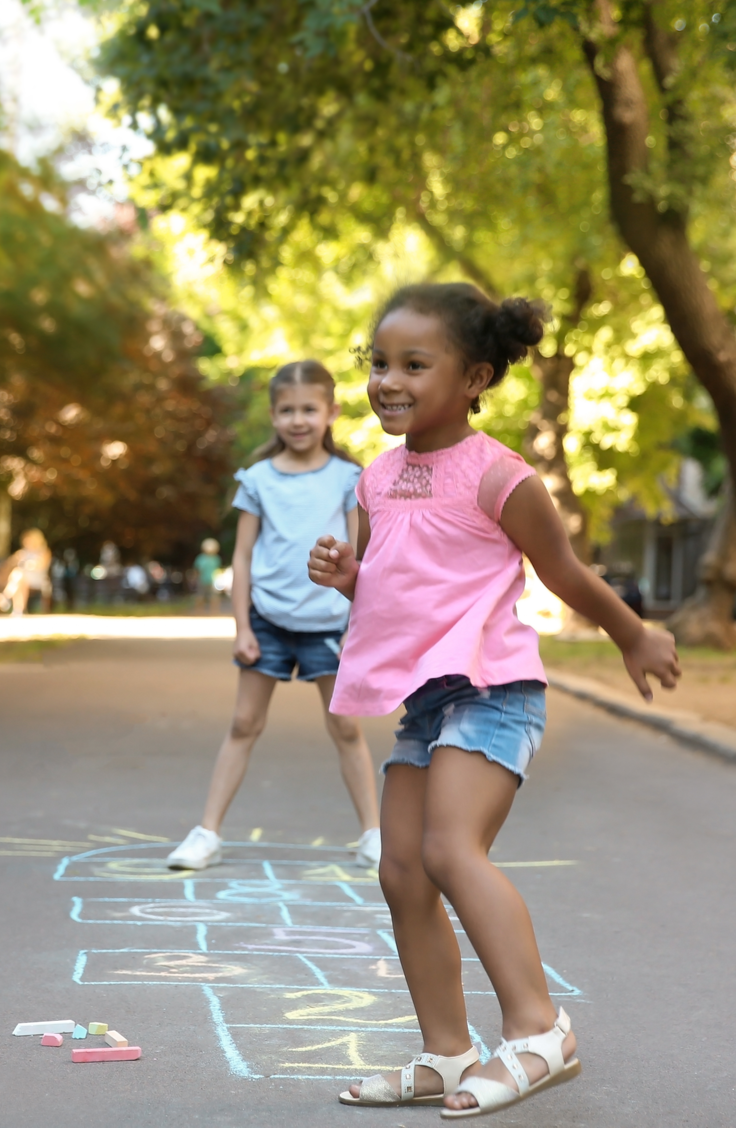 This game uses the same tools as the obstacle course and makes a good use of your green space. Plus it's mobile so you can put it wherever you want, regardless of sidewalk accessibility! First, take the traditional hopscotch layout and create shapes from the pool noodles to match. You could mix and match circles, triangles, and squares for an additional difficulty to the game. Then tape the shapes together in the hopscotch layout and get ready for some fun!
Dollar Tree Backyard Game 03: Baseball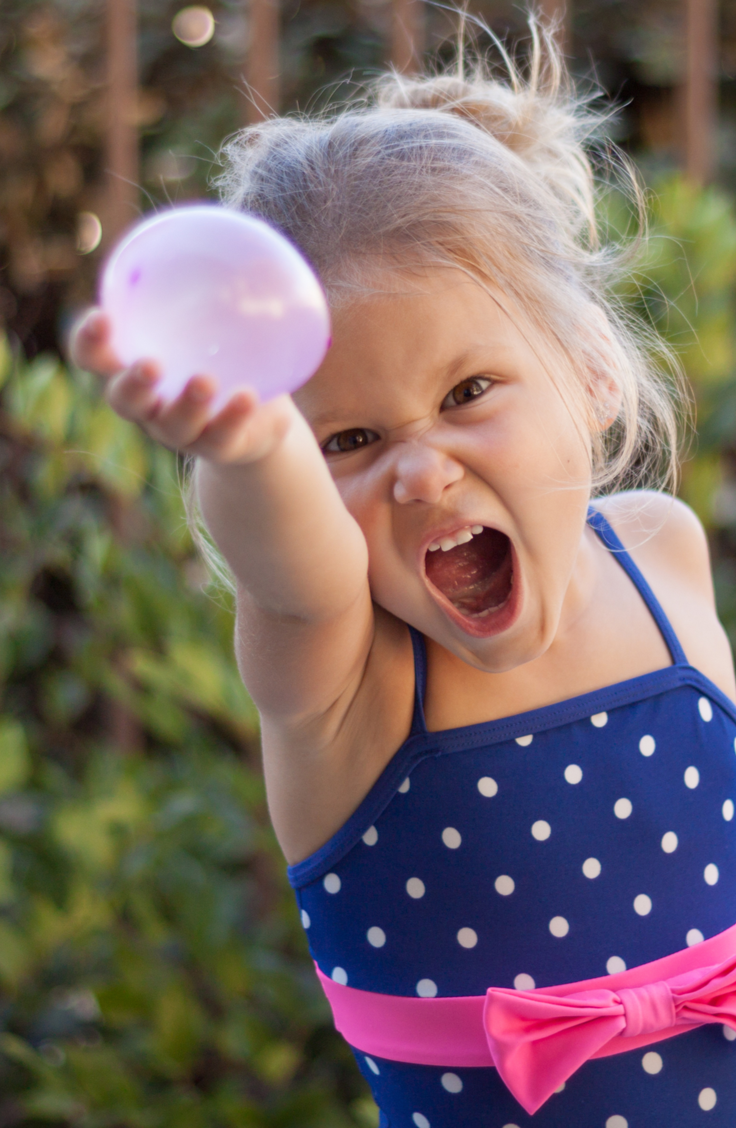 It's time to break out the swimsuits with this Dollar Tree backyard game! Start by grabbing a few packs of water balloons, some pool noodles, and some tape. To make your bases simply tape four pool noodles into circles or triangles. Then cut two pool noodles in half for your bats.
The game is played by tossing a water balloon at the batter, who hits it with a pool noodle bat. If the water balloon breaks, they try to run to first base without being tagged by an additional water balloon. If the water balloon doesn't break and goes at least 5 feet from the batter, then they are free to run as many bases as possible before they are tagged with a water balloon. You can keep score based off how many runs a team gets, or play to see who can stay the most dry or who explodes the most balloons by tagging the other team!
Dollar Tree Backyard Game 04: Sail Boats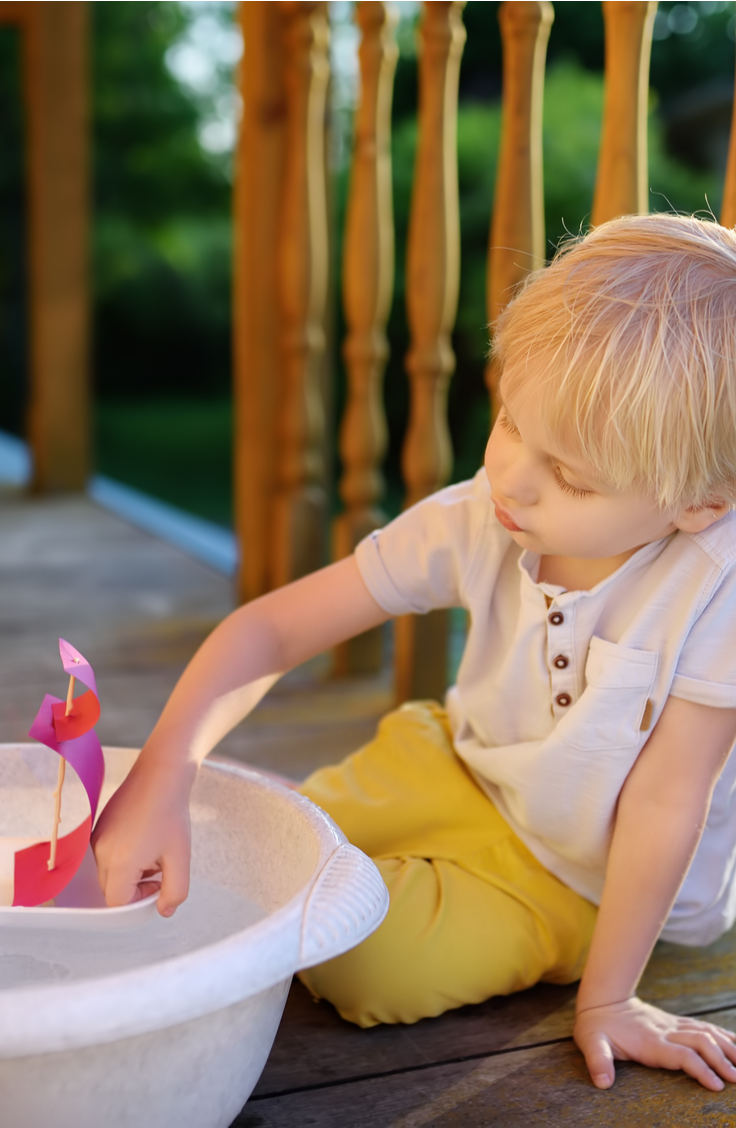 When your crew isn't in to competitive games, maybe they would be more willing to put their science hats on and create some awesome sail boats instead! All you need is some pool noodles, skewers, and scissors or a box cutter. Begin by cutting the pool noodles into 6″ sections. Then cut them in half lengthwise so that you have a u-shape. This forms the base of your boat! From here let your imagination run wild. You can shape the foam into more of a traditional boat shape, add masts using the skewers, and even sails made from whatever materials you have on hand! Then get them ready to race down the gutter, in your kiddie pool, or even the bathtub.
Dollar Tree Backyard Game 05: Marble Run!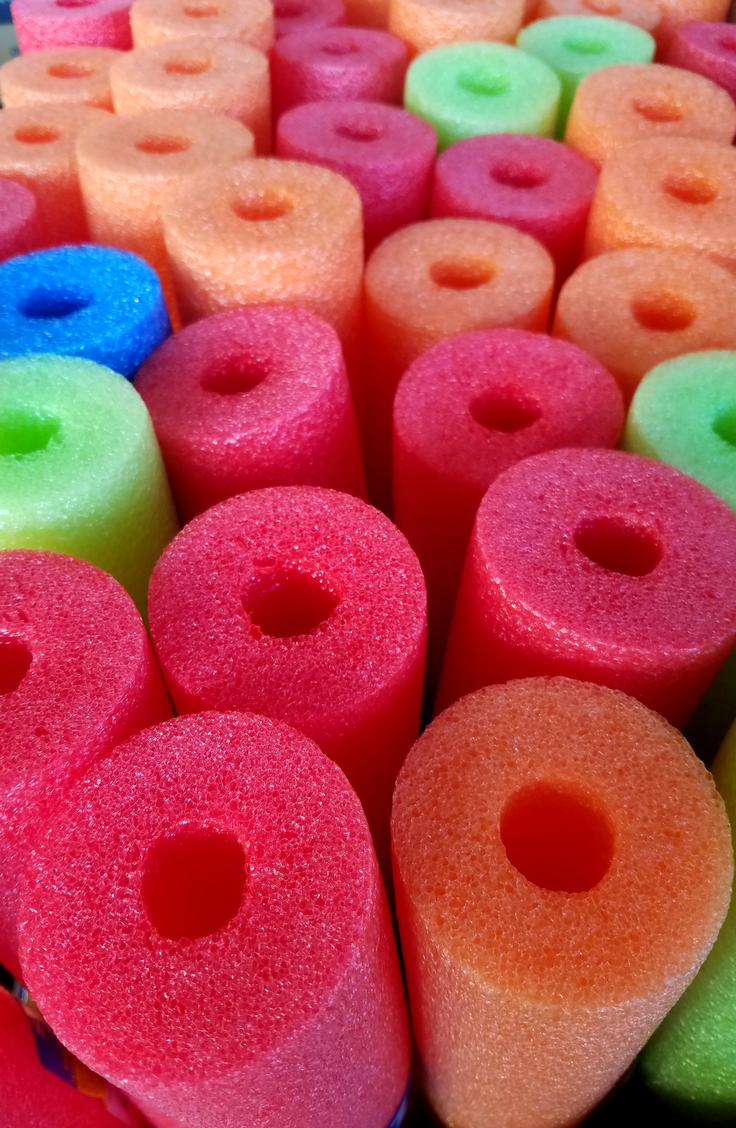 One of my favorite activities to get my kids thinking creatively and have fun is to give them odds and ends with a mission. Giving your kids some pool noodles, tape, scissors, string, and marbles is the perfect combo for a marble run! They can use other objects like trees, patio furniture, etc. to create the height of the run, and then the rest is up to them. They can cut the noodles in half for a tray or have the marble go through the middle of the noodle like a tunnel. The sky is the limit!
Before the kids start telling you they're SO bored, head to your local Dollar Tree and stock up on some boredom-busting supplies! That way you're ready to combat the summer blues with an active and unique activity.