Spring is here and it's time to get organized!  Here are some great ideas for creating some order and using every inch of your tiny closet space.
1. Get Wired!
It's the toughest part of getting organized, but I really do recommend starting by decluttering and starting with an empty space.  Once your closet is nice and open, consider investing in some wire shelving or similar to help give some order to all your important belongings.  I like The Container Store for closet organization products.
2. Save Your Neck
This DIY slide-out scarf organizer is the perfect solution to storing your scarves!  No more taking up rack space on hangers, and, really, how cool is it that it slides out?!  Get the DIY instructions and materials list from View Along the Way.
3. So-Da Tabs A Hook!?
If you like to keep outfits together, here's a genius solution for you!  Repurpose a soda can tab as an extra hook on a hanger.  Place a second hanger in the tab for your pants, a scarf, a belt, etc.  Read more here.
4.  In Any Case…
Oh the simplicity in this linen closet organizational idea!  Keep matching sheets and other linens together and orderly by storing folded sets inside a paired pillow case.
5.  Be Left Hanging
Create new shelving and storage space by investing in hanging shelves.  The added organization really is worth the cost!  Target's Threshold brand offers great products.
6. Paint a Pretty Picture
Use cleaned out paint cans to paint a pretty picture in your closet.  Crafty Nester explains how to mount paint cans in your closet to hold small items such as flip flops, belts, scarves, or even jewelry.  I can see this looking really great in a boy's closet in particular!
7.  Divide and Conquer
Divide and conquer the linen closet with shelf dividers.  I love how the dividers keep everything in their own proper place!  Household Essentials sells affordable dividers on Amazon.  Read more about shelf dividers from Simplicity in the South.
8. Think Inside the Box
I have a love for clever or funny t-shirts.  They make me happy after a week of wearing professional clothes to work.  But how should I store all those favorite t's once shelf space is taken up?  I Heart Organizing shares this super simple idea to keep you thinking inside the (shoe) box.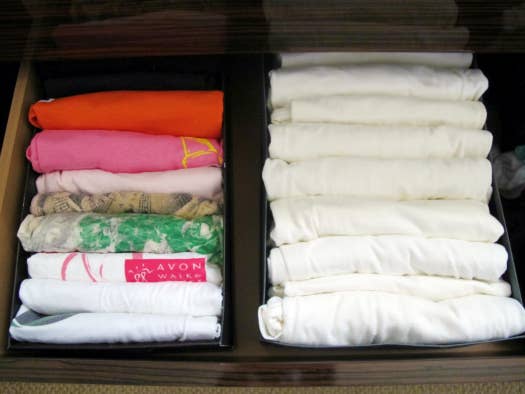 9.  Shut the Door!
It might just be me, but there's something really satisfying about creating something where there once was nothing.  I like the idea of using the inside of doors to create new storage space.  Read more from Life Hacker.
10.  Pipe Up!
Let your closet pipe up and be heard as it screams organization with this idea.  Simply cut down some PVC pipe to create compartments for scarves, ties, and other small items.
11.  Hooked
This closet organization idea from DIY Energy will get you hooked.  Hang some baskets from S hooks under your wire shelving to add some storage space for small items.  I can see these working really well in a laundry closet or kid's closet.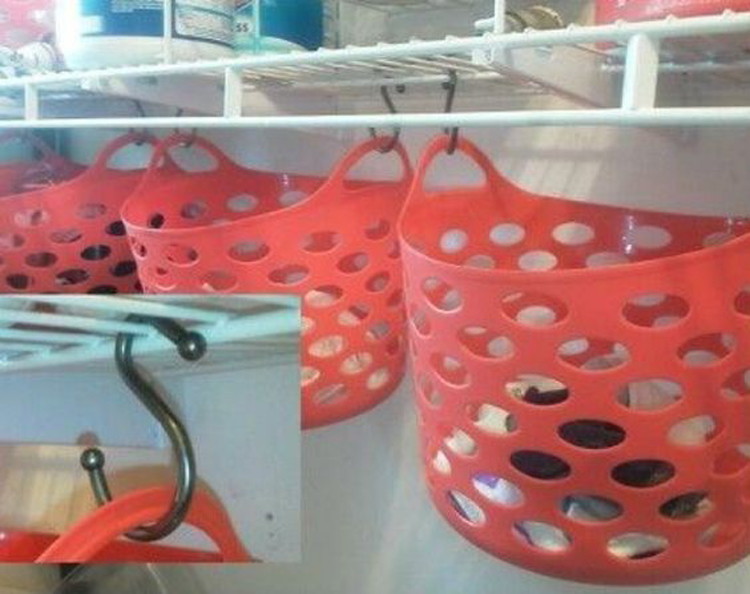 12. If the Shoe Fits
I'll admit that I'm guilty of having a shoe problem.  I consider it a shoe appreciation though….  This slide out shoe rack from IKEA is the perfect solution for those of us who need help keeping all our favorite foot wear organized.  Idea from Buzzfeed.