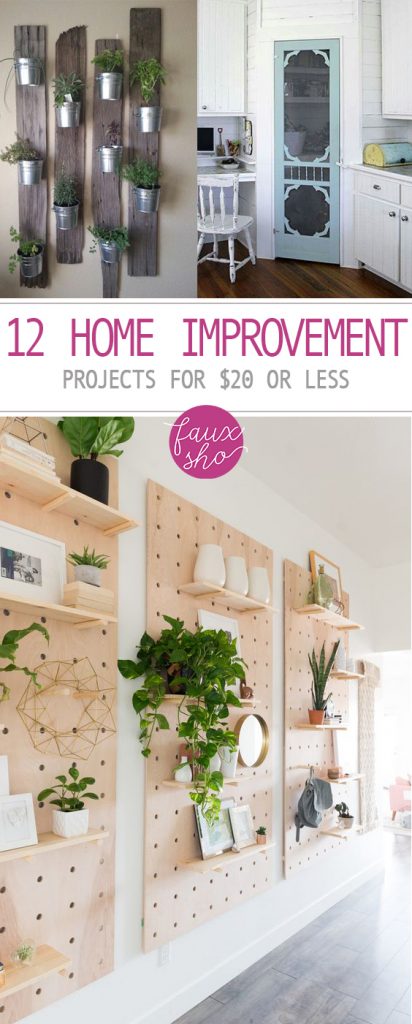 My cute niece and her new husband just purchased a townhouse. As first time home owners, they have a careful budget but still want their home to have style and elegance. My niece asked for help finding some ideas to decorate her new house on a budget. Here are 12 stylish home improvement projects for $20 or less. (Tip: Think REPURPOSING!)
1. Wall Garden
Wall decor never has to be limited to pictures and frames only! Get creative with some scrap wood and pails to make a fun wall garden. I'd actually just use aged tin cans instead of the pails. They'd have just as much personality and would only cost even less. Image source.
2. Tea Tin Herb Garden
One easy way to fill up empty corners in your kitchen is with herbs and plants. I love the look of this tea tin herb garden. Source.
3. Pallet Decor
Use wood pallets to make wall decor, shelves, and more. You can find dozens of projects and ideas on Pinterest.
4. Crate Table
It seems really hard to find a beautiful, sturdy table for a low price. If you want something with style but don't want to dish out the dough, just make your own out of crate boxes. They can really add some great personality to your home! Source.
5. Screen Doors
I think doors have a lot more decorative power than we sometimes given them credit for. We all seem to realize this when it comes to the front door, but then never think to apply it to other doors around the house as well. One of my favorite door hacks is to replace your pantry door with an upcycled screen door. Call around to consignment stores to ask if they have one available. Image source.
6. Peel and Stick Wallpaper
One of my newest favorite finds is peel and stick wallpaper. You can choose from dozens of patterns and go as big or as simple as your budget allows. To keep it under $20, I recommend just doing an accent wall or using the wallpaper to line the back of bookshelves for a splash of color. I love this nursery accent wall in "Gray Woods" from Wallpop.com.
7. Book Bookhelf
Use aged books to make a floating book shelf. You'll only need to purchase the wall mount and used books from yard sales, library sales, and donation centers. Learn how to make your own from Instructables.com.
8. Hanging Planters
Add some life (literally!) to your kitchen or any other room by hanging a planter from the ceiling. Find this cute DIY project from Place of My Taste.
9. Pegboards!
Not a new idea by any means, but pegboards are still one of my favorite DIY projects! They can be hung in any room for any purpose. Use them for shelving in the family room, kitchen, or bedroom; as a supply organizer in the craft room or laundry room; or use them anywhere as an accent wall with some paint and creativity. There are SO many ways to use pegboards!
10. Knobs & Pulls
Spunk up the cabinets and drawers by installing new knobs or pulls. I always find myself gravitating toward the adorable (and affordable) knobs at Hobby Lobby. Image source.
11. Maps!
This map of Paris from Restoration Hardware will set you back an easy $1,700. No problem, right? Or you can have a lot more fun making your own version for pennies in comparison. Find a DIY tutorial on Maison de Pax. Maps can be repurposed and used around the house in MANY design-worthy ways.
12. Doggie Station
You can thank my dog Dobby for this last idea. He is currently sitting at my feet staring with his big brown eyes trying to tell me to take him on a walk around the lake. (Shrek's little friend Puss 'n Boots has nothing on Dobby's "big eye" skills!). Help keep all of Fido's important things organized and convenient by making a pet station. This one only requires a piece of scrap wood, some paint, a mason jar with a metal clamp, and a hook. $20 budget? No problem!! Find dozens of pet station ideas big and small right here.