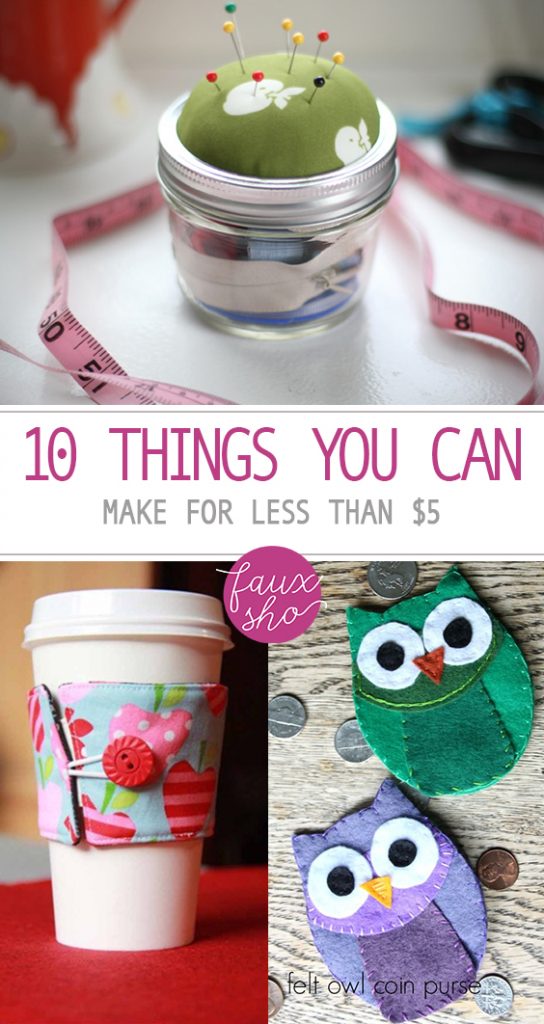 I'm a full time teacher, so when it comes to class activities and projects, I have to get creative with buying supplies to get my budget to cover enough for 30 students.  I think because of this, I've learned to always keep an eye out for fun and inexpensive DIY projects.  Here are 10 things you can make for less than $5.
1. Cup Sleeves
Coffee and tea cup sleeves are great for gifts and appreciated by fingers.  Learn how to make your own for under $5 from Crafty Staci.
2. Wood Frame Mirror
Make a custom wood frame mirror using a dollar store mirror and some ply wood.  What a fun project for dorm-bound students!   A Girl and A Glue Gun share the tutorial here.
3. Bow Belt
Make this adorable bow belt using some spare fabric.  How cute would this be for a little girl on her first day back in school this fall?  Find the how-to instructions here.
4. Mason Jar Sewing Kit
Make the perfect gift for the seamstress in your life.  Find out how from Momtastic.
5. Bird Nest Necklace
How cute are these bird nest necklaces?!  These would be especially fun in the Springtime.  Sarah Ortega shares how to make your own on her blog.
6. Bread in a Bottle
Share the gift of baking with family and friends with a pretty mix in a bottle.  Bread, cookies, brownies, you name it… if it has dry ingredients, it can be presented in a glass bottle.  Idea source.
7. Scrap Fabric Keychains
There seems to always be a new key that needs a keychain.  This would be a fun gift to give a friend who just bought a new house or car.  Tutorial.
8. Tea Tin Herb Garden
Add some life to your kitchen with a tea tin herb garden.  Have you ever tried homegrown peppermint tea?  Nothing compares!  DIY.
9. Chalkboard Serving Tray
Part of the fun of having guests over is in the presentation. This cute chalkboard serving tray would be fun indeed.  Learn the easy steps for making your own from Brit + Co.
10. Felt Owl Coin Purse
So many wallets these days are made for smart phones and credit cards but don't have space for coins.  Solve the lose coin dilemma by making your own adorable felt owl coin purse.  What a fun sewing project for your little one as well!  Find the tutorial from Lil' Luna.