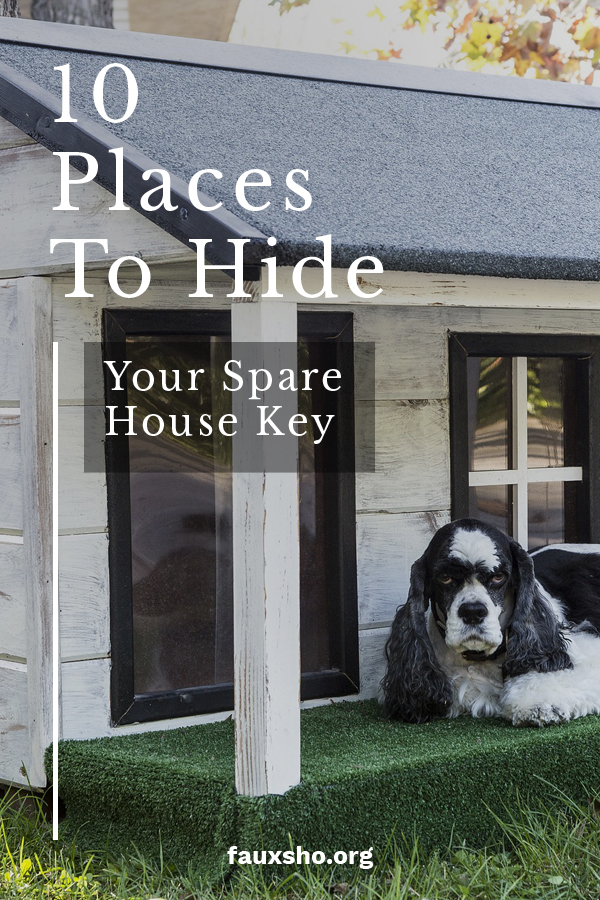 Some of us lose stuff frequently and easily. If this describes you, then it might be a good idea to hide your spare house key in the event that your regular set disappears. Here are 10 of the best places to do so, and your neighbors will never know where it's stashed!
1.Turn to a Neighbor
If you have a neighbor who you trust, give him or her your spare key. To keep it safe, make sure that there isn't information with or on the key that would identify it as yours. While this is one of the safest places to keep a key, it isn't necessarily the most convenient since your neighbor may not be home when you need it.
2. Under the Dog House
Few things dissuade burglars like dogs do, which is why it's a good idea to hide your spare key under the dog house. Although, I think this pup is a little too cute to be scary!
3. Under Your Car
Hiding your spare house key in a magnetized lock box that you attach to the undercarriage of your car is another good hiding place. It will keep your key safe from thieves and with you so that your key is there when you need it.
4. Install a Fake Sprinkler
We know that the fake rock is a classic, but now, fake sprinklers are available, and these are a better place to hide your spare house key. A fake sprinkler is indistinguishable from the real ones, so you can feel confident storing it in one. Like most things, you can purchase a fake sprinkler from Amazon.
5. Temperature Gauge
The market now features a temperature gauge that includes a hiding space for house keys. Not only will it keep your key safe, but it will also tell you how hot or cold it is outside.
6. Siding Seams
If the exterior of your home is protected with siding, you can use it to hide your key. To hide your key this way, just tie a piece of fishing line to your key. Then, slide it between the seam gaps in your siding.
7. Pinecone Security
This DIY key storage is a cost-effective hiding unit. The only things that you need to make are a pinecone and an empty pill bottle. Glue the pinecone to the top of the pill bottle and hide it in a hole with the pinecone sticking out. That way, it will blend in with your landscaping.
8. In Your Grill
If your grill features a cabinet section, place your house key in this space. Be sure to hide it under a barbeque brush or spatula for extra protection.
9. Use a Paver's Stone
A paver's stone is another way to hide your house key on your property. To use a paver's stone, just place your key in a bag and set it under the stone. The biggest challenge is remembering which one. You may need a gardening tool from Hoss Tools to get beneath your paver stone if it's been in place for a few years.
10. Just Go Automated
With today's technology, you can ditch keys altogether and use home automation locks. Some locks let you give guests a one-time use pass code, so you can still have your neighbor check on your kitty if you go out of town.
Ideas one, two, three and four are from Ackerman Security.
Good Housekeeping is the site where we came across suggestions five, six and seven.
Recommendations eight, nine and 10 are from Great Valley Lockshop.