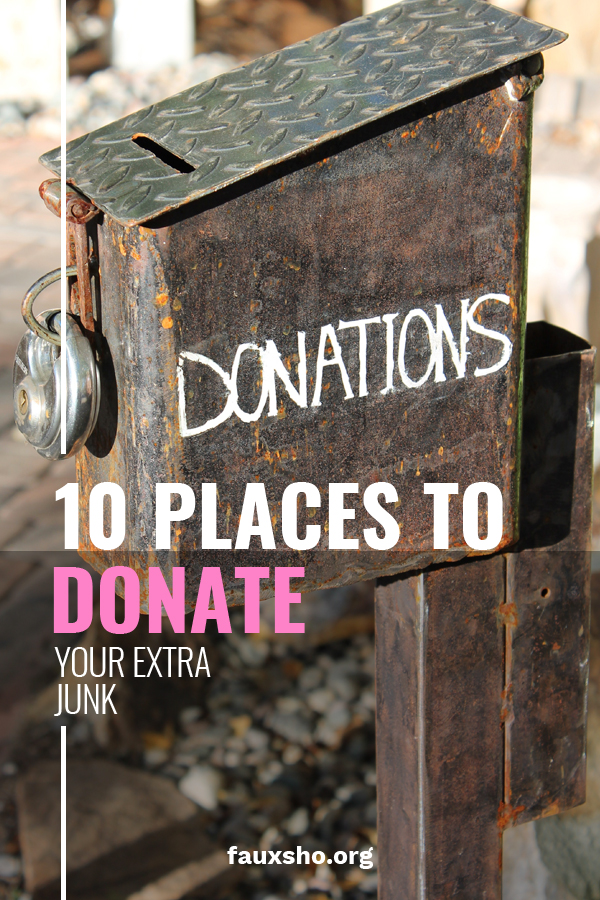 Once you decide to declutter your home, you'll start accumulating bags and boxes of stuff that you need to get rid of. The challenge then becomes finding a place that will take your extra junk. Here are 10 places that want it.
1.Local Charity
One of the easiest ways to get rid of your extra junk is to donate it to a local charity. Keep in mind that donations can be used as a tax write off, so be sure to get a receipt. If you're getting rid of your old stuff and plan to redecorate, take a look at Home Square. The site has unique home decor items.
2. Habitat for Humanity ReStore
If you have larger furniture items, then contact the Habitat for Humanity ReStore. The charity will come pick it up for you, making it easier for you to declutter.
3. One World Running
Throughout the world, there are people who don't have access to good running shoes. This makes it tough for them to stay fit. One World Running is attempting to change that by accepting shoe donations. The charity cleans and distributes running shoes to those in need.
4. The Arc
There are a few charities that would like your old furniture. If you donate it to the Arc, the organization will use it to help those who suffer from disabilities like autism.
5. Operation Paperback
Military members and their families need support. One way that you can help them is to donate your old books to Operation Paperback. The organization ships them to service members who are deployed, making it possible for them to read to their kids back home via webcam.
6. Bikes for the World
This is an organization that accepts old bikes, their parts and even accessories. Bikes for the World takes on these donations to provide bikes to low income families, giving them access to transportation.
7. Vietnam Veterans of America
The Vietnam Veterans of America accepts things like clothing, bikes and electronics. They'll also take furniture and tools. Once you've decreased the amount of belongings that you have in your home, get help organizing from Label Your Stuff. The site features printable labels for your things.
8. The Junkluggers
The Junkluggers is a nice donation service because it will come to your home to pick up the items that you want to donate. It will then transport these things to one of its partner charities. You'll feel good about donating to Junkluggers since its partner charities include organizations like Goodwill, Habitat for Humanity and Boots on the Ground.
9. Dress for Success
Dress for Success is a non-profit organization that helps women gain financial independence by helping them with development tools, support and professional clothing. If you have women's clothing that are of a professional nature, then consider donating them to this charity.
10. Secure the Call
Secure the Call donates old cell phones to senior citizens and victims of domestic violence. These phones can be a lifesaver. The organization accepts pretty much any used cell phone that still works.
One and two are from Up North Parent. 
Little Things is the site where we found options three, four ,five and six.
We came across places seven, eight, nine and 10 at Make Space.