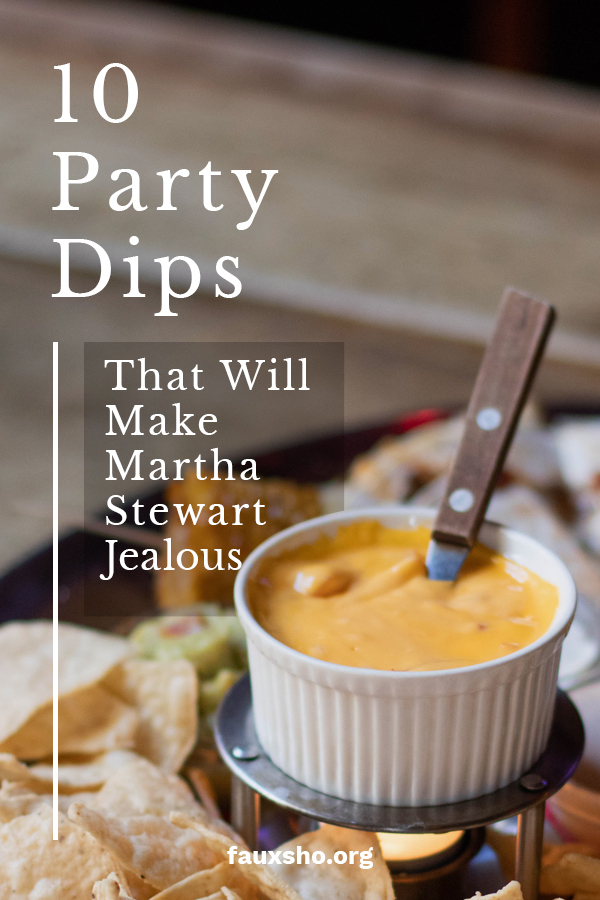 I love you Martha, but I have to admit that I've been doing some looking around.  Okay, some tasting around.  And I've totally fallen in love with some dips that are going to have you seeing green.  What can I say?  These 10 party dips would have even you guarding the fridge.
Artichoke and Garlic Dip
If you want an absolutely scrumptious dip for veggies in particular, this artichoke and garlic dip will NOT disappoint!  The recipe comes from Mary Berry, my absolute favorite celebrity chef.  It's as easy as throwing all the ingredients together in a food processor, adding a few seasonings, and dishing up.  It's really yummy with breads and crackers as well!
Hot Chocolate Dip
Move over Miss Stewart, there's a new Martha rockin' the party planning scene!  Martha Collison of the UK shares a perfect dip for chocoholics everywhere.  Whether for a Valentine's delight or just to spread the love, this heart-warming hot chocolate dip is irresistible for all things sweet.  The heart shaped churros are pretty darn delicious as well!
Cheeeeesy Spinach Artichoke Dip
If you love cheese as much as I do, or even if you don't, you MUST try this cheesy spinach artichoke dip!  I pretty much immediately made it when I first came across the recipe and we've made it for just about every gathering we've had ever since.  Creamy, savory, and ooey, gooey, cheesy…. Yes, yes, and YES!!
Orange Syllabub Dip
This creamy orange dip is basically a citrus heaven for all things dippable.  Syllabub is a sweet frothy English drink made from cream, sugar, and either wine or juice.  To make the dip, you'll mix the cream until it forms soft peaks.  Try it with biscotti or another spiced biscuit or cookie and just try saying no to a second helping!
Chili's Queso
I loved Chili's queso dip as a kid and I still love it today.  It's a favorite of ours for Superbowl Sunday and other Mexican-themed gatherings.  My husband and boys especially love it with restaurant-worthy Juanita's tortilla chips.
The Chinese Trio
Okay, okay, so this is technically 3 dips, but they cover all your Chinese cuisine needs and I couldn't resist including all three (Chinese food IS near perfection, after all!).  Dip your meats, wontons, dumplings, and more in your choice of the honey sesame, spicy soy, and/or the savory peanut.  Dip some warm noodles in the peanut sauce for an especially mouth-watering meal.
Creamy Avocado Hummus
Oh my goodness are my men fans of this creamy avocado hummus!  My boys used to never touch hummus until I enticed them with this recipe and now my husband makes it a couple times a month as a Sunday snackable with crispy flatbreads.
Herby Dipping Oil
When it comes to dips, it doesn't get much more classic to me than dipping oils.  I can NEVER resist a rich olive oil dip infused with fresh herbs and spices, particularly when served with soft artisan bread.  Garlic, basil, oregano, and thyme are only a few of the flavors you'll find in this absolutely divine dipping oil.
5 Selection Salsas
A list of dips would be remiss without at least one salsa recipe.  And since salsa is about as essential as it comes with dips, I'm sharing 5 seriously unique and tasty (!!!) salsa recipes.  Bacon, chicken enchilada, shrimp ceviche, creamy garlic, and rainbow dessert.  Yum, yum, and yummay!  Check out Piquant Post for some really fun and exciting spices.  It's a monthly spice and recipe subscription box sent straight to your door that features flavors from specific regions of the world each month.
Rock the Guac
Celebrity chef Aaron Sanchez is as expert as they come in the Mexican kitchen and this guacamole recipe is out to prove it!  The cilantro and lime are the perfect flavors to brighten it all up.  Find a super quality molcajete lava stone and SO many other useful cooking tools at World Market.  I seriously LOVE that store for fun cooking tools and foods!!
Find all these DELICIOUS dips and excellent products from:
Artichoke and Garlic Dip by Mary Berry via bbc.co.uk
Hot Chocolate Dip shared by Martha Collison on Waitrose.com
Cheesy Spinach Artichoke Dip via Yammie's Noshery
Orange Syllabub Dip from Nadiya Hussain
Chili's Queso Recipe by Le Creme de la Crumb
Chinese Trio of Sauces from Culinary Ginger
Creamy Avocado Hummus shared by Cafe Delites
Herby Dipping Oil found on Peas and Crayons
5 Selection Salsa recipes on tbsp.
Piquant Post Monthly Spice & Recipe Subscription Box
Rock the Guac Dip by Aaron Sanchez via The Food Network
Top Quality Cooking Tools, Products, and Home Decor from World Market