How To Bleach Tie Dye: T-Shirt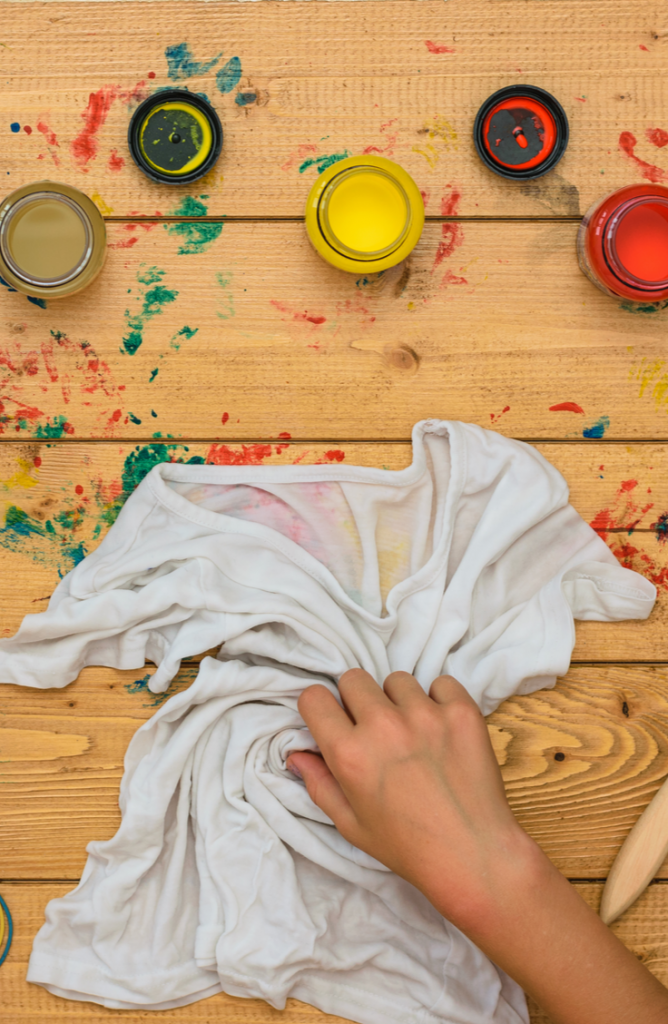 If you've decided to bleach tie dye (also called reverse tie dye) a t-shirt, then pay attention. Grab a colored shirt and decide which method you want to use to create your design. I suggest using the spiral design because it's easy and works well with a t-shirt. Keep in mind that this project works best outdoors. I'd also suggest using rubber bands sparingly as the bleach will not seep paste the bands. So grab an old shirt you'd like to recycle or purchase a new one here.
Start by mixing 3/4 cup water with 1/4 cup bleach in your spray bottle. Make sure the spray bottle is set to "spray" and not "stream." You want the bleach to be able to sit on the fabric and reduce splash. Next, choose where you want the center of the spiral to be. This doesn't have to be in the center of the shirt! The top or bottom corner looks fabulous.
Then grab the shirt where you want the spiral to start and begin twirling the shirt, making sure to keep the shirt nicely folded. Continue swirling until the whole shirt looks like a cinnamon roll. If you want to create the swirl on the front and back, secure with a rubber band or two.
Next, begin spraying the t-shirt (front and back) and allow the bleach to sit for 10-30 minutes. You should see the shirt begin lightening up as you watch. When you've achieved the color you're looking for, rinse the shirt in cold water and toss in the washing machine. Make sure not to let the bleach sit for longer than about 45 minutes otherwise the bleach will begin eating through the fabric. Enjoy!